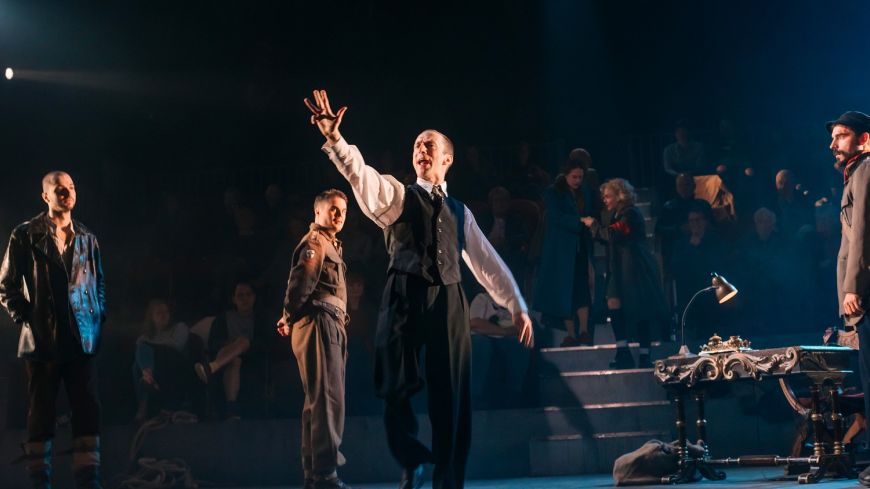 Company
The Royal Lyceum Theatre Edinburgh
Production
Bridget Boland (Writer), Wils Wilson (Director), Aly Macrae (Composer and Musical Director), Kai Fischer (Lighting Design), Matt Padden (Sound Design), Vicki Manderson (Movement Director), Ana Inés Jabares-Pita (Designer)

Performers
Nebli Basani (Peter/Captain Saunders), Kaisa Hammarlund (Marie), Peter Hannah (Captain Ridley), Krystian Godlewski (Jaroslav/Draja), Sandra Kassman (Claudia/The Woman), Sophia Kolinas (Rebecca), Aly Macrae(Jiri), Alexandra Mathie (The Professor), Kaja Pecnik (Anna), Dylan Read (Bauer/Duval), Adám Tompa (Milosh), and Deka Walmsley (Sergeant Barnes)


Bridget Boland's bold site- specific play must have rocked its audiences when it was first performed in London's Playhouse in 1948. We may be well used to companies getting in about the audience, yet the rough incongruity of hand painted makeshift signs and blankets strewn over seats in the plush surroundings of the Lyceum is no less arresting even now.
Edinburgh's Lyceum Theatre has been transformed in to a Displaced Persons Centre in post war Germany where we find 'all Europe under one roof' for this 2017 Scottish Première of Cockpit. The word that gives the play its title may conjure up the image of a wartime plane's flight deck, but it is its other meaning of a place where animals fight that applies here.
Displaced people from all over Europe are housed in a disused German theatre waiting to be transported home, all under the supervision and growing frustration of two British officers. It may ostensibly be peacetime, but the remnants of war and the raw bitter wounds of factions emerge among the nationalities. Russians, Poles, Lithuanians, French, Latvians, Yugoslavs each have gripes that run deep and halt co-operation and progress.
The 'No Fighting' signs hung from the boxes are seen with blind eyes with only the stateless Jiri (Aly Macrae) remaining detached and busy in his own private world. It is only when common humanity is acknowledged through music and the sharing of food, thanks to practical gestures by women, that barriers start to be broken like the reconciliations in Babette's Feast.
Wils Wilson's job in directing this new production that has some of the audience seated on stage is a challenging one done admirably, bringing together an impressive ensemble cast. A voice comes from the gallery; a pair of legs clambers ladders; characters appear and disappear through theatre doors with never a dull moment.
From the passionate opening chorus sung in a Slavic tongue to the impromptu aria from La Traviata, music plays an important role. When the singer, played by Sandra Kassman, finds her voice, her beautiful rendition evokes emotional reaction of Peter Hannah's fair but dogged officer Ridley and Dylan Read's prissy stage manager Bauer, whose subtle expressions of being visibly captivated are an equal joy to observe during this velvet curtain clad performance. Read plays a dual role as French farmer and alleged collaborator Duval and his Ecole Jacques Lecoq training shines with his every move while Alexandra Mathie gives a fierce, committed and impassioned performance as The Professor.
Boland's play holds the message of the danger of fast held beliefs that engender perpetual blame and fear and stunt understanding. This nearly 70-year-old play still holds strong messages for our own conflicted time.
6 – 28 October 2017