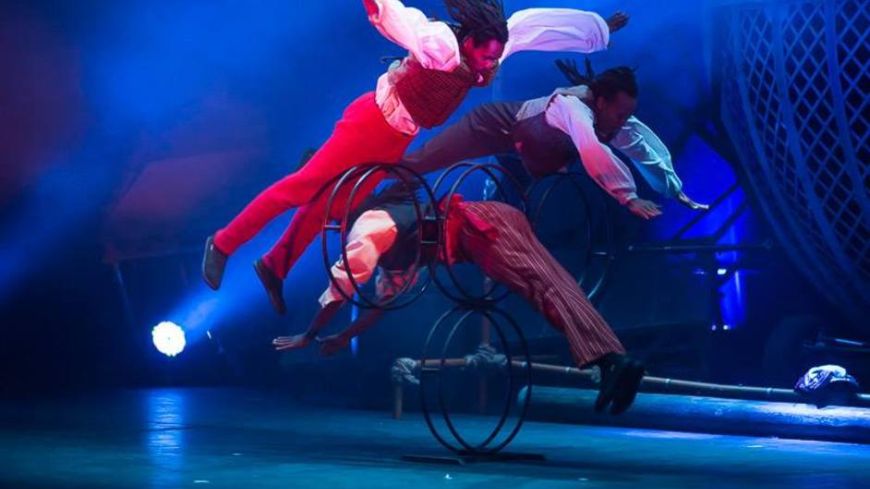 Production
Julius Green (Creative Designer), Dede McGarrity (Choreographer), Sean Cavanagh (Set Design), Mike Robertson (Lighting Design), Matthew Bugg (Sound Design), Dianne Kelly (Costume Design), Leah Sams (Costume Associate)
Performers
Lucius Team (Globe of Death), Timbuktu Tumblers (African Acrobats), Tropicana Troupe (Cuban Springboard Troupe), Germaine (Footjuggling from France), Luciano Gabriel (Bolas from Argentina), Carina (Bolas and Dancer), Jose and Gaby (Hand to Hand from Colombia), Tweedy (Scottish Clown), Odka (Contortion with Bow and Arrow, Silks from Mongolia), Laci (Robot and Aerial pole, Enligsh), Rosey (Aerial Silks, English), Jackie (Aerial Straps, English), Toni (Knife Thrower, Czech), Zula (Tower of Chairs, Mongolia), Eva, Kata, Vanessza (Berserk dancers from Hungary)
After a nationwide tour in 2016, Cirque Berserk land in Edinburgh for seven performances of their wonderful circus show.
While there is no such thing as an average circus, Cirque Berserk have successfully found acts that are as original as they are thrilling. Along with stunning acrobatics, flawless aerialists and incredible contortion, the company brings together acts from all over the globe to entertain in an evening of fun, fire, and fearlessness.
The Timbuktu Tumblers begin the show with a fantastic display of acrobatics. Luckily for the audience they return four or five times throughout the show with variations including a limbo pole on fire and a hoop routine, and every appearance is a highlight.
Bolas Argentinas is something you don't see every day. Performers use throwing weapons to beat rhythms and spin flames so fast they extinguish. Tropicana Troupe from Cuba defy gravity by using a human catapult to launch themselves to dizzying heights. Two exquisite dancer-acrobats from Colombia are stunning in their hand to hand routine which is the most beautiful moment of the show.
A traditional aspect of circus is juggling; the Berserkus take it a step further with a French juggler using her feet to throw and catch a multitude of objects including a flaming wheel. There is a knife thrower and a strap acrobat, everything you could think of, including Tweedy, the slapstick comic.
Although not referred to as a clown, Tweedy's physical comedy is exactly what has been delighting audiences for decades. In the twenty first century there is a sad taboo on the word as popular culture has demonised the white make up and red nose, but Tweedy is as genuine and as good as it gets. He is a master, and has his audiences laughing like children at his antics, and his wonderfully skilled slapstick capers.
The finale piece of the show is the Globe of Death, a steel cage in which four motorcyclists reach speeds of 60mph. This is undeniably one of the most dangerous circus shows to tour the UK, and as such sells itself on the impact of the danger and the daring of its performers. It is berserk in the most literal sense; head on, full on and unrelenting. It is a spectacle that will delight any age at any time, and whether you are a fan of circus or not, there will be something in there that will leave you speechless.
7–12 February, 7.30pm (weekend matinees 2.30pm); £20.50-£30.50