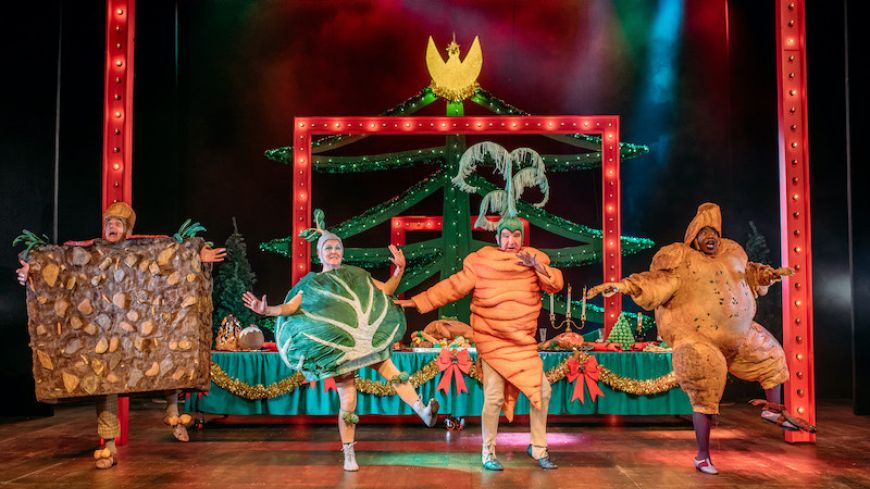 Company
Christmas Dinner is a Royal Lyceum Theatre Edinburgh production. in association with Catherine Wheels Theatre Company.
Production
Writer - Robert Alan Evans
Director - Gill Robertson
Designer - Karen Tennent
Lighting Designer - Colin Grenfell
Composer & Sound Designer - Danny Krass
Movement Director - Jim Manganello
Understudy Director - Jo Rush
Casting Director - Laura Donnelly CDG
Performers
Fruity - Richard Conlon
Lesley - Elicia Daly
Billy - Ronan McMahon
Madame Lady - Florence Odumosu
Bird Girl -Sita Pieraccini
Christine - Janie Thomson
Dave - Hamish Wylie
It's the most wonderful time of the year, with Christmas shows to run the gamut across Edinburgh from Scottish Ballet to a classic Hollywood film-turned-musical to the return of Pantoland, but there is nothing on an Edinburgh stage this season quite like charming, delightful, fresh and family-friendly Christmas Dinner, a quirky and immersive gem of a play, which puts the crew and the theatre itself centrestage.
As this theatre hasn't had a story in years (sound familiar?), its stomach is grumbling for a story. Not just any story, but the right story. Unfortunately, after a horrible year, stagehand Lesley (Elicia Daly) is not in the Christmas spirit, to put it lightly; but, no matter how many lights she turns off, how much glitter she sweeps away and how much bah-humbugging she exudes, spirit finds her. Well, spirit…s. It is Christmas time, and "Christmas is when the spirits of the theatre are at their strongest!" as one of the spooks declares. These ghosts of Christmas-theatre-past include reviewer/wishful actress Madame Lady (Florence Odumosu) to silly Billy (Ronan McMahon) to personified songbird Faerie Featherblossom (Sita Pieraccini) and over-the-top actor Fruity (Richard Conlon), all of whom take Lesley, and the audience by proxy, through a surreal and immersive romp through fairy tales and spectaculars, hoping to find the story that will bring the theatre to life once more.
Toeing apt themes with just the right nuance and profundity, together they melt the hearts of the audience and Lesley alike, with wacky and fantastical vignettes alongside a truly poignant and magical fable telling of love through loss. Looking ahead to the 2022 Visit Scotland theme 'Year of Stories', what better story to tell at this time and what a time to remember that, as the ghosts of Christmas Dinner say, "a story can go anyway you like it, and the theatre will help you."
Division may be growing at the moment, but if there is anything that can unite us in Britain more than theatre, it is Christmas Dinner. Tuck in here and have both courses, plus applause for pudding. As Madame Lady says, "Five stars! You're marvellous!"
#ChristmasDinner runs until 2 January 2022 - don't miss it!
Running time: 75 minutes with no interval
 
EVENINGS, 7pm and 6pm
Monday - Sunday
MATINEES, 1.30pm and 2.30pm
Monday - Sunday
SOCIALLY DISTANCED PERFORMANCES:
Sunday 12 December, 6pm
Wednesday 22 December, 2.30pm
Tuesday 28 December, 7pm
Wednesday 29 December, 7pm
Friday 31 December, 1.30pm and 6pm
Sunday 2 January, 2.30pm and 7pm
ACCESS PERFORMANCES:
AUDIO DESCRIBED
Friday 17 December, 7pm
Touch Tour at 5.45pm
Saturday 18 December 2.30pm
Touch Tour at 1.15pm
CAPTIONED
Saturday 11 December, 2.30pm
BSL INTERPRETED
Tuesday 21 December, 7pm
RELAXED PERFORMANCE
Wednesday 29th December 7pm (Please call Box Office to book)