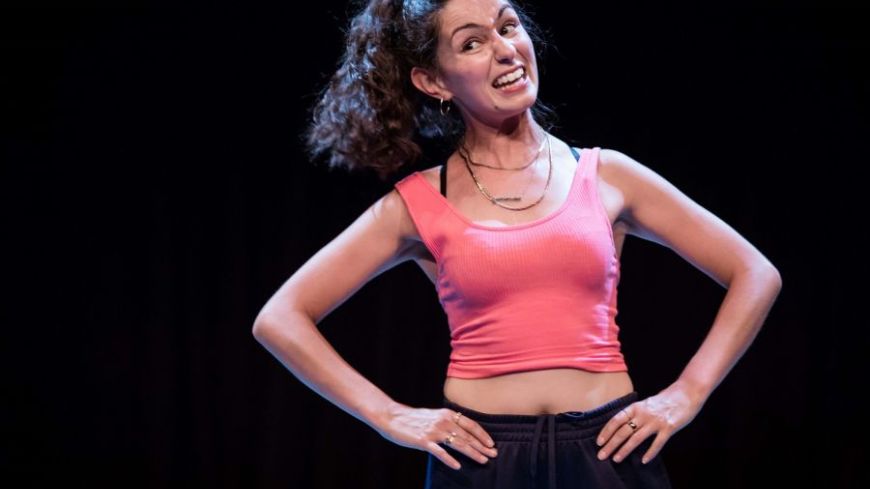 Company
Stephen Joseph Theatre and Tara Finney Productions
Production
Christopher York (writer), Paul Robinson (director), Helen Coyston (designer) Ben Cowens (lighting), Simon Slater (composer)
Performers
Serena Manteghi (Yasmin)
Build a Rocket is the debut play from award winning playwright Christopher York. RnB music from female powerhouses gyrate over the speakers. Bare bulbs hang over a grey box centre point with iron pipes protruding from each side, giving the appearance of a playground roundabout. The perfect setting to meet Yasmin, the self-proclaimed "little girl from Scarborough" whose special ability is "being hard".
Serena Manteghi sweeps onto the stage, sporting an unapologetic chav style. We essentially see this character grow up in front of our eyes from a rebellious teenager in love to a hard-working single mother whose son has just been accepted to university. The actor shifts from one moment in time to another, from one conversation to another, playing all parts with different voices and mannerisms. With no props and no change in set (barring flashing UV lights), the success of the piece rests entirely on Manteghi's shoulders--a mammoth task for any solo performer, but she takes it all in her stride.
The writing really paints a picture, with creative nuances such as the GCSE Gameshow, the Tinder soldier and a poetic run from the hospital. But it is Manteghi's energetic expression which truly steals the show. She gives host to a whole gaggle of characters and her off-beat sense of humour shines brightly throughout the piece. In the more poignant moments, when Manteghi is often reacting to empty space, she earns her pauses and has the audience eating out of her hands. As Yasmin holds out her empty arms, the audience can see the baby's face in Manteghi's eyes as she is overcome with love and devotion.
Though written by a man, this play this play manages to capture the bliss, pain and heartbreak of motherhood and certainly does not skip the gory details (ie: "Who cares about vaginal tearing; you literally sh*t yourself".). The central pulse of this play is Yasmin's terror of failing her child. Her resilience and determination in the face of constant disappointment is incredibly powerful and the audience roots for her at every turn.
Build a Rocket acts as a salute to the many single mothers out there who manage to achieve the impossible and spin straw into gold. An important, uplifting story full of hope and strength despite sheer adversity.
Age Range: 14+
Dates & Times: 16th &17th October (8pm)