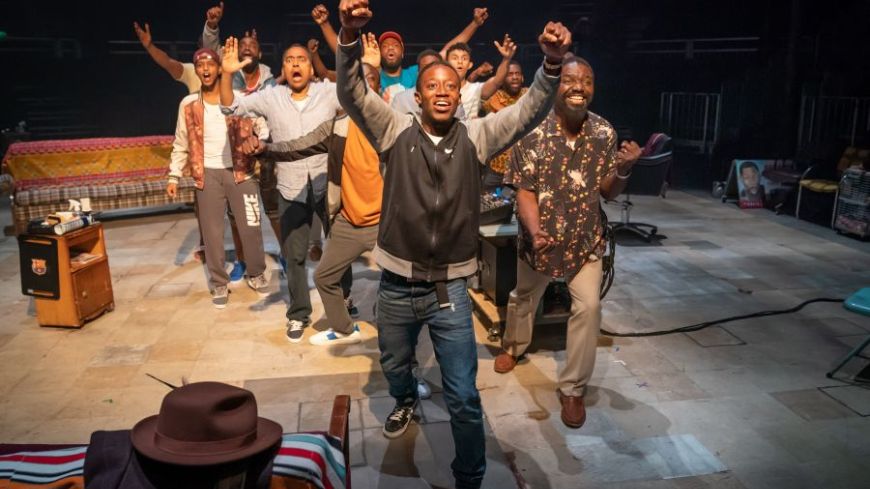 Company
Fuel, National Theatre and Leeds Playhouse co-production
Production
Inua Ellams (Writer); Bijan Sheibani (Director); Rae Smith (Designer); Jack Knowles (Lighting Designer); Aline David (Movement Director); Gareth Fry (Sound Designer); Michael Henry (Music Director); Lekan Lawai, Stella Odunlami (Associate Directors); Louis Hammond CDG (Tour Casting Director); Catherine Morgan (Design Associate); Lydia Crimp (Costume Supervisor); Andrew Whiteoak (WHAM Supervisor); Kev McCurdy (Fight Director); Peter Atakpo (Barber Consultant); Charmain Hoare (Company Voice Work); Hazel Holder (Dialect Coach); Mekel Edwards (Production Manager); Sunita Hinduja (Company Stage Manager); Emma Rangel (Deputy Stage Manager); Stefania Procter (Assistant Stage Manager); Rachel Bowen (Lighting Associate and Production Electrician); Francesca Duvall (Touring Wardrobe Supervisor); Anthony Hannah (Technical Swing)
Performers
Micah Balfour (Winston/Shoni); Okorie Chukwu (Elnathan/Benjamin/Dwain); Maynard Eziashi (Musa/Andile/Mensah); Adé Dee Haastrup (Wole/Kwabena/Simon); Emmanuel Ighodaro (Tokunbo/Paul/Simphiwe); Demmy Ladipo (Wallace/Timothy/Mohammed/Tinashe); Mohammed Mansaray (Samuel); Tom Moutchi (Kwame/Fabrice/Brian/Olawale); Anthony Ofoegbu (Emmanuel);
Elmi Rashid Elmi (Ethan); Eric Shango (Tanaka/Fiifi); David Webber (Abram/Ohene/Sizwe)
From its high-energy beginning to its heart-warming ending, Barber Shop Chronicles is a wonderfully rich journey through the worlds of the eponymous barbershops. Travelling through Johannesburg, Peckham, Harare, Kampala, Lagos and Accra, writer Inua Ellams weaves a tale that, while initially appearing to be a sequence of loose connections, ultimately spirals into the need for, and demonstrates the power of, a sense of community, where men from black communities can find their home.
It is a challenge to transform a normally restrained theatre space into a welcoming lively dance party, but the strong team of actors easily engage the audience, encouraging them into the space and having much fun showing off some great dance moves. The direction and movement in this piece are specific but also enlivening: the routines, the dancing, the incredibly smooth and beautifully choreographed set changes – all of these combine into a visual feast that brings the audience firmly into these worlds. The quirky, eclectic set with its chairs of all kinds, a globe that lights up as we travel to different countries and a trail of lights, all add to the sense of listening, leaning in and finding new homes.
This piece looks at these spaces where men not only get some stylish haircuts, but also more importantly find a space to chat, to joke and laugh, to belong. It is also about the impact of that which is not said, the sometimes difficult relationships between fathers and sons, personal history and cultural history; the language that shapes history and the history of words that have embodied racism and division, the anger that divides and the acceptance that brings change. All of this unfolds as this powerful company of actors, complemented by the beautiful words from Ellams, paint a picture of characters but not caricatures, making the audience root for them to succeed. There are some extremely touching moments which remind us that being able to talk gives freedom and safety, but also that humour goes a long way to holding onto humanity. While at times there is almost too much information to take in, this is a heart-felt and unexpectedly emotional show that will remain with you long after the show has ended. 
Times: Friday 25 October – Saturday 9 November @ 7.30pm (not Sundays), (Wednesday 6 – Signed Performance; Thursday 7 – Audio Described); matinees Saturdays 26 October, 2 (Captioned and Audio Described) & 9 November; Wednesdays 30 October, 6 November @ 2.00pm.
Tickets: £10 - £33
Photo by Marc Brenner