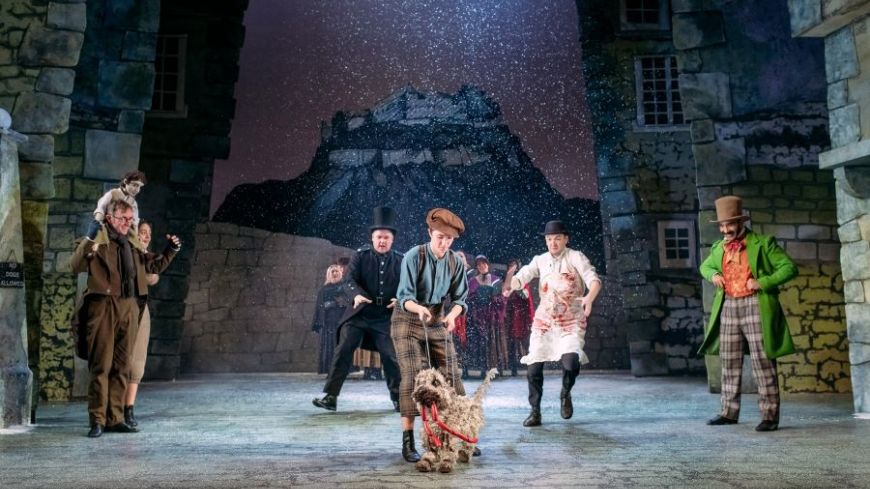 Company
The Royal Lyceum Theatre Company
Production
Tony Cownie (Director/Adaptor); Charles Dickens (original novel); Neil Murray (Designer); Zoe Spurr (Lighting Designer); Pippa Murphy (Sound Designer); Becky Hope-Palmer (Associate Director); Kally Lloyd-Jones (Movement Director); Edie Edmundson (Puppet Director); Louise Martin (Choir Mistress); Simon Auton (Puppet Maker)
Performers
Saskia Ashdown (Mrs Thomson, Fan, Bobby); Ewan Donald (Rab Crachit, Rev. Rednose, Headmaster, Auld Jock); Edie Edmundson (Puppeteer - Tiny Tim, Bobby); Belle Jones (Mrs Crachit, Mrs Fezziwig, Mrs Bigchin); Crawford Logan (Ebenezer Scrooge); Steven McNicoll (Fezziwig, Old Joe, Nouadays, Collector); Taqi Nazeer (Fred, Ayont); Grant O'Rourke (Charlie, Policeman, Jacob Marley, Young Marley, Businessman 2); Brian James O'Sullivan (Young Ebenezer, Dog Catcher, Firewood Man, Businessman 1); Nicola Roy (Mrs Busybody, Mrs Leanbones, Belle, Rose); Eva Traynor (Emma, Lang Syne, Mary Crachit); Community Choir
This delightfully charming show based on Charles Dickens' A Christmas Carol, is exactly what a Christmas show should be: entertaining, successfully managing to appeal to all ages, and a reminder of the festive message. In debuting this clever adaptation of Dickens' much loved classic, Tony Cownie has created a wonderfully atmospheric world that is both familiar but with a fresh, new take on the story. It is witty, with a great mix of humour and darkness but ultimately heart-warming, leaving you with a warm glow that remains long after the end of show.
Setting the story in Edinburgh works really well and with the addition of a realistically animated puppet Greyfriar's Bobby (performed by Saskia Ashdown), there's a certain familiarity to the story. There are a few in-jokes that will appeal to those with local knowledge, which adds to the humour. Indeed, it is impressive how much laughter is teased out of what is a dark tale of a man who has lived a life of misery that is meted out to others.
The performances from this strong cast are well crafted, from the miserly Crawford Logan as Scrooge, to the hilarious duo of Belle Jones and Nicola Roy as Mrs Bigchin and Mrs Leanbones, to the beautifully voiced community choir. The ghosts are suitably scary in their tale-telling, and Edie Edmundson's performance with the puppetry of Tiny Tim is heart-breaking.
A special mention should go to the set and scenery. Initially, they appear simple, but as the scene-changes move seamlessly, it becomes clear just how effective and well-designed they are. The changes are smooth and clearly defined; each set piece and backdrop allowing easy identification of the new space, helping to set the atmosphere.
The backdrop of Edinburgh Castle is beautifully rendered and adds to the effect. Coupled with the stunning costumes, this draws the audience in to an authentic-feeling world of 1857.
This is an adaption that could work for years to come. Entertaining and fun for all the family, if you attend only one Christmas show this year, you will not go wrong with this production.
Show Times
Saturday 7 December – Saturday 4 January, 7pm (Sundays, 6pm); matinees Saturdays, 2pm; Sundays,  1pm;
Audio Described: Friday 13 December, 7pm (touch tour – 5:45pm), Saturday 14 December, 2pm (touch tour – 12:45pm); BSL Interpreted: Wednesday 18 December, 2pm; Relaxed Performance: Friday 3 January, 2pm
Tickets: £10-£32
Photo: (L-R) Ewan Donald, Saskia Ashdown, Grant O'Rourke, Edie Edmundson, Brian James O'Sullivan. Puppets by Simon Auton. Photo credit Mihaela Bodlovic