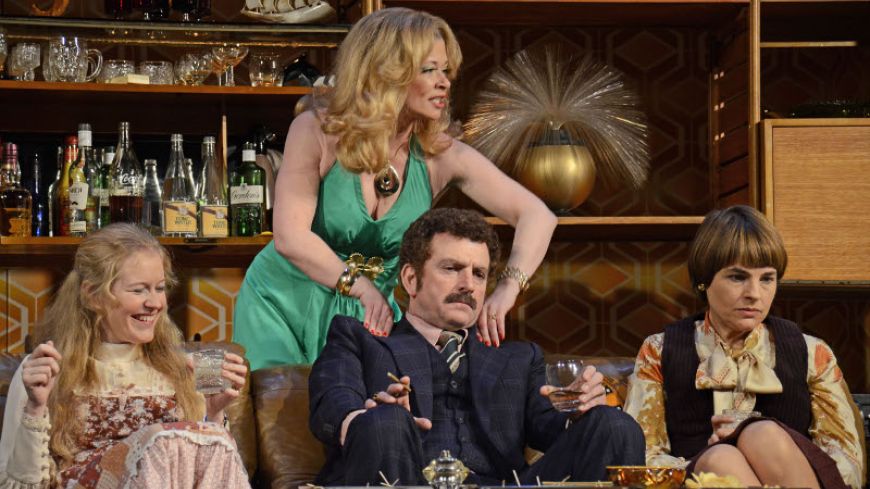 Company
Theatre Royal Bath Productions and Menier Chocolate Factory Productions
Production
Lindsey Posner (director), Mike Britton (designer), Howard Harrsion (lighting designer), Fergus O'Hare (sound designer),Ginny Schiller (casting), Caroline Hughes (costume supervisor), Elsbeth Threadgold (costume maker), Nobby Clark (photographer)
Performers
Hannah Waterman (Beverly), Martin Marquez (Laurence), Samuel James (Tony), Katie Lightfoot (Ange) and Emily Raymond (Sue)


The 1970s have been lovingly set in aspic for this revival of Mike Leigh's unforgettable 1977 play, Abigail's Party. The set is all G plan furniture, fibre optic ornaments, shag pile carpet and décor that looks like the complete shade chart of browns and oranges from that era and authentic enough to be alarming to see a the familiar look appearing as a period piece! We are in Essex suburbia.
Beverly (Hannah Waterman) and Laurence (Martin Marquez) have invited their neighbours Ange (Katie Lightfoot) and Tony (Samuel James) round for a small Saturday night drinks party. Another neighbour, divorcee Sue (Emily Raymond), whose 15 year old Abigail is having a party, is also invited.
The real action is supposedly going on next door but the audience never attends Abigail's party. Instead we are privy to the strain of the social shenanigans and insincere clichés of the grown-ups where maxi dress wearing hostess, Beverly, shows off her commodities and pretentions to her awkward guests.
Leigh's acutely observed characters' behaviour has lost little impact over the years. The play is a brilliant observation of a gaping gender divide and its results. Class pretensions and the sham of the characters' marriages are exposed to the bone with great perception and humour throughout.
The role of Beverly has become synonymous with Alison Steadman's magnificent portrayal in the original, as she moved across her living room like a ship in full sail, with her shoulders high held in her bright flowing robe. Yet Hannah Waterman made Beverly very much her own in this new production. From her snaked dancing with the brilliantly monosyllabic Tony to her bosom hoisting gestures throughout, she puts her stamp on this magnificently flawed '70s wife.
The thin veneer of her respectability cracking further with every gin and her natural coarseness emerging with every snarled affirmative as she plies her compliant guests with more and more booze. Martin Marquez is a tense and anxious foot stamping Laurence, running errands at Beverly's bidding for the party like a blue arsed fly, indicating his demise at the end of the play. His collection of unread Dickens and token classical record are mere embarrassments to his flighty wife.
Emily Raymond's Sue is like a slightly awkward gung -ho Girl Guide, as she dares to ask for the only drink NOT in the drinks' cabinet, a sherry, and too mannerly to say she expected more food than the nibbles on a stick she is offered. Katie Lightfoot, whose voice was a little too 'pale pink' at times but was suitably gauche and garrulous in her, albeit too short, Laura Ashley frock. After a night of drunkenness, embarrassment and shock, the characters tumble back to their proper places in a frozen tragi/comic tableau involving leg cramp.
Acutely funny and tragic, this play that first appeared in the year of the Queen's Silver Jubilee has as its triumphant finale music the Sex Pistols' Anarchy in the UK. Make of that what you will.
Show times

Mon 25 February to Sat 2 March 2013, 7.30pm; Matinees Wed & Sat 2.30pm

Ticket prices

£27.50 - £14