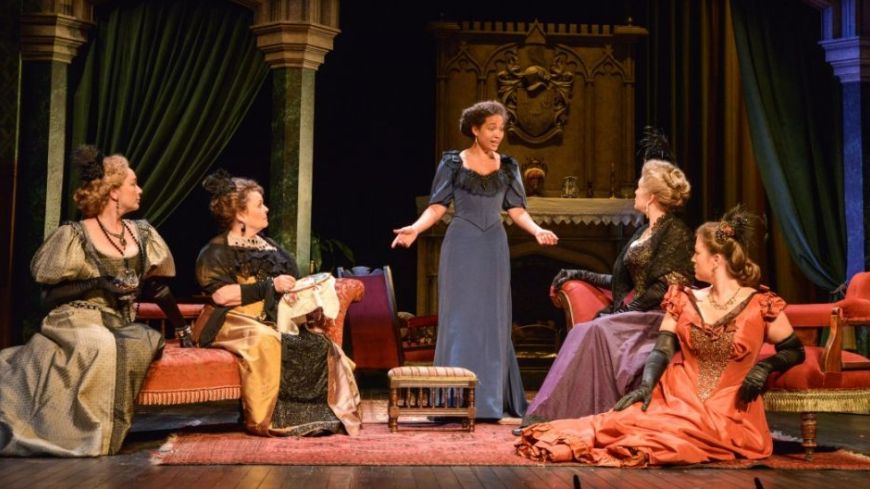 Company
Classic Spring Theatre Company
Production
Oscar Wilde (writer), Dominic Dromgoole (director), Jonathan Fenson (set and costume design), Paul Russell (lighting), Carolyn Downing (sound), Jason Carr (musical supervisor)
Performers
Liza Goddard (Lady Hunstanton), Isla Blair (Lady Caroline Pontefract), John Bett (Sir John Pontefract), Katy Stephens (Mrs Arbuthnot), Mark Meadows (Lord Illingworth), Tim Gibson (Gerald Arbuthnot), Georgia Landers (Hester Worsley), Roy Hudd (Reverend Daubeny), Emma Amos (Mrs Allonby), Meg Coombs (Lady Stuffield), Paul Rider (Kelvil), Will Kelly (Lord Alfred Rufford), Rachel Essex (Alice), Tom Jude (Francis)
Following the success of "Lady Windermere's Fan," Oscar Wilde was invited to write another social comedy which premiered on 19 April 1893,  described in the original programme as "a new and original play of modern life".
The opening scene takes place at Hunstanton Chase, a grand Country House where Lady Hunstanton is hosting a house party. With garden seats, deck chairs and rugs laid out on the Terrace, Lady Caroline Pontefract is in a rather heated debate with Hester Worsley, a young American woman, on the social differences between their two countries.
Lady Caroline: In my young days, Miss Worsley, one never met anyone in society who worked for their living.  It was not considered the thing.
Hester: In America those are the people we respect most...  we have no lower classes.
The atmosphere is tense as the voice of tradition and Aristocracy clashes with the modern view of American youth. Hester is indeed the foreigner, the outsider, showing off her free-spirited carefree manner, which catches the eye of the handsome 20 year old Gerald Arbuthnot.
The motley group of house guests sit around with nothing to do but pontificate on politics, social issues and morality.  Opinions are batted like tennis balls with little chance of returning a backhand retort as one speech follows another. The scene is directed at a snail's pace with much of the acting curiously stiff and stilted, lacking a natural flow of conversation.
Lady Caroline fusses over and barks at her (fourth) husband, Sir John, (a humorous caricature by John Bett), which adds a touch of mild amusement.  In the Entre'Acte interludes a medley of Victorian Music Hall songs is performed with a star turn by Roy Hudd as the dithering Reverend Daubeny.
After this ponderous start of all talk and no action, Act II begins after dinner in the Drawing Room amidst sumptuous furnishings and a flurry of elegant gowns. Lady Hunstanton holds court with gossiping anecdotes but she is scatty and forgetful, and Lady Caroline has to fill in the gaps. Liza Goddard and Isla Blair create a real comedic duo.  
The arrival of Mrs Arbuthnot, fabulously attired in black velvet, creates quite a stir; finally the heart of the drama can begin. Her private brief encounter with Lord George Illingworth is not so much romantic as fiery, the sparks flying between them, with the revelation of their past affair and the scandal of a family secret.
As a satire of upper class society of the era, the story examines the hypocrisy of double standards where men were forgiven for their indiscretions far more readily than women. Oscar Wilde was a great admirer of Henrik Ibsen whose revolutionary plays focused on women's private lives in a patriarchal society, their struggle against convention and constraints of marriage.
Portrayed with charming zeal by Katy Stephens, Mrs Arbuthnot is clearly an Ibsenite New Woman who will not be bullied by the flighty, flirtatious George. (Illingworth was modelled on Wilde himself). As an emancipated American girl, Hester also speaks her mind; "Don't have one law for men and another for women," she says curtly. 
Played by Georgia Landers, she has more than a passing resemblance in looks, accent and attitude to Meghan Markle, who now uses her public role as a Duchess, (perhaps unwisely!) to convey her feminist and political views, "Women's suffrage is about feminism, about fairness … it isn't enough to simply talk about equality. One must believe it."
With a very slight plot and a host of minor roles who have little to say (and disappear after Act III), do not expect a similar classic drama, hilarious characterisation and farcical antics as in "The Importance of Being Ernest". This is a light, frothy comedy of manners in melodramatic style.
Nearly 150 years on, those issues of Victorian modern life still reverberate with uncanny topicality. An exchange of views about the distinctive merits of the Houses of Commons and Lords receives the loudest laugh of the evening. 
Like the new "Downton Abbey," movie, this is sheer escapism into the decadent world of Aristocratic society, oozing vintage romantic glamour and peppered with Wildean dry wit and sardonic philosophy.  "Men marry because they are tired; women because they are curious. Both are disappointed."
Show Times:
King's Theatre, Edinburgh
Tuesday 1 – Saturday 5 October, 2019
Evenings 7.30pm, Matinees Wed & Sat 2.30pm
Ticket prices: £18.50-£32.00
https://www.capitaltheatres.com/whats-on/a-woman-of-no-importance
UK Tour: http://www.classicspring.co.uk/show/uk-tour-a-woman-of-no-importance