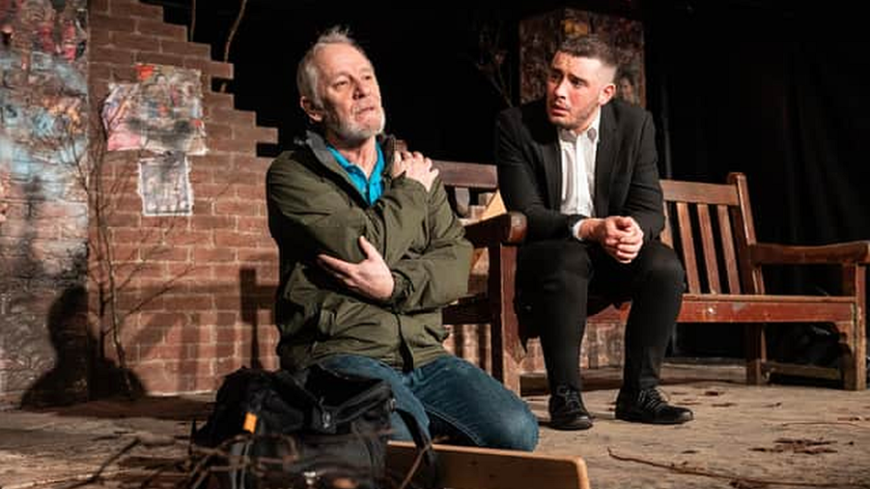 Company
Produced by A Play, A Pie and A Pint at Òran Mór, co-presented with The Traverse Theatre, in association with Stellar Quines.
Production
Alison Carr (writer), Caitlin Skinner (director), Neil John Gibson (assistant director), Gemma Pritchard / Jonny Scott (designers), Ross Kirkland (lighting designer), Mark Gillespie (sound designer), Jemima Levick (artistic director), Li Kennedy (producer), Jake Curran-Pipe (assistant producer).
Performers
Sean Conner (Man 1), Billy Mack (Man 2).
"But now that you left me
Good lord, good lord, how I cried
You don't miss your water, you don't miss your water
'Till your well runs dry" – William Bell
A smartly suited young man waits on a rather shabby memorial park bench amidst brown grass and broken glass. 
It's not the most romantic spot, but then that doesn't matter – he's straight and all the women in the world vanished nearly quarter of a century ago.
The app which has directed him here is not intended for dating but is a government initiative, a supposed world leading algorithm designed to create contact between the men left behind.  The programme is now mandatory, at a stage of mopping up the "dregs" who haven't engaged and enforced with the threat of substantial fines.
He is nervous, having had some failures in connecting, and when his reluctant and reticent older "match" finally turns up things look unpromising. Not that the generational gap should be an issue as they have both selected that from the intrusive 60 question form, but it will take more than a threadbare social care system to break the silence and separation of the "new normal".
While the older (Mack) lives with the pain of loss and the hope that one day women will miraculously return, the younger (Conner) wants to know what that bygone life was like and looks to apportion blame on the #notme generation who must have ignored red flags.  Sharing is a different kind of caring and living the past is not the same as reading about it.
Elegantly scripted and subtly directed it's a dystopian future shot through with cynical and ironic humour.  The actors rise to the challenge of keeping it entertaining and poignant in gradually revealing the greater themes, although the target of a patriarchal system where women are discounted and marginalised is not fully hit.
The production feels timely too, as it is possible to see post pandemic comparisons with the lack of contact, apps, tracking, cronyism, denial, cranks and conspiracy.
Unpretentious, interesting and imaginative; don't wait until it's gone.
Show Times: 28 February to 4 March 2023 at 1.00pm
Tickets: A Play, A Pie & A Pint ticket £17.50.  Play only ticket £12.
Suitability: Note – Contains references to suicide.