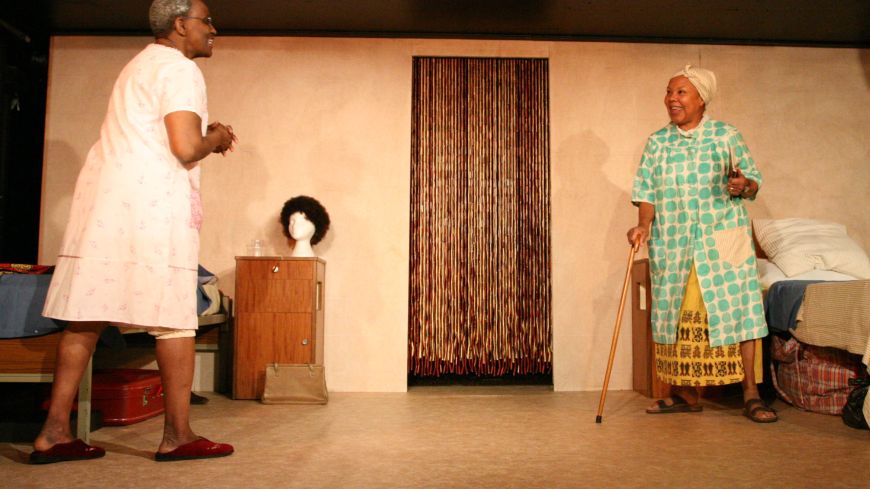 Company
A Play, A Pie and A Pint, Traverse Theatre Company and the National Theatre of Scotland
Production
Amba Chevannes (writer), Hamish Pirie (director), Sunniva Ramsay (assistant director), Patrick McGurn (designer), Tom Saunders (lighting and sound) , Lesley Black (photo)
Performers
Anni Domingo (Cynthia), Cleo Sylvestre (Myrtle)
Lonely children create imaginary friends. Why should lonely old women not do the same?
Amba Chevannes' play shows two elderly West Indian women, Myrtle (Cleo Sylvestre) and Cynthia (Anni Domingo), coming to terms with old age and sharing a room in a nursing home.
Myrtle, a fusspot and a busybody, is the established resident in the small room. She is grumpy, assertive and immediately calls the shots; drawing up lines of demarcation and sizing up the more nervous and diffident Cynthia. Myrtle quizzes Cynthia about her family, down to details about her family's address. The return of her sly letter asking them for a radio and a mobile phone reveals that the five children live only in Cynthia's mind. Myrtle may have an actual son but her own situation is equally blighted by his non- appearance in her new home. Her boredom and emptiness manifest themselves in mischief and low cunning.
The piece is performed in what is probably a version of West Indian patois suitable for Scottish ears, with the location nailed by Calypso songs between scenes. But the specific issues facing women at the latter stage of life are universal. Chevannes' characters are full of feminine humanity as they shuffle around, trying to rationalise life's injustices in their pink and yellow nighties and colossal knickers that went out with the Ark.
The young actors give sympathetic performances as the two old characters vying for position under the pale light of the set that looks like the sun at the end of the day, a fine metaphor for the time of these women's lives.
As time hangs heavy, it allows reflection of past life, and the women find that lies and self- delusion can be a useful way of coping, when that dangerous deluding sentiment hope is gone.
Under Pirie's steady direction, this gently comic and very feminine play shows reconciliation between the room- mates that result in their sustaining each other with new fantasies. The power of their imagination is shown to act as a pretty robust suit of armour against a bleak old age. Who says honesty is the best policy?
Tues15 -Sat 19 Apr, 1pm (with an additional 7pm performance on Fri 18)
£12 (includes a play, a pie and a pint of beer/125ml glass of house wine/regular glass of Pepsi, Diet Pepsi, lemonade, orange juice, tea or filter coffee).