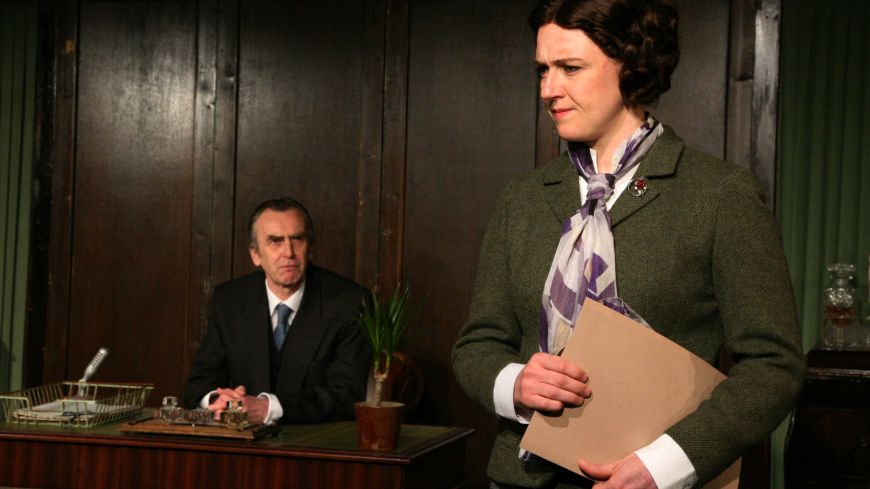 Company
Play Pie Pint: Love with a Capital 'L'
Production
Tony Cox (writer), Hamish Pirie (director), (Sunniva Ramsay (assistant director), Patrick McGurn (designer), Tom Saunders (lighting and sound), Susannah Armitage and David Maclennan (co-producers)
Performers
Lesley Hart (Hilda Matheson), Benny Young (John Reith)
Tony Cox's debut stage play brings out from the closet (or in this case the mahogany filing cabinet) a story of the desiccating results of the loss of a great love. The man in question is BBC Director General John Reith (Benny Young) a bastion of conservatism and Christian values.
BBC's Head of Talks, Hilda Matheson (Lesley Hart) has been called to Reith's office following the broadcast of a radio programme on marriage by her then lover Vita Sackville-West, and husband, Harold Nicolson. The ensuing exchange between the two colleagues begins with a fear of too many 'reds' and liberals being given time on the wireless but ends in his allowing her to read his diary, parts of which describe a 'divine' male friendship he had had during the war. Realising such entries could compromise his future career beyond the BBC, he asks Matheson to excise them. As one who is open and honest about her sexuality, Matheson declines.
Pirie's direction and Cox's dialogue are tight, with a controlled comedy that is contemporarily right for the characters. The script has woven through it some recognisable and smile inducing fears on the lowering of broadcasting standards. Hart is the earnest tweedy feminist ready to shock with some esoteric lesbian language, giving her usual quality performance and Young is the essence of fierce Presbyterianism with his not quite anglicised 'eccent'. He has a strong stage presence and seems to utterly embody the character of Reith.
The set is imbued with the suitable gloom of yellowed light and the heavy certainty of dark wood and buttoned leather. The Jack Hylton style big band music playing Painting the Clouds with Sunshine hints at less serious lives beyond the walls of the DG's office, which Reith may have lived in another time instead of the conventional but miserable ménage à quatre he describes.
Not far off 100 years later, it is legal in parts of Britain, and about to become legal in Scotland, for people of the same gender to marry each other. This compact and absorbing play captures the sorrow entailed in the enforced living of a lie when a belief system overrides deep human needs.
A Play, a Pie and a Pint is now in its seventh season at the Traverse. The programme produces the work of many of Scotland's best known writers, as well as producing the work of new young playwrights from the rest if the world. The £12 ticket includes a play, a pie and a pint of beer/125ml glass of house wine/regular glass of Pepsi, Diet Pepsi, lemonade, orange juice, tea or filter coffee.
Age Recommendation 14+
Show Times
Tue 1 - Sat 5 Apr, 1pm