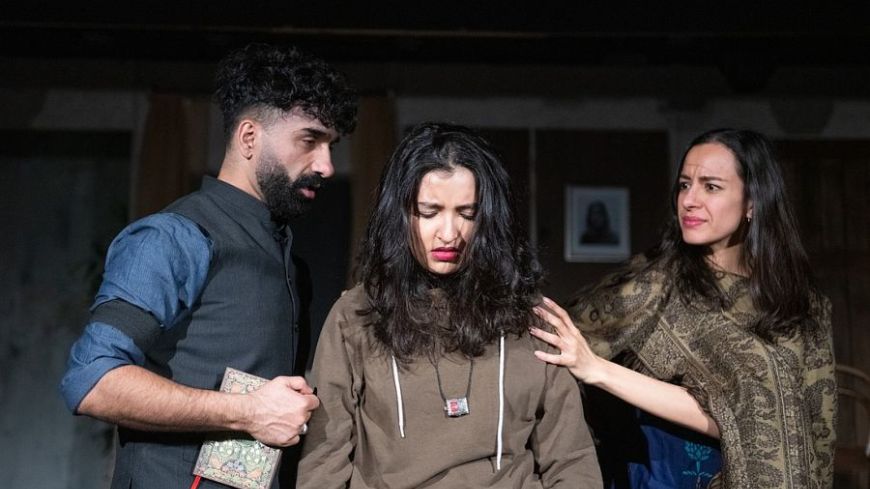 Company
A Play, A Pie and A Pint at Òran Mór, presented in association with the Traverse Theatre.
Production
Taqi Nazeer (writer), Niloo-Far Khan (director), Ben Standish (assistant director), Niroshini Thambar (sound designer), Ross Kirkland (lighting designer), Gemma Patchett / Jonny Scott (set designers).
Performers
Taqi Nazeer (Malik / voice of the Jinn), Avita Jay (Layla / Malik's mum), Iman Akhtar (Asiya / farm worker / Jinn), Balviner Sopal (voice over).
There are worlds both separate and intersected.
Alongside our human land there is a spiritual realm, the home of the Jinn, unseen creatures of smokeless flame who can take on other forms. In quiet places they are waiting, watching – perhaps there is already one beneath you seat …
When Malik was growing up in Pakistan he was told of a sacred, secret covenant passed down through the generations to protect the land. His destiny pulls him back when he must return to the family farm to look after his dying mother, but after more than a year his wife Layla joins him with daughter Asiya from Scotland.
Asiya is a typical "harassed" and somewhat rebellious teenager, going through a bit of a Goth phase and not fitting in with classmates, whom she describes as "witches". In this unfamiliar land she feels her "soul is gathering dust" and she is more interested in going to the graveyard on the anniversary of her grandmother's death than in participating in a school trip.  "That girl will be the end of me", her mother complains.
When there are some unsettling happenings, it seems that a pact and rites have been broken and that the fated father-daughter talk is overdue.  Questions need answered and the foremost one will be, what exactly has gotten into Asiya?
This is a solid family folk tale which is creepy, dryly comic, and not without surprise, somewhat akin to the classic "Tales of the Unexpected". 
In terms of the "horror" atmosphere the lighting and the excellent sound design do a lot of the heavy lifting but the not so happy family of strained father, more than troubled teen and just about holding it together traditional strong mother are ably performed. A traditional tale of good versus evil but with its easy flow of the languages of both cultures it also evokes the experience of living in cross-society and liminal spaces. The farmhouse staging is simple but effective, allowing the cast to neatly exit at the rear and reappear from the wings.
When you step back out into the world you might be glad that it is in daylight.
Show Times: 8 to 12 November 2022 at 1pm.
Tickets: £16 (includes admission, a pie and a pint of beer/125ml glass of house wine or a regular glass of soft drink).
Suitability: Contains flashing lights.