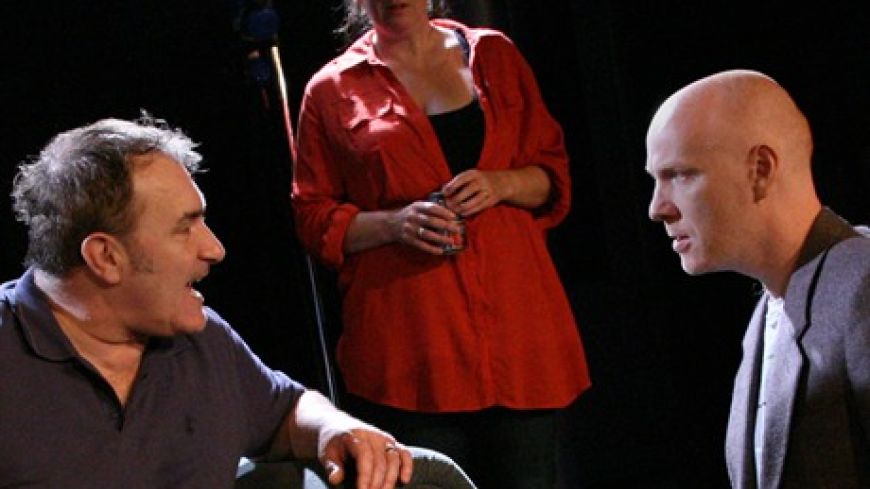 Company
Òran Mór in association with Paines Plough
Production
Katie Douglas (writer), George Perrin (director), Tim Deilling (lighting designer), Kirstin Hogg (assistant designer), Scott Twyholm (songwriter/composer)
Performers
Louise Ludgate (Brenda), Stewart Porter (Tommy), Simon Macallum (Dean)


Paines Plough was founded in 1974 over a pint of Paines bitter and is now the national theatre of new plays, so on both counts its involvement with the Traverse Theatre, Scotland's theatre of new writing, and with Òran Mór's A Play, A Pie and A Pint, is highly appropriate. This new 5-week Autumn season of A Play, A Pie and A Pint, the now 7 year old veritable institution that showcases world premiere plays, begins with DIG by prize-winning writer, Katie Douglas. Four cities are involved in this season's tour of the first 3 plays – Glasgow, Edinburgh, Coventry and, for the first time, Manchester.
DIG is set in Glasgow, but its subject matter is utterly recognisable and universal. Tommy and Brenda are a married couple dealing with the reality of unemployment and the worry of keeping things going for them and their family. A visit from Tommy's brother, Dean, and an offer of work in a tax dodging taxi business, resurrects bitterness and throws deep, suppressed feelings from all three into strong relief as the couple drowns in a rain of red reminders.
The cat's cradle of human emotions the characters are experiencing is woven in to the strong, convincing script that captures well marital and familial dynamics.  The three-strong cast passionately delivers the incredibly heart-rending lines that go beyond naturalism and take them to quality prose. 
This tightly written play is gripping, funny and extremely moving; it is about values and forgiveness; it is about the difficulties faced when adapting to change; it is about male pride; it is about loyalty and love;  it is about betrayal and compromise.   A thoroughly affecting piece of theatre.
Show runs Tues 11 - Sat 15 October (1pm)
The remaining plays in A Play, A Pie and A Pint season at the Traverse will be:
You Cannot Go Forward From Where You Are Right Now (Tues 18-Sat 22Oct),
Eternal Source of Light (Tues 25- Sat 29Oct)
God Bless Liz Lochhead (Tues 1 – Sat 5 Nov)
Watching the Detective (Tues 8 – Sat 12Nov), all at 1pm
All tickets are £12 and include a play, a pie and a drink from the Traverse Theatre bar café.