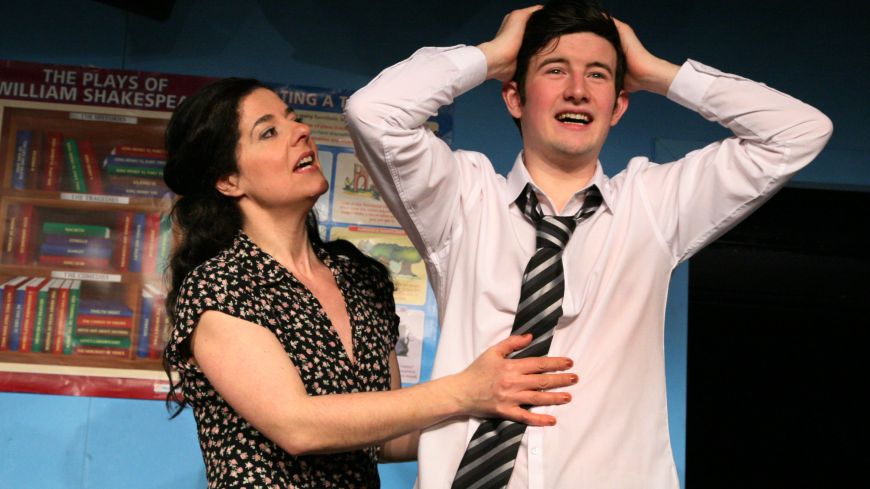 Company
A Play, A Pie and A Pint and Traverse Theatre Company
Production
Johnny McKnight (writer), Amanda Gaughan (director), Jacquline Lawler (assistant director), Patrick McGurn (designer), Jonathan Scott (assistant designer), Tom Saunders (lighting and sound), Susannah Armitage (producer) and David Maclennan (artistic director), Lesley Black (photo)
Performers
Anita Vetesse (Ms Stone), Scott Reid (Thomas), Dani Heron (Carly)
It may be a drama lesson but chemistry is top of the class.
It is Friday afternoon and lessons are over, except for Thomas (Scott Reid) who is staying behind for some help from his drama teacher, Ms Stone (Anita Vetesse), for his forthcoming audition for the part of Romeo. Some physical closeness during a lesson in method acting leads to a mass of complications between the two.
McKnight's diamond witted dialogue is brought brilliantly to life by the cast: Anita Vetesse as the single, slightly vulnerable woman heading home with no weekend plans beyond comfort food and a bottle of wine and Scott Reid as the skinny jeaned 16 year old who can swing from swaggering sexual assurance to boyish shrinking shame in a trice. Reid's eyes burst with humour and mischief as befits this méchant who is acutely tuned in to the older woman's vulnerability with a sophistication beyond his years. Dani Heron has tremendous presence and her portrayal of the hard faced, micro skirted Carly is electric. Her character may only appear for a short time but has significant, if unknown, influence on events.
Times and values have changed and the lack of boundaries between pupil and teacher shown in the play has echoes of the films Notes on a Scandal and Entre les Murs, (The Class, the characters' shifting roles being tightly directed by Amanda Gaughan. Their see saw dynamics expose the power of manipulation, imagination, fantasy and power itself. Though no crime is involved, the male character being 16, the relationship between a teacher trying to keep her authority and a clued up pupil aware of his rights when it suits creates a moral dilemma that McKnight capitalises on with his usual astute and honest style. His sharp writing gives a lesson in the frailty of human sexuality and the risks involved when lines of authority are blurred. Knowing a teacher's first name is one thing but it can be dangerous to use it. A gey near perfect stroke of writing magic from the pen of Johnny McKnight!
Tue 8 - Sat 12 Apr, 1pm (with an additional 7pm performance on Fri 11)
Age Recommendation
14+
£12 (includes a play, a pie and a pint of beer/125ml glass of house wine/regular glass of Pepsi, Diet Pepsi, lemonade, orange juice, tea or filter coffee).