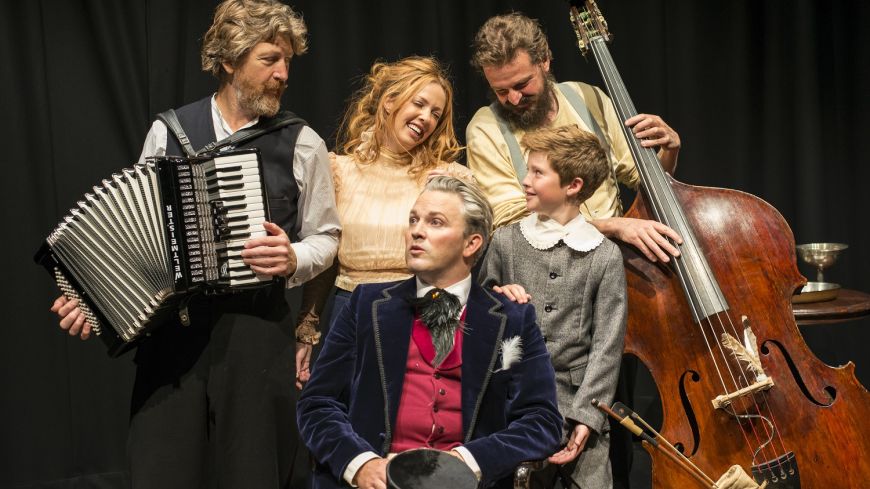 Company
Theatre Lovett, Ireland
Production
Frances Kay (Playwright), Muireann Ahern (Director/artistic director and Set & Costume Designer), Soren La Cour (Lighting design), Zia Bergin Holly (Additional lighting design), Louis Lovett (artistic director) Nico Brown (composer)
Performers
Louis Lovett, Lisa Lambe, Martin Brunsden, Nico Brown, Amelie Metcalfe (Performers), Andrew Bennett and Amelie Metcalfe (Voices)
Subversion is the name of the game in this banquet of lip smacking dark delights from Ireland's Theatre Lovett.
The old folk tale of Henny Penny, where a group of deluded birds march together to tell the king that the sky is falling in, but instead find they've marched to a terrible fate in the form of a hungry fox's lair, is completely and delightfully turned on its head.
After a brief telling of the Henny Penny story from the voices of Andrew Bennett and Amelie Metcalfe, a troupe of strolling players chant the refrain 'Le Monde est bouleversé' (The world is upside down). Young Amelie goes on to bring a haunting presence to the piece as the child.
The year is 1918. A certain top hatted Monsieur Renard, stumbles across a French restaurant called Le Monde Bouleversé run by a solitary waitress by the name of Henny Penny.
Is this top hatted gourmand who spouts vaudevillian tongue twisters sporting a white feather because he dodged fighting in the war, or does his plumed buttonhole signify another part of his crafty past?
Beautifully performed throughout by Lisa Lambe and Louis Lovett, who bring their skills in physical theatre to this treat, A Feast of Bones is stuffed full of surprises that take you to the cliff edge of shock while entertaining all the way. Muireann Ahern's set with its candlelight atmosphere and tempting cornucopia of food perfectly creates an alluring trap for the salivating vulpine in toff's clothing.
Martin Brunsden and Nico Brown are the lugubrious looking bearded musicians who bring some French patter and a fine range of original music on the piano, double bass, accordion and saw throughout that includes the WW1 song Keep the Home Fires Burning.
Whether you choose to take the message that Henny Penny and her pals were foolish or that their loyalty to each other on their mission to an elusive monarch was admirable, this serenade to the dark and wicked side of life, that's accompanied by a fantastically funny and inventive programme, is a theatrical joy across its delicious menu. Theatre Lovett has taken a prime cut from the dark underbelly of original fairy tales to create a revenge fable that they serve at its ideal temperature. This is accomplished, grown up theatre for adults and children alike.
28 -29 May 2018 times vary age recommend 9-15 years