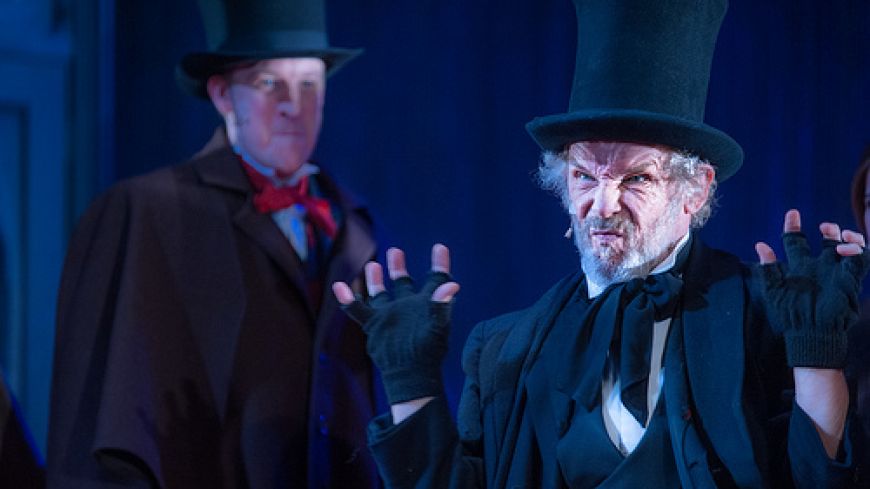 Company
The Royal Lyceum Theatre Company
Production
Charles Dickens (original novel), Neil Duffield (stage adaptation), Andrew Panton (director), Alex Lowde (set and costume designer), Simon Wilkinson (lighting designer), Claire McKenzie (composer and musical director), Tim Reid (video designer), Emma Whoriskey (deputy stage manager), Rick Conte (puppet consultant)
Performers
Christopher Fairbank (Scrooge), Joh Kielty (Storyteller/Bob Cratchit/Topper/Broker), Anthony Bowers (Storyteller/Fred/Ghost of Christmas Past/Broker), Lewis Howden (Storyteller/Marley/Mr.Fezziwig/Ghost of Christmas Present/Old Joe), Scott Gilmour (Storyteller/Young Scrooge/Understudy), Pauline Knowles (Storyteller/Charity Lady/Mrs.Fezziwig/Mrs.Cratchit/Charwoman/Kathleen), Angela Hardie (Storyteller/Charity Lady/Belle/Martha Cratchit/Beth), Karen Fishwick (Storyteller/Servant/Understudy), Tom Borley/Archie Powell (Tiny Tim/Child 3/Tom), Jack Dickson/Zak McCullough (Peter Cratchit/Child 2/Boy), Maya Pidoux/Nina Morgan (Little Fan/Child 1/Harriet/Janet Cratchit).
Slick and inventive direction, together with a strong cast, helped to remind us what a brilliant story A Christmas Carol is. But what gave this production its stirring, uplifting and truly Christmassy flavour was – appropriately enough – the inclusion of some well-chosen and cannily-positioned Christmas carols.
Dressed in the Dickensian costumes of long gowns, capes and bonnets, tails and top hats (so in-keeping with the Lyceum's own meticulously-maintained Victorian style) the cast softly began to sing Here We Come A-wassailing, building up to a rousing chorus. This hit the spot, and set the marker for how this production would accomplish audience engagement and enlist commitment to follow what is, after all, a well-trodden path.
One of the challenges of staging a story that relies on many swift changes of atmosphere and location – as this does - is how to communicate the different moods with minimum fuss and maximum impact. The singing did it every time. When the Ghost of Christmas Past takes Scrooge back to watch himself sitting alone in a school room on Christmas Day, the boy Scrooge singing In the Bleak Mid Winter was as poignant, as young Scrooge dancing to Wassail All Over the Town, was joyous.
Physical changes of scene were indicated through very clever use of spare but significant props and theatrical devices: puppets and projections, a rolling bed and revolving doors, all played their part with style, but crucially without fuss, never interfering with the action. The only permanent stage dressing was the silvery chains that fell to the floor and formed a three-sided surround, with a skilful use of lighting turning it from eerie to magical in the blink of an eye.
Credit is also due to all of the eight adult members of this tight cast who acted as storytellers and scene-shifters, and between them played all of the various key roles. In particular, Christopher Fairbank played an oddly endearing and sympathetic Scrooge and Lewis Howden played the larger-than-life characters of Mr. Fezziwig and the Ghost of Christmas Present with the glorious rumbustiousness reminiscent of Mr. Brian Blessed. Three younger cast members also pulled their weight admirably as Tiny Tim, Little Fan and others, adding humour and pathos in equal measure.
Finishing with an uplifting, if rather cheesy, medley of Christmas songs while synthesised snow fell on the stage and in the auditorium, this good-hearted show topped everyone up with a generous helping of just the right sort of Christmas spirit.
Runs until 4th January 2014
Tickets £14 - £27 (group discounts available)