Image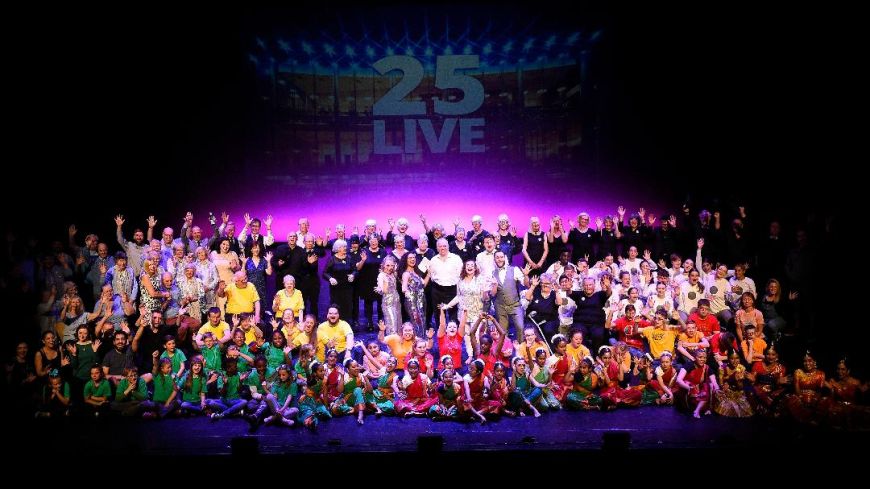 Company
Capital Theatres with Edinburgh Council, Life Changes Trust and The Robertson Trust
Production
Cat Sheridan (Director and Producer), Andrew Dyer (Assistant Producer), Jane Greig (Image and Design), Catherine Bromley (Press & PR), Sam Goldblatt (Marketing), Anabel Barrero (Digital Marketing), Susan Leask (Costume and Prop Sourcing), Sulie Wood (Lighting Design), Ruari Dunn (Sound Design), Stuart Haldane (Stage Manager), Gillian Goupillot (Deputy Stage Manager), Heather McLuskey (AV Design and Operation), Emma Cannell & Cormac O'Callanain (Follow Spot), Mark Pringle & Steven Page (Stage Technicians), Michael Clark (Flyman), Oliver Benton (Take Part Filmaker)
Performers
Jamie Macdougall (host), Saskia Ashdown (host), Jonny Cameron, Imogen Reiter, Hannah Bradley, Mark O'Neill, Forget Me Not Singers, Harmeny school, Marie Duthie (dancer), Pilrig Park School, Scottish Opera, St. David's Nursery, St. David's Primary School, Brookwell Court, Rosie Kay Dance Company, WHALE Arts, Dance Ihayami, The Vintage Chorus, Carla Grant, Calum Grewar, Michaelis Kassimatis, Ruth Murphy, Euan Stamper, Mirren Wilson, Braidburn School, LGBT Youth Scotland
"Everyone is an artist. Everyone is an expert of their own experiences," recites Saskia Ashdown, co-host of 25 and Live, Festival Theatre's Big Birthday Show. Turning the mirror towards its audience, this homegrown variety show has community at its heart.
Playing host to the largest stage in Scotland, Festival Theatre has been designed as this country's premier dance and opera house. Capital Theatres has decided to celebrate this theatre's 25th birthday with a performance dedicated to their belief that everyone has a right to participate in the arts.
25 and Live showcases the creativity and diversity of Capital Theatre's community partnerships, projects and people. We see dementia-friendly performance with the Forget Me Not Singers, a co-created animation short film in partnership with Braidburn School featuring many talented children who have additional needs with All Among the Pines, a view into the tap dancers of the bygone Empire Theatre via An Audience With… and much more.
Highlights include The Vintage Chorus, with their emotive and melodic renditions of classics, Spinning Songs, accessible opera from a group spanning multiple generations, Red Sun: Dance Ihayami Youth Collective and their display of colourful, traditional Indian dance and comical yet innovative exploration of Festival Theatre and some of its notable productions with Art Is A Mirror of Society: A Mirror and Light Show.
Additional poignant and uplifting performances include Harmeny school, with their clowning performance of a live silent film, an enthusiastic and cheerful dance number with Pilrig Park School, Act I finale of rhythmic dance with Breaking Ranks, and expressive short film Our Voices, a collaboration with LGBT Youth Scotland as a response to the 2018 consultation on the Gender Recognition Act.
Duncan Hendry, Chief Executive of Festival Theatre, shares, "We opened on 18 June 1994 with a gala variety performance that paid tribute to the many theatre venues, circuses and performance halls that had previously stood at 18-22 Nicolson Street. It seemed only fitting that we mark our silver anniversary with a variety show that celebrates our creative people, partnerships and projects." A show with a lot of heart, 25 and Live makes it clear that Capital Theatres is committed to producing work that is both esteemed and accessible, leaving no one out of the creative process and of our vibrant cultural community here in Scotland.
This production has ended. Please see
https://www.capitaltheatres.com/your-visit/festival-theatre
for more information on upcoming productions.