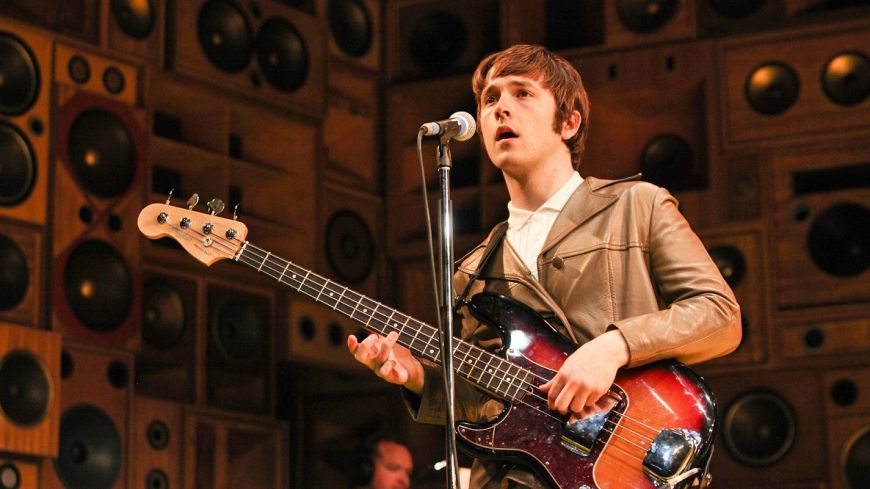 Production
Edward Hall (director), Ray Davies (music and lyrics), Joe Penhall (the book)
Performers
Mark Newnham (Dave Davies), Ryan O'Donnell (Ray Davies), Lisa Wright (Rasa), Andrew Gallo (Mick Avory), Richard Hurst (Larry Page)
This is the backstage Kinks' story. The band that made the Swinging London Mod scene of the 1960s their own. Brothers Dave and Ray Davies and their mates want to start a band and encounter all the usual suspects: nagging parent, pregnant girlfriend, money-grabbing agent, grasping record exec. There's an over-busy set and often too many people swarming on- and offstage. Amid this welter of scene-setting clichés emerges something rather different and magical.
In the first half of the show we get songs like Dedicated Follower of Fashion the 1966 anthem of Carnaby Street. The audience is left in no doubt that Ray Davies "boils at a different temperature to everyone else". The band meantime has to weigh up whether they want to hold onto their musical integrity or just be rich and famous.
Before the interval there's go-go girls in kinky boots, the American tour, swinging on chandeliers (yes, really) and a Vespa scooter on stage. Despite all this, it may be a sunny afternoon but not necessarily a funny one. The Kinks had a fabulous satirical edge to their music that really doesn't permeate this bio-musical. How one longed for more of the music and less chitchat.
Part two sees a mood change as, feeling homesick and depressed, Ray (a wonderful Ryan O'Donnell) and his missus (Lisa Wright) are really affecting in a couple of moody duets. The famous pop numbers give way to more thoughtful and measured songs and the writing is clever and full of great lines: "show business is all about revenge". As Davies says, his songs "are not about words but about atmosphere".
Despite reservations about the initial slow burn this is a great show – director Edward Hall keeps everything boiling, the cast is universally on the ball and the hard rock and high octane hits are played with finger bleeding brio.
Runs until 17 September at Edinburgh Playhouse.