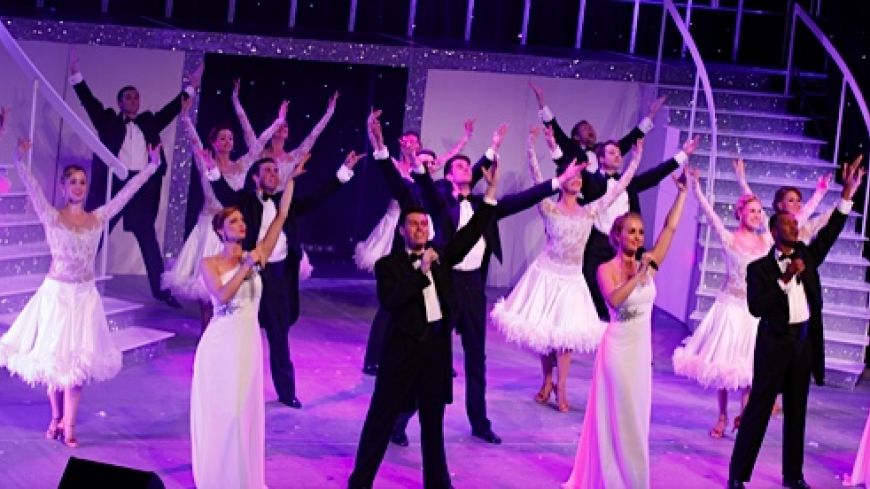 Company
Spirit Productions
Production
David King (producer/director),Emma Rogers (choreographer), Clive Dunstal (musical director), Paul Gould (lighting), Heather Davis (costumes), David Strelitz (video)
Performers
Singers: Sarah Earnshaw, Kate Sommerset-How, Emma Kate Nelson, Paul Hazel, Simon Schofield, Callum Simon. Special Guest Star,
Lorna Luft. The ensemble of Dancers.
The jazzy number "Puttin' On the Ritz" was written by Irving Berlin and featured in the 1930 movie of the same name. The phrase means to dress fashionably, inspired by the stylishly grand Ritz Hotel.
The fashionable 1920s – 40s era is certainly shown off here with an ever-changing parade of frilly ball gowns and sparkling sequins, suits and tuxedos.
The show kicks off in high spirits in "There's no business like Show Business" by the ensemble of six singers and sixteen dancers.
This is not a traditional Musical but a Revue of fifty classic songs (George Gershwin, Jerome Kern, Cole Porter, Scott Joplin, Irving Berlin et al), the golden age of Hollywood film music.
The stage resembles an art deco Titanic ship with two sweeping staircases leading down from an upper Deck. This is a small-scale touring production and, disappointingly, all the music is pre-recorded on a sound track.
Lead singer, Emma Kate Nelson introduces the Song and Dance Extravaganza as "A Musical Journey". First a tribute to Mr Twinkle Toes, Fred Astaire, illustrated through movie clips on screen and a medley of songs from "I Won't Dance " to "Top Hat".
The men are as glamorous as the ladies, if not more so, in their top hats, white ties and tails, waltzing around the stage.
The journey continues in rather disjointed, time-travel manner from 1946 back in time to 1928, 1911, then 1937 and back to the 1920s. There's no cohesive link through this great American songbook of the 20th century.
Act 1 begins in rather lack lustre mood despite the vivacious energy of the dancers who throw themselves into a series of fast-paced routines. The choreography is perhaps overly ambitious, the costumes too extravagantly frothy, both more suited to a lavish Vegas cabaret.
The production standard (sound, lighting, mic crackle, unco-ordinated steps) at first resembles a dance school end of term performance or 3 star cruise ship entertainment.
But, then enter special guest star, Ms Lorna Luft, daughter of the legendary Judy Garland and step-sister of Liza Minnelli. In an elegant black evening dress, she exudes a warm, bubbly personality, relating her family story with comedic wit; born into Hollywood showbiz, her childhood was spent at 17+ schools in 17+ states - she learnt about geography, but not how to spell it.!
From a lively "Zing! went the Strings of my Heart" to a raunchy rendition of "Chicago", she belts out the high notes. The selection also includes a few of her mother's famous hit songs.
The highlight is Luft's quietly emotional version of "The Man who Got Away", (from A Star is Born). Shut your eyes and listen to her iconic, rich, resonant voice, and it's as if Judy is back on stage.
Lorna Luft certainly adds sparkling superstar quality - but her two appearances are unconnected to the rest of the show.
Thankfully, Act 2 is more finely polished with a slick performance of "Another Op'nin', Another Show." The trio of female singers show off their talents with solo numbers, with credit in particular due to Kate Sommerset-How with a slow and sultry, "Up a Lazy River."
Strictly Come Dancing fans won't be disappointed by some high kicking chorus lines, tap dancing duos (Emma Kate Nelson shows how to do it), Charleston girls and a humorous Ragtime sketch using heads, hands and knees with meticulous rhythm.
What this production clearly needs is a Big Band on stage performing the music live for an authentic ritzy, glitzy celebration of these great American lyricists and composers.
Show times:
16 - 20 September, 2014
Manchester Opera House
Tues 23 - 27 September
Norwich Theatre Royal
29 Sept - 4 October.