Image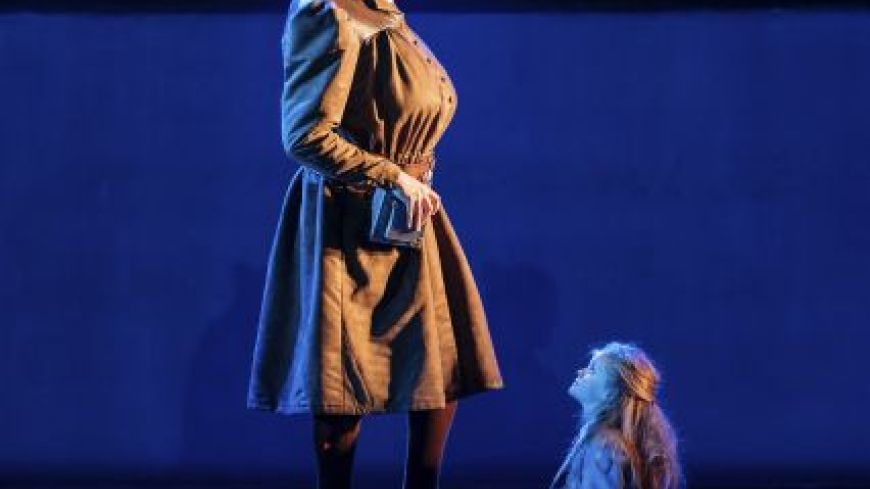 Company
Royal Shakespeare Company
Production
Roald Dahl (Author), Dennis Kelly (Book), Tim Minchin (Music & Lyrics), Matthew Warchus (Director) Andrew Corcoran (Musical Director), Simon Barker (Sound Design), Hugh Vanstone (Lighting Design), Rob Howell (Set & Costume Design), Peter Darling (Choreography), Christopher Nightingale (Orchestration & Additional Music), Jeanie O'Hare (Commissioning Dramaturg), Nik Ashton (Worldwide Associate Director), Ellen Kane (Worldwide Associate Choreographer), Fabian Aloise (Associate Choreographer).
Performers
*Scarlett Cecil, Olivia Cleverly, Freya Scott, Sophie Woolhouse (Matilda), *Toby Mocrei, Presley Charman, Charlie Garton, Theo Hanness (Bruce), Oliver Dalby, Adam Lord, Ben Pike (Tommy), Darcy Kelly, Felicity Mitson, Erin Rushidi (Amanda), Brooke Burke, Chantelle Tonolete, *Lily Van Veen (Lavender), Aiya Agustin, Georgia Mae Brown, Joely Robertson (Alice), Evie Allen, Lillie May Downton, Porsha Tayler-Young (Hortensia), Toby Hales, Noah Leggott, Ryan Tayler-Young (Eric), Joseph Black, *Elliot Boothroyd, Alfie Sanderson (Nigel), Adam Vaughan (Children's Entertainer/Sergei), Peter Bindloss (Doctor), Rebecca Thornhill (Mrs. Wormwood), Sebastien Torkia (Mr. Wormwood), Matt Gillett (Rudolpho), Matthew Caputo (Michael Wormwood), Michelle Chantelle Hopewell (Mrs. Phelps), Carly Thoms (Miss Honey), Emily Bull (The Acrobat), Steffan Lloyd-Evans (The Escapologst), Elliot Harper (Miss Trunchbull), Anu Ogunmefun (Cook), Richard Astbury, Peter Vindloss, Oliver Bingham (Henchman), Samara Casteallo, Anu Ogunmefun (Henchwomen), Joe Atkinson, Nina Bell, Sam Lathwood, Charlie Martin, Dawn Williams (Swings)
Over 30 years since its conception in Roald Dahl's humble writing shed in Great Missenden, his marvellous tale of a magical girl and her mean and miserable minders has finally reached the massive stage at the Edinburgh Playhouse.
Musically reimagined by the magnificent minds of Dennis Kelly and Tim Minchin, Matilda the Musical has gained critical acclaim and found success in London, North America, Australia and New Zealand - with South Africa and Asia in its sights for 2019!
The story follows Matilda, a born-miracle, into the arms of particularly vile parents- a father as useless as his used cars and a mother who cares more for her Latin dance partner than her little girl - before sending her off to school, where things go from bad to worse.
At Crunchem Hall Matilda falls into the charge of Miss Trunchbull, an ex-athlete come physical education teacher who despises children, where her sharp mind and knowledge of right and wrong are put to good use!
Performances across the company are exceptional, with particular kudos to Scarlett Cecil's Matilda who captivates the 3,000 strong audience every time she opens her mouth. Each of the children in the cast deserves their own standing ovation, providing performances that often outshined their adult counterparts - particularly in the uproarious closing number "Revolting Children".
Maggots aside - it doesn't take someone as sharp as Matilda to realise the star of this production is the villainous headmistress, played with biting humour by Elliot Harper, whose musical numbers, "The Hammer" and "The Smell of Rebellion", are stand alone lyrical masterpieces.
Visually the show is a knock-out, especially the combination of Rob Howell's cut and stick letter board set (what words can you find hidden among the alphabet blocks?), with Hugh Vanstone's bold lighting design. These two elements collide spectacularly throughout, but no more so than in Minchin's work of genius - "School Song", a piece of choreography of which Peter Darling should be exceptionally proud.
No moment of this show leaves child, nor grown-up, out, encapsulating the sadness and misery of Matilda's reality, against the punch-the-air-power of the righteous determination of a very clever young girl.
At Edinburgh's Playhouse until 27 April 2019.