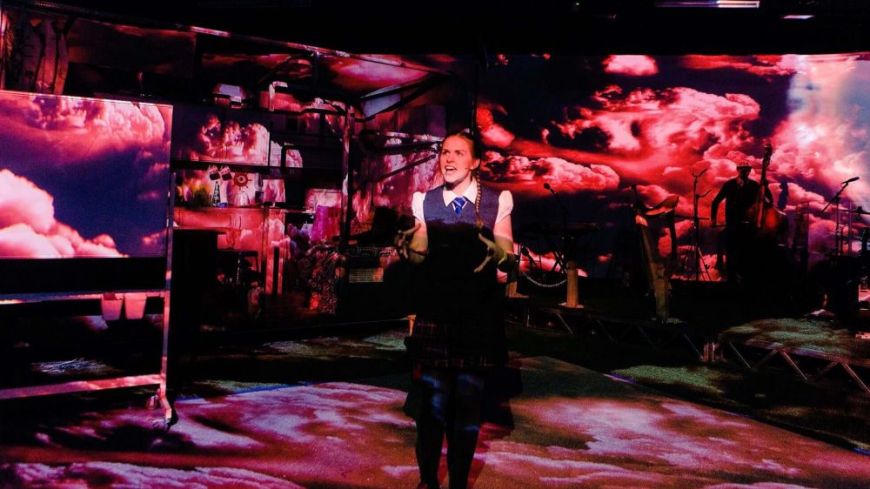 Production
Geinor Styles (writer, director, and artistic director), Amy Wadge (music and lyrics), Barnaby Southgate (musical director), Mike Beer (sound design), Matt Gibson (sound operator), Alison Palmer (company stage manager), Gareth Brierly (advance sound engineer), Elanor Higgins (lighting design and advance LX engineer), Andy Pike (AV designer), Paul Brown (advance AV designer), Mara Hoernschemeyer (assistant stage manager and technical manager), Maggie Rawlinson (choreographer), Geraint Chinnock (production manager), Lefi Jones (assistant production manager), Carl Davies (designer), Daniel Lloyd (assistant director), Nancy Sheterline (marketing, press and communications manager), Carys Wehden (production and administration assistant), Kate Williams (general manager)
Performers
Kieran Bailey (Mr. Church/ Chris), Dan Bottomley (Walt), Rosey Cale (Emmie), Llinos Daniel (Angela), Caitlin McKee (Karen), Dan Miles (Lloyd), Barnaby Southgate (Tomos), James William Pattison (Griff/ Ched)
Want to solve climate change? Educate girls. According to a 2017 study by Brookings, for each additional year of education that a young woman receives on average, her country's resilience to climate-based disasters improves by 3.2 points. Put climate change, female education, STEM, pop/country/folk music, tornados and big dreams in a blender and out comes inspiring and magnificent musical Eye of the Storm, written by Geinor Styles.
Absolutely acing the Bechdel test, this piece, set in the valleys of Wales, follows 15 year-old Emmie, a girl wrestling with whether to chase her dreams by chasing storms (literally) or to stay in her small town and remain as her mother's carer, a full-time job she's been juggling with school since she was 8. She longs to move to America for uni to pursue her passion: tornados, but keeping up with coursework as well as her mother's health proves to be a storm most harshly weathered. When she gets a chance to win a bursary that can keep her in the physics course and on track to storm-chase in the US of A, will her invention for renewable energy make her dreams a reality?
As the mother, Llinos Daniel is charming and complex, and Rosey Cale, as Emmie Price, the young carer, big dreamer and budding scientist, is powerful, with a beautiful high register and impressive acting chops. 
With a score by Grammy award-winning co-songwriter for the likes of Ed Sheeran, Janelle Monae, Kylie Minogue and Dua Lipa, the soundtrack to Eye of the Storm by Amy Wadge is one I can imagine popping into the CD player and singing along to while driving down a country road. It's many things in one: easy listening, catchy and clever. Impressively, the actors are also the live accompaniment, seamlessly hopping off to stage left to play the guitar, bass, keyboards, backing vocals.
Winner of Best Show for Children and Young People (Wales Theatre Awards), this piece is just so...new. It's original and refreshing, just the kind of gig theatre/ offbeat musical that emerges as a hidden gem to unexpectedly capture your heart.
On the eve of youth-led Global Climate Strikes helmed by Greta Thunberg, Eye of the Storm brings you what the world needs now: compelling, joyful art that inspires and empowers young people, especially women, to pursue STEM and, yes, change the world. Bring your children, bring your students, bring yourselves to this Theatr na nÓg production, a perfect example of what the company aspires to do: tell stories of ordinary people who achieve extraordinary things.
Limited run- get tickets now
THU 19 SEP TO SAT 21 SEP 2019
Evenings 7pm, Matinee Thu & Sat 2pm
Age 8-12+