Image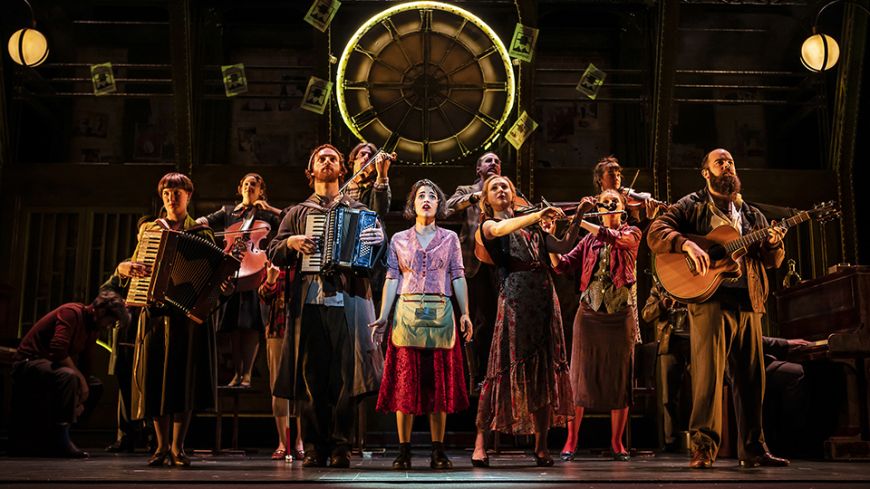 Company
Hartshorn - Hook Productions and Selladoor Productions in association with The Watermill Theatre and Broadway Asia
Production
Craig Lucas (Book), Daniel Messé (Score, Lyrics) Nathan Tysen (Lyrics), Michael Fentiman (Director), Madeleine Girling (Designer), Barnaby Race (Musical Supervisor & Arrangements), George Francis (Musical Director), Tom Jackson Greaves (Movement Director), Elliot Griggs (Lighting Designer), Tom Marshall (Sound Designer), James Callàs Ball (Associate Director), Elspeth Morrison (Dialect Coach), Dik Downey (Puppet Design & Construction), Samuel Wilson (Additional Orchestrations & Arrangements), Will Burton CDG (Casting Consultant), The Watermill Theatre (Additional Casting), Sellador (Additional Casting), Patrick Molony (Tour Production Manager), Ami-Jayne Steel-Childe (Company Stage Manager), Ailsa Bonner (Deputy Stage Manager), Katie Newton (Assistant Stage Manager), Emma Cains (Costume Supervisor), Rod Bicknell (Head of Wardrobe), Holly Maddison (Deputy Head of Wardrobe), Phil Massingham (Head of Lighting), Matt Nunn (Sound No 1), Jonny Else (Sound No 2), Matt Steel-Childe (Carpenter), Josh Hale (Tech Swing/Cover Head of Lighting),
Performers
Audrey Brisson (Amelie), Danny Mac (Nino), Sophie Crawford (Gina), Faoileann Cunningham (Georgette/Sylvie), Rachel Dawson (Amandine/Philomene), Oliver Grant (Lucien/Mysterious Man), Nuwan Hugh Perera (Jean-Yves), Chris Jared (Raymond), Charley Magalit (Cecile), Caolan McCarthy (Hippolyto/Elton John), Samuel Morgan-Grahame (Joseph/Fluffy), Emma Jane Morton (Delphine), Kate Robson-Stuart (Suzanne), Josh Sneesby (Blind Beggar), Jez Unwin (Raphael/Bretodeau), Johnson Willis (Collignon/Dufayel)
Amélie Poulain lives in a world of imagination, one that is illustrated with eccentric characters: buskers, painters, grocers and more personalities that fill the Paris Metropolitain. Although her world is quite bustling, she lives quietly, daydreaming in her quaint apartment when not serving cognac at the nearby café. Finding it easier to turn outwards rather than inwards, Amelie hides from her own reality by becoming a veritable rock skipping across the waters of humanity, secretly sending ripples of small, yet transformative, acts of kindness throughout the lives of the people that cross her path. This altruism as a form of escapism leads her unknowingly into the chance at love, an arresting discovery that means she will have to trade her reclusive comforts for vulnerability if she is to explore what's in her heart.
Audrey Brisson, the mademoiselle with a belt like a bell, is a nuanced storyteller capturing that feeling of limitless possibility as our quirky and shy wonder-maker Amélie in this heartwarming story. Her vocal range is impressive, with more than a few moments that send your spine into a tingle, especially when she joins the cast on the piano.
The 16-person ensemble is truly outstanding, so captivating that you nearly forget that they make up the entire orchestra onstage, inventively wielding their instruments while weaving their interconnected storylines. With surprising set revelations and small moments of magic scattered throughout, the world Madeleine Girling has designed reveals itself to be much more fantastical and surreal than the tube stop and cafe façade appears to be. Puppetry and physical theatre are unexpected and fabulously farcical elements that add that extra bit of off-beat beauty which characterises this production.
Daniel Messé's romantic score, with a particularly French flair in and among its folksy pop, is refreshing, and his and Nathan Tysen's lyrics are truly clever. With violins, double basses, accordions, pianos, cajons (as messenger bags and tables) and flutes floating about, it feels as if the music itself is personified.
With adaptations being the forefront fad in musical theatre nowadays, it is a treat to see such a successful reimagining. This new musical based on the beloved five-time Oscar®-nominated film of the same name is just spellbinding. Michael Fentiman's production is distinctly original while still managing to capture the essence of the film; it's unusual, rather bohemian and whimsical. From the crash of thunder and lightning which launches the show to the final flashing lights of the centre stage photo booth, this musical will make you want to walk into the world of Amélie and never leave.
June 25-June 29
Evenings 7.30pm, Matinees Wed & Sat 2.30pm
14+
Photo by Pamela Raith Photography