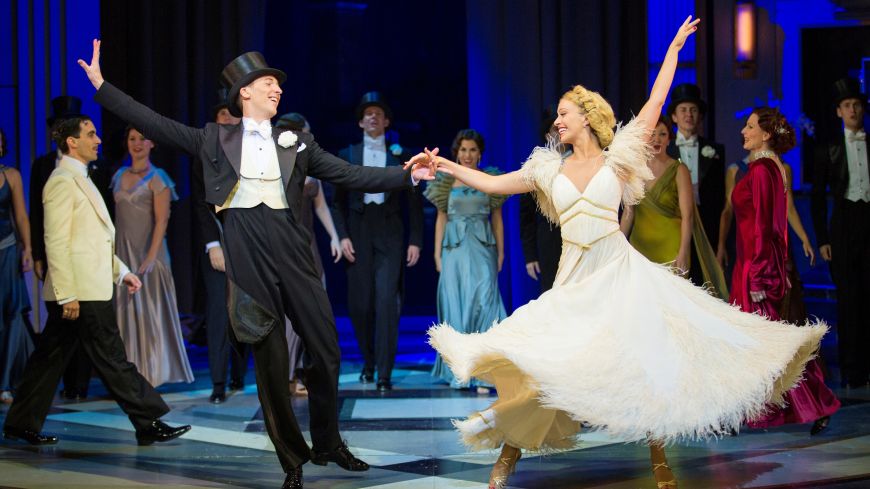 Production
Irving Berlin (music & lyrics) Matthew White (director), Bill Deamer (choreographer) Hildegard Bechtler (set design) Peter Mumford (lighting design ) Jon Morrell (costume design), Gareth Owen (sound) Chris Walker (new orchestrations), Richard Balcombe (musical supervision), Matthew White and Howard Jacques (stage adaptors) Kenny Wax (producer)
Performers
Alan Burkitt (Jerry Travers), Charlotte Gooch (Dale Tremont), Clive Hayward (Horace Hardwick), Rebecca Thornhill (Madge Hardwick), Sebastien Torkia (Alberto Beddini), John Conroy (Bates), Joe Hood (orchestra conductor)
It may seem incredible that a 1930s musical showing the farcical shenanigans of the privileged few is still popular in the 21st century but when it arrives with the sumptuousness of this classy production, it is little wonder.
The original 1935 RKO film version of Top Hat starred the dynamic dancing duo of Ginger Rogers and Fred Astaire. It tells the tale of Broadway song and dance man Jerry Travers (Alan Burkitt) who falls for society gal Dale Tremont (Charlotte Gooch) while in London to promote his career. A continuous thread of mistaken identity causes some mayhem but in true Hollywood style it all ends happily with marriages sealed or sorted.
From the get go, Hildegard Bechtler's spectacular art deco style set that takes us from a New York stage to a top London hotel then to a decadent Venetian Lido utterly captivates with its oyster and champagne background palette. Add to this Jon Morrell's gorgeous costume design - all bias cut satin, T strap shoes, bespoke suits, oh and top hats, white ties and tails – and you have that heady '30s feel. The magic sound of clicking taps created through the dancers' skill and Bill Deamer's brilliant choreography manage to transport in both time and imagination. In keeping with the era, there is an apt housekeeping reminder before the show that in 1935 neither mobiles nor digital cameras existed and to therefore switch any off. That kind of simple yet imaginative message impacts well. In spite of the show's brilliance, the static background in the hansom cab scene in Act 1 requires some suspension of disbelief, though the wheels' suspension is clearly in excellent nick.
The original screenplay by a Dwight Taylor and Allan Scott has been adapted for the stage by Matthew White and Howard Jacques, slightly updated by the inserting of light smatterings of modern humour into a text of its time. Much of this comes from John Conroy as Bates the butler who has delivers catalogue of aphorisms from his international family. Sebastien Torkia gives a brilliant comic caricature with his character Alberto Beddini especially on his wedding night. The now famous line about Ginger Rogers doing everything Astaire did but "…backwards...and in high heels" has been given smartly to Dale.
The two principal dancers are perfectly cast, complementing each other as they dance and sing with consummate ease. Alan Burkitt brings his own elegant style to the Jerry character but manages to discreetly salute Astaire with a louche tilt of the head and casual hand in the pocket. George Olney who played a Bell Boy may have been at the back of the chorus line but stood out throughout with his own relaxed performance.
Irving Berlin's classic songs including Cheek to Cheek, Top Hat, White Tie & Tails, Puttin' on the Ritz and Let's Face the Music & Dance are performed in style by the 29 strong cast and accompanied by 11 live musicians led by top hatted conductor, Joe Hood. The colossal team involved in Top Hat deserves its high accolades for putting on this ritzy show.
Tuesday 7 to Saturday 18 October 20147.30pm
Matinees 2.30pm (Wed, Thu, Sat)
Read Vivien Devlin's review of Top Hat at Edinburgh Playhouse, 2011.