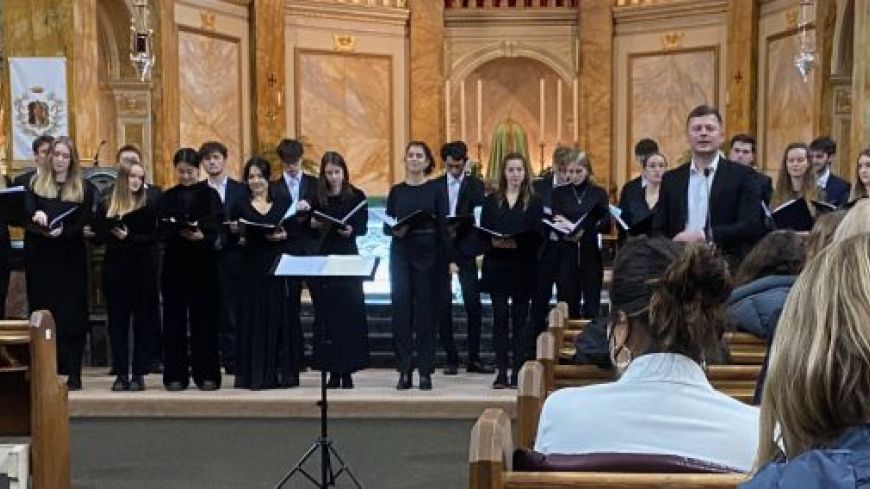 Company
Edinburgh University Singers
Production
Hymne au Soleil, Lili Boulanger; Hymn to The Creator of Light, John Rutter; The long day closes, Arthur Sullivan; Nunc Dimittis, Arvo Part; The Road Home, Stephen Pauls; Ecce beatam lucem, Alessandro Striggio.

Performers
Calum Robertson (conductor), John Kitchen (piano/organ)

The joy was evident from both the singers and the sizeable audience that after such a long break due to Covid it was possible to have a concert. And not any ordinary concert; their seventy fifth anniversary celebration in the remarkable Jesuit Church of the Sacred Heart in Lauriston Street. Initially The Edinburgh University Singers were conducted by Ian Pitt-Watson and then for a long spell by St Giles's Herrick Bunney, followed by John Grundy. This concert's accompanist on piano and organ, Dr John Kitchen, conducted between 1988 and 2018 when Calum Robertson, clarinettist, organist and choral conductor took over. 
Plans for their last concert had to be scrapped days before the Covid lockdown, and so only about half of our concert's singers were involved; the others having ended this phase of their studies. It was good to hear their current President, Sophie Wand, exude enthusiasm when she spoke as the concert reached its climax. There were 40 singers on stage, and Alessandro Striggio's Ecce beatam lucem was a 40 part work - so complicated and sophisticated in its preparation and delivery. For me, and the programme notes, it would have been the high-point conclusion but for a Gaelic Blessing encore.
John Kitchen was at the piano for the first two works before moving over to the organ. Indeed after the first, the singers rearranged themselves whilst Calum Robertson gave us the background to the concert and perhaps most significantly pointing out that 'Light' was the programme's topic. Calum has become a significant player in Edinburgh's classical musical world, and many of us look forward to further concerts, remembering earlier days in the Usher Hall.
Concert on Friday 12th November 2021 at 7.30pm