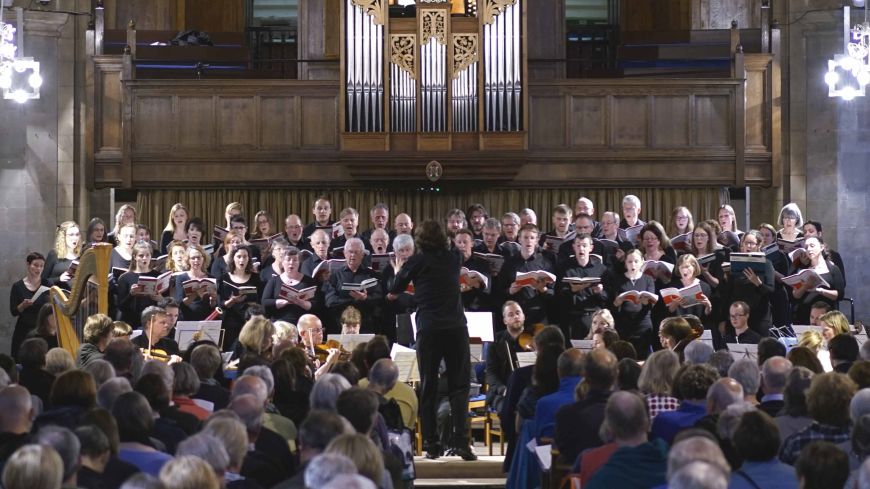 Company
The Edinburgh Singers
Production
Bruckner, Te Deum; Brahms, Alto Rhapsody; Puccini, Messa di Gloria; Mascagni, Easter Hymn from Cavalleria Rusticana.

Performers
Alistair Digges (musical director), Catriona Clark (soprano), Cheryl Forbes (mezzo soprano), David Lynn (tenor), Piran Legg (bass baritone), The Edinburgh Singers Sinfonia 
 
The Edinburgh Singers were in fine form for a concert centred on Puccini's Missa di Gloria. Under Alistair Digges, their musical director, they began the evening at Greyfriars Kirk with the loud and confident Te Deum by Bruckner, written as a hymn of praise in 1884. It was a massive sound to bring the sizeable audience to its senses. The evening's four soloists, Catriona Clark, Cheryl Forbes, David Lynn and Piran Legg were in their turn battling to be heard over the small orchestra at the front of the singers, their Sinfonia. Morley Whitehead ensured the church organ had its turn too.
The organ was quiet for the work Brahms had written for the marriage of Robert and Clara Schumann's daughter Julie, his Alto Rhapsody. Cheryl Forbes was the soloist singing what seem strange words taken from Goethe. The programme notes describe the text as morose and despairing but nevertheless it's a popular work and our performance did not disappoint.
We were into calmer waters after the interval for Puccini's only orchestral meeting of the full mass. Extraordinarily, it was written as a graduation exercise and then put away - only to be discovered a quarter of a century after Puccini's death. Alistair Digges drew out the sensitive contrasts as the Singers sung their way through the motions of the mass. It became sumptuous when David Lynn (tenor) and Piran Legg (bass baritone) were singing. Although it was good to have the text in the printed programme, it was in English and not in Puccini's native Italian, and so harder to follow. I loved it and found the performance a worthy preparation for the mass I was to receive at church the next morning.
Mascagni's Cavalleria Rusticana is a much loved work. In its drama the people of a Sicilian village were gathered in church and singing. For us it was soloist Catriona Clark, accompanied by Singers, Sinfonia and organ, singing the Easter Hymn 'Queen of heaven, rejoice, Alleluia!'. A fitting end to the concert.
Performance: Saturday 15th June 2019 at 7.30pm.