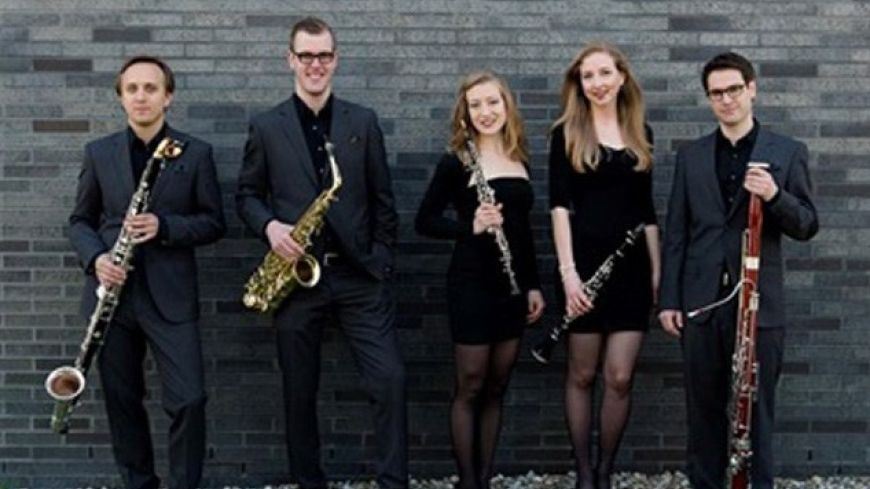 Company
Nexus Reed Quintet
Production
J.Ph. Rameau: Suite la Triomphante in A, arr. R. Hekkema; S. Wirth: Nachtschnee mit Wölfen (2016) Auftragskomposition des NEXUS reed quintet mit Unterstützung von ProHelvetia, Schweizer Kulturstiftung; E. Elgar: Variations on an original theme «Enigma Variations», arr. M. Kohler

Performers
Sandro Blank (saxophone), Marita Kohler (oboe), Annatina Kull (clarinet), Nicola Katz (bass clarinet) and Phillipp Hösli (bassoon).
Every year the Swiss Cultural Fund UK chooses a group of musicians from Switzerland to come to Edinburgh to perform before a largely invited audience. In recent years this has been in the Balmoral Hotel. I look forward to my invitation to see the Fund's inspired choice. The Nexus Reed Quintet won the Award this year.
There are not many reed quintets around and very little music composed for them. So an additional pleasure was to hear Stefan Wirth's Night Snow with Wolves. Stefan, both a composer and pianist, wrote the work for Nexus this year and we were hearing its UK premiere. Oboe player Marita Kohler's introduction described how the piece was based on a drawing made by the composer's two year old son - a lot of wild squiggles from the sound of it. When the youngster was asked for its description he replied that it was 'this night snow and this wolves'. To hear a work written for Nexus was fascinating but by its very description was designed in a wildly organised but unstructured frame. Whilst I appreciated what we heard, people around me were not so content. But the two bass clarinets had attracted their attention.
The concert had begun with an arrangement by Raaf Hekkema, the saxophone player of a different reed quintet, of French Baroque harpsichord music written in 1728 by Jean-Phillippe Rameau. This was a serious work in eight sections which allowed us to see who-does-what. So often in concerts the wind players are hidden behind the strings. Not so in the grandeur of the Balmoral and totally appropriate as a chamber concert.
The fourteen Variations on an Original Theme by Elgar which followed the interval were great fun. This was Marita Koller's arrangement. Towards its end the five musicians were loosening up and mildly swinging along. Elgar was an inspired choice for a British audience for they say his works don't command the same enthusiasm in mainland Europe. My thanks to Mr Peter Müller-McDougall, the Honorary Consul-General in Edinburgh and himself a talented musician, and to the Ambassador of Switzerland and Mrs Furgler for a very fine evening.
Performance: Wednesday 19th October 2016 at 7.30pm.