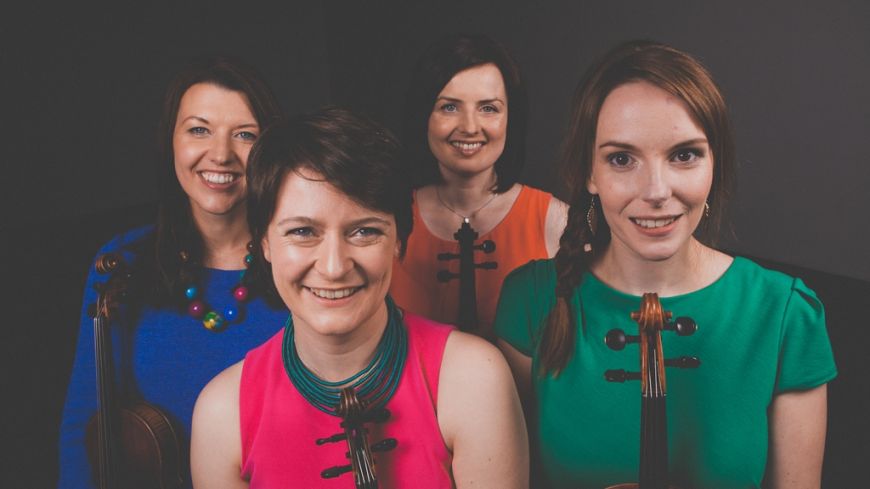 Performers
Lauren MacColl (fiddle), Anna Massie (fiddle), Bethany Reid (fiddle), Jenna Reid (fiddle),
For the 'post politics' and 'post truth' generation, the word Rant may conjure up unfortunate images, as for those who find the performances of even such as Jordi Savall a little too raw.
Nothing could be further from the reality. Bethany Reid, her sister Jenna Reid, Sarah-Jane Summers and Lauren MacColl represent one of the finest playing and compositional collectives playing today.
Appearing as part of the admirable Soundhouse series in the bar space of the Traverse Theatre, with the equally excellent Anna Massie ably replacing an indisposed Sarah-Ann Summers they played to an enthusiastic audience, clearly appreciative of what was presented to them.
The opening half of the concert began with a tribute number to an absent brother, livelier than that description might suggest, before moving on to a carefully thought through selection of tunes, that allowed the performers to simply shine in such pieces as the Hilta Dance and their own version of Ewan MacPherson's 'Orca'.
The first half was closed with an impressive rendition of 'Jan's Return', a clearly personal composition based on the experiences of one individual involved in the 'Shetland Bus' operations which supported resistance operations in Norway during World War Two.
The second half opened with two Scott Skinner strathspeys – 'Frank's' and 'Fire Away', followed by 'North Church', its composition inspired by the church in Cromarty where the quartet's first album was recorded. This remarkable piece offers an almost elegiac melody that travels above and beyond any confession or creed yet retains a unique spirituality.
After this, the pace picked up again, with Skinner's 'Wha'll Dance wi Wattie' paired with Pipe Major Donald McLeod's 'Willie Cumming's Rant'. This was followed by 'One for Us', and things were rounded off with the Shetlandic 'Tune of Old Men' and a couple of reels of the same provenance.
With the appearance of their second album, Rant seem set fair to continue composing and playing in ways that both affirm and challenge concepts of what may be 'traditional' music. They are by no means alone in this, but their sound and style is indeed indisputably their own, and creates something close to an ultimate truthfulness. Cherish the ladies.
Event: 27 Feb 2017