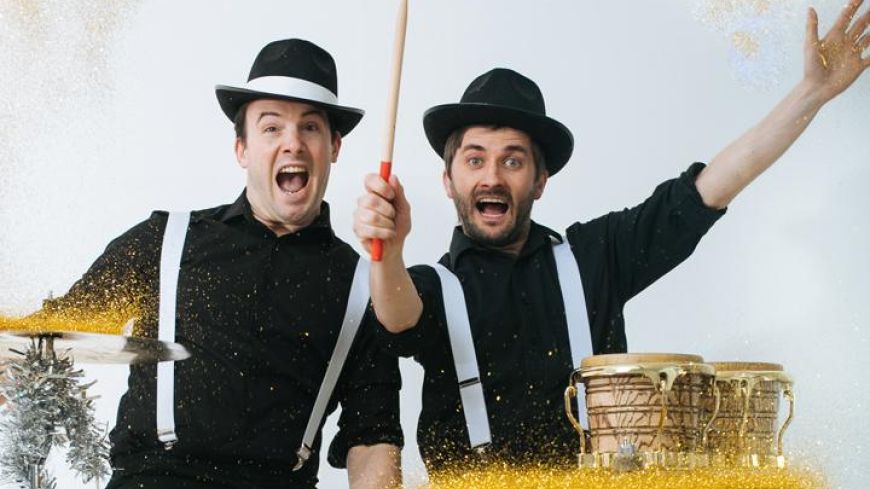 Company
Children's Classic Concert with RSNO
Performers
Owen Gunnell, Oliver Cox, RSNO Big Band, Manor School of Ballet
Owen and Olly are back, bringing their Christmas Swingalong to Edinburgh's Usher Hall.
Every year there's a point at which Christmassy feelings begin to stir and every year the Children's Classic Concerts people can be relied upon to bring the little bit of Christmas magic that gets that snowball rolling. The music stands are waiting, wearing a bit of tinsel, for the Royal Scottish National Orchestra to arrive. This year, it's going to be saxes, horns and trumpets to the fore as the RSNO Big Band are giving us a swingalong, hosted as always by percussion superstars Owen Gunnell and Oliver Cox.
Entering the stage to loud applause, looking smart and cool in suits and ties but with the requisite silly Christmas hats for a touch of fun, the band get us all going with their rendition of the appropriately-named In The Mood. Owen and Olly stride out at the end of this number, evoking the jazz era in their Trilbys and spats, with instructions to the audience not to stand on ceremony but to clap, cheer and stamp throughout as this is not a sombre classical concert but the coolest show in town.
For the next hour we are royally entertained with jazzed-up Christmas tunes from Jingle Bells to Silent Night. The Manor School of Ballet are on hand as ever to bring a bit of movement to Tchaikovsky's Nutcracker Suite and Olly and Owen give us a special treat by doing what they do best, namely playing a variety of percussion instruments – brilliantly.
There's a singalong medley, with lyrics kindly provided in the free programme, and an opportunity to bust some moves to a Glenn Miller number. Everyone gamely joins in but it's the littlest ones, surging to the front of the auditorium and making a bold attempt to climb up onto the stage, who seem to relish the chance to let their hair down.
It is by now a well-known tradition that O & O always finish these concerts with the rousing William Tell Overture and this year is no exception. Grown ups and children alike canter about, some sedately, some screeching with excitement (please form you own conclusions about whom does what). And as we go out into the early evening air, it's beginning to feel a lot more like Christmas than it did only an hour ago…