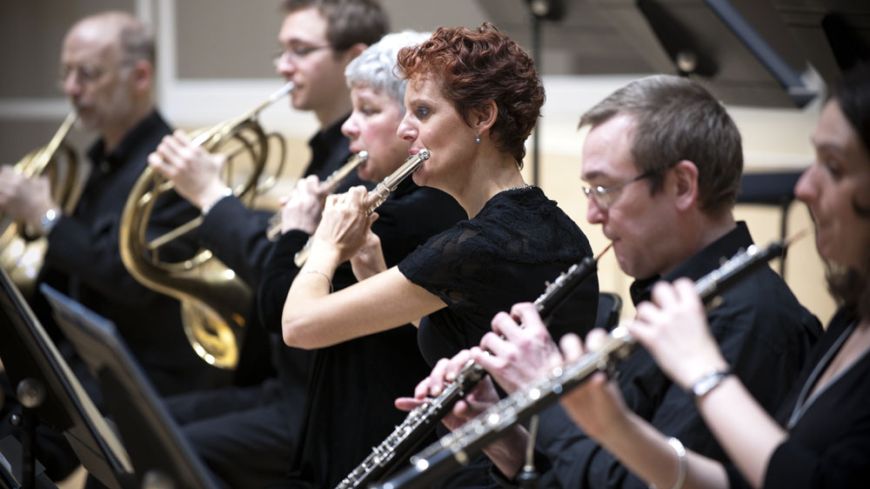 Company
Scottish Chamber Orchestra
Production
Richard Egarr (conductor), Gregory Betsleer (chorusmaster)
Performers
Mhairi Lawson (soprano), Clare Wilkinson (mezzo-soprano), Andrew Staples (tenor), Andrew Foster-Williams (bass-bariton), Scottish Chamber Orchestra chorus, Scottish Chamber Orchestra
J S Bach was a prolific composer, writing hundreds of compositions. A devout Lutheran he composed this choral piece in 1734 when he was Kantor (Director of Music) at St Thomas church in Leipzig. Approaching his fiftieth birthday, his job was extremely demanding at the time, and, as was common practice for the period, he incorporated sections of music from other compositions he had written into the work. 
The Christmas Oratorio was conceived as a set of six cantatas. To be performed over the festive period on six separate days - starting with Part l on Christmas day and ending with Part V1 on Epiphany (January 6th) - the tenor soloist as the Evangelist narrator recounts the familiar Nativity story as related in the gospels of St Luke and St Matthew.  In this concert, Cantatas 1, 3, 5 and 6 were performed.
The Queen's Hall is an intimate venue for orchestra and chorus and it was thrilling for the audience to be in such proximity to this sumptuous work starting as it does with a flurry of strings, drums, triumphant brass and full chorus proclaiming the arrival of Mary and Joseph in Bethlehem anticipating the arrival of the birth of Jesus.
The guest conductor Richard Egarr, an acclaimed harpsichordist and keyboard player, exuded warmth and enthusiasm, creating a great atmosphere for the orchestra and soloists. The Christmas Oratorio is a challenging work for a conductor as they have to alternate from conducting standing up or at the keyboard, and Egarr had to frequently ignore the score as the paper, with a will of its own, constantly flipped the pages back.
The four soloists involved in this performance all had rich, powerful, flexible voices. The score was in German and despite being British, their German accents were impressively authentic. The tenor Andrew Staples was the narrator, Mhairi Lawson was soprano; Clare Wilkinson was the mezzo-soprano and Andrew Foster-Williams provided bass-baritone.
The Christmas Oratorio is a marvellous piece for an orchestra to perform as it creates much opportunity for individual players to display their impressive musical talents. In Cantata No 3:3l the guest leader Muriel Cantoreggi performed a beautiful duet with Clare Wilkinson. In Cantata No 5:47, the oboist Rosie Staniforth gave a flawless performance accompanying Andrew Foster-Williams. 
Cantata No 6:60, Andrew Staples recitative was accompanied by superb playing of the trio with Alison Green on bassoon, Robin Williams and Rosie Staniforth on oboe. The principal trumpet player Peter Franks played the jubilant proclamations on the trumpet flawlessly.
The SCO chorus, under the direction of Gregory Betsleer, were also superb, as their voices soared magnificently in the fortissimo passages.
This Christmas Oratorio was a memorable, thrilling performance.
Friday 2 December 7.30pm - Glasgow City Halls