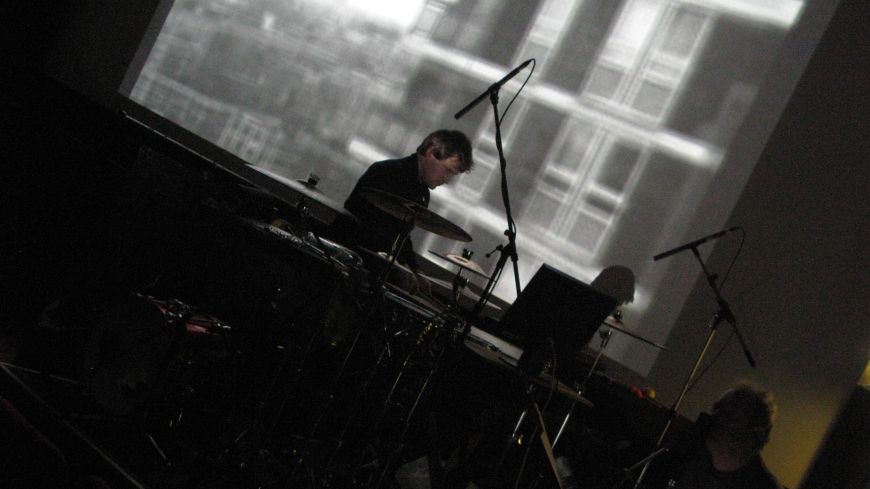 Songs For An Airless Room styles itself as somewhere between theatre and a piece of music to be performed. If this is fairly grandiose and self-regarding it nevertheless is an ambitious collaboration between live musical performance and screened film.
The live component is made up of a trio of musical director and electronics performer Martin Parker alongside percussionist Joby Burgess and vocal improviser Phil Minton. But to begin, there is no sign of them, merely empty instrument stands and microphones situated to the right of the cinema screen. To begin with, we get a showing of Francesco Jodice and Kal Karman's 22 minute short documentary, "Hikikomori".
"Hikikomori" documents states of self-imposed isolation and loneliness within aspects of Japanese youth and their numb reliance on digital media and technology. These are the omnipresent themes of tonight's performance. However, perhaps showing the full documentary was a mistake. A procession of whining, disaffected Japanese teenagers fill the screen wishing to broadcast their disposable ennui as though it were something unique. It diminishes the anticipation of performance.
When that performance begins, finally, it is with a marvellously three-dimensional flourish as the film, in its final frames, literally comes to life. A street drummer on screen, battering out a relentless rhythm over the closing credits, is suddenly duplicated and doubled by Burgess on his own drum kit. It is a bracing jolt of electricity, crashing the room into life after the film's insipid boredom.
The music which follows feels like something of a lovely contradiction. For a piece so inspired by modern day techno isolation, "Songs For An Airless Room" is a full on electro-acoustic blast. Parker tears discordant sparks and flurries from his equipment, Burgess rattles out a cascading battery while Minton, somewhat diminished by the electronic whizzery but impressively vocal nonetheless, gulps and yatters and garbles away like a man desperate to commune with the machines in their own languages.
It's terrific, frankly. Self-imposed isolation never sounded so much fun, like a happily drunk Cyberman crashing around in a small room. The visuals, however, counterpoint this mayhem by seeming to suggest we should be considering a serious message from all this. Their dated Cabaret Voltaire-like images of video detritus and high rise estates do little to enhance the musical performance. Ultimately one comes away thinking how unnecessary all this concept is. Just play the music. Just play.