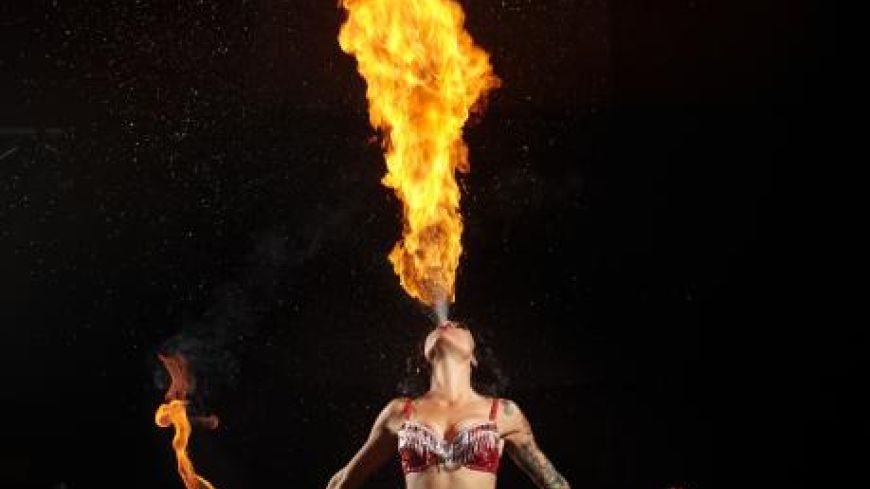 Company
Underbelly Productions, Strut & Fret Production House and Southbank Centre
Production
Scott Maidment (director), Philip Gladwell (set and lighting designer), Paul Kieve (illusion consultant), Sxip Shirey (composer and musical director), Zoë Rouse (costume designer), Hilton Denis (choreographer), Digby Robinson (production manager), Joshua Sherrin (company manager)
Performers
Danik Abishev, Evelyne Allard, Grant Arthur, Mikael Bres, Hilton Denis, Heather Holliday, Jonathan Nosan, Sxip Shirey, Mick Stuart
More how high can you soar than how low can you go?!
Limbo has opened in style as part of Edinburgh's 2013 Christmas celebrations. Following a February première in The Garden of Unearthly Delights in Adelaide and a successful run later in the year at the London Wonderground at Southbank Centre, Limbo brings its decadent delights to the equally decadent Paradiso Spiegeltent in St Andrew Square in Edinburgh's New Town.
In a smoky smokeless atmosphere created by the superb lighting of Philip Gladwell, a Vincent Price style voice makes the announcement "Welcome to the World of Limbo!" Under the diabolical control of the angelically dressed musical MC, Sxip Shirey, the six multi-talented artistes provide a non-stop array of amazement "in, above and around the audience".
The up-close-and-intimate circular stage (only 3.6 metre in diameter!) is host to an immersive display of slick, fast paced, danger defying entertainment that is peppered with music hall style sassy tap dancing and some Chaplinesque clowning. There is a sense of the underworld in this shriek- inducing sexy burlesque where precision-timed feats and 'how did that happen right before your eyes?' illusions are performed within pillars of light.
The international family of players that forms Limbo has more talent among them than seems humanly fair. Each has their own unique skill, like Jonathan Nosan's astonishing contortionist skills and Heather Holliday's amazing fire eating and sword swallowing, but it is the anarchic amalgam of the group's astonishing talents that truly astounds.
There are shades of Marcel Marceau, Cabaret, The Special AKA and just old fashioned mouth agape circus skills that have been taken to another level and that creates the sound of six hundred jaws dropping! The eclectic live music created by Sxip Shirey is brilliantly played by Grant Arthur and Mick Stuart, as well as by some of the cast over the piece. It provides an atmosphere of misrule as with Mikael Bres' daring pole act that is accompanied by the utterly gallus Will you watch me as I fall? putting the hearts of viewers straight in the mouth.
Submersive, subversive and sexual, Limbo does things before your very eyes that will beggar belief. Get yourselves to St Andrew Square and prepare to be seriously seduced by the soaring talents of Limbo!
Show times
22 Nov – 04 Jan 2014, 7.45pm
Age recommend 12+
Ticket prices
£10 - £45 (buy online)