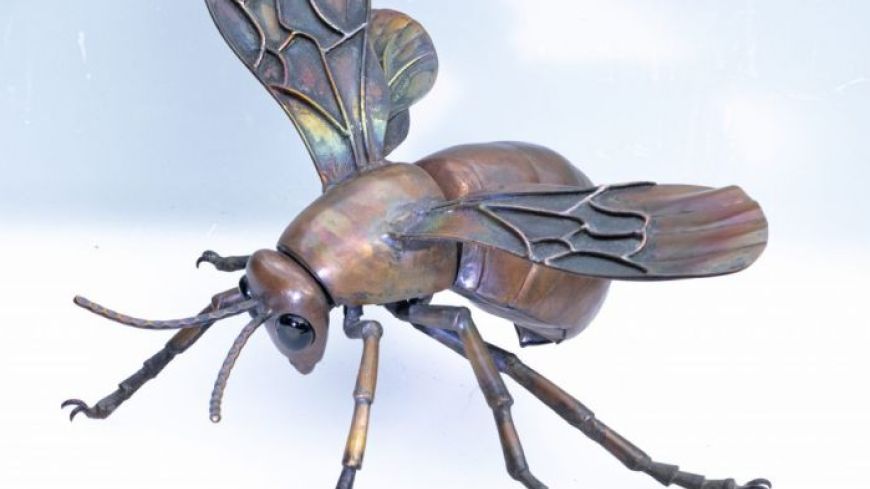 Company
Dancing Light Gallery
Production
Susan White Oakes, artist
A menagerie of birds, mammals, amphibians and insects is the subject of an extraordinary exhibition at the Dundas Street Gallery.  Susan White Oakes studied Industrial Design at the Central School of Art and Design, London in the 1950s, and with this professional background in engineering, she has latterly developed her own distinctive, hand-crafted copper sculptures of animals and birds.
The gallery is the perfect space for a series of plinths to display an eclectic collection of wildlife from a sharp clawed Griffon Vulture to a jumping Toad, a blue-coated Chameleon to a King Penguin, standing proudly.
Photographs from National Geographic magazine or the chance find of a bird's skull on a country walk is the starting point to inspire the next piece of large scale work.  Here is a giant ant, a bumble bee and a beetle up close and personal featuring the intricate detail of wings, legs, feelers and bright bejewelled eyes.  There is no artistic licence taken in these sculptures, which are meticulously designed and created with the eye of a naturalist.
Sue has had to make specialist tools in order to manufacture the realistic texture and shape of feathers or scales, cutting, hammering and polishing the copper metal akin to the work of a silversmith.  Selected works are also cast in bronze.
Each delicately crafted creature is either freestanding or fixed to a base – as if perched on a tree or rock, sitting on a leaf, as if in their environment: a Seahorse is set at an angle to appear as if 'swimming' in the ocean, and the King Penguin stands, stomach protruding, back arched, on a windswept beach.
Susan White Oakes has exhibited widely over the years, at several Edinburgh galleries as well as in Glasgow, Scottish Borders and London with her sculptures now in many important private collections.
Do take this opportunity to view this majestic menagerie of sculptures at the Dundas Street Gallery which is on show from 4th to 10th September 2010.  
More information on the artist and works for sale at www.dancinglightgallery.co.uk