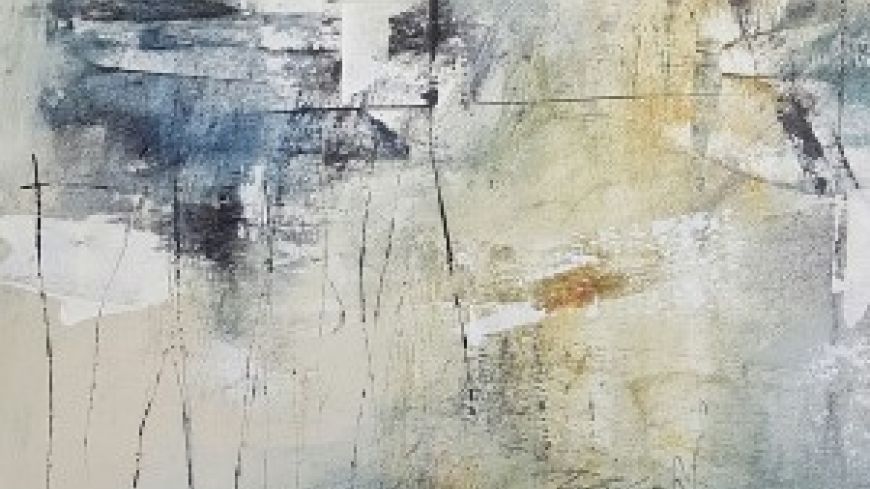 "Natasha Barnes' paintings generate such extraordinary emotions from simply looking at them. Being abstract, they look like boards splattered with paint. But take a minute, stand, look and imagine, and out comes a whole world you never saw before"
Meghan Liebetrau, The South African
This exhibition, at the Alpha Art Gallery in Stockbridge, marks the debut in Scotland by Natasha Barnes, who flew in for the Private View on Friday 10 February from her home in South Africa.
With a love of painting from childhood, she is self taught, first developing her talent with conventional watercolours before experimenting with the free-flowing freedom of abstract art. This exhibition of paintings in Acrylic on paper, showcases her wildly creative, expressionist landscapes and depict a tangible sense of movement and light.
With titles such as "White Cliffs and Clouds," " Winter Horizon," "Mustard Fields" and " Water's Edge", they capture land and sea, curving shorelines, crashing waves, the sky, bright sunshine, ice and snow. In particular, Natasha has a passion to depict the translucent ebb and flow of water.
There is an explosion of colour, texture and shape here, yet the colours are soft and subtle to depict peace and tranquility. The palette shifts between swirls of petrol blue and turquoise, shades of tobacco and coffee, a streak of dove grey and an occasional splash of coral.
Themes and subjects are inspired by her travels around the world from South Africa to Switzerland and Mauritius. It was on this island in the Indian Ocean where she saw fabulous water lilies in the Pampelnousse gardens – which led to her devoting a series to these tropical flowers. The waterlily is a recurring icon which is fun to spot in her work. The view from her studio at home is of Sugar Cane fields, a constant reminder of nature and growth through the seasons.
Natasha exhibits at International Art Fairs as well as receiving corporate and private commissions, artworks for Hollywood and TV, greeting cards, hotels, airport lounges and boardrooms. She is South Africa's most published artist.
Natasha Barnes is undoubtedly a talented, visionary artist who exudes an energetic freshness and rich imagination to dazzle the senses.
Exhibition is on show from 11 February to 5 March, 2017.