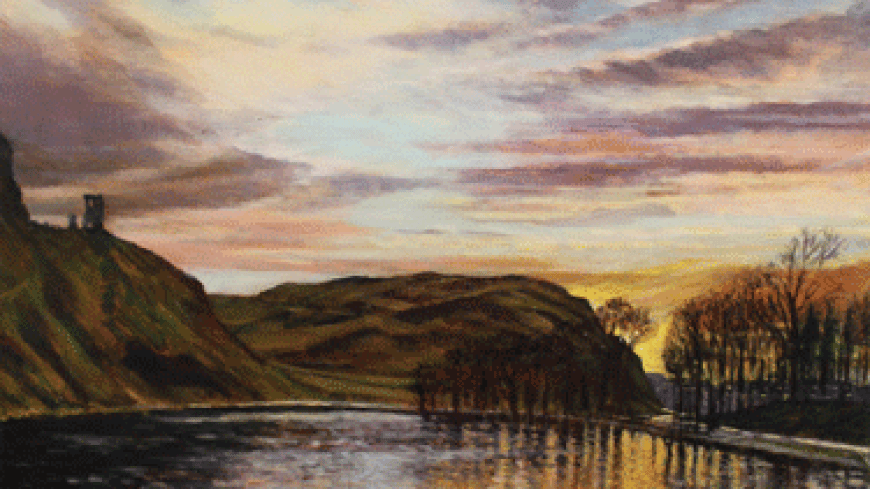 At the Dundas Street Gallery this week, take a virtual reality tour around Edinburgh to view the classic architecture of the Old Town, climb Arthur's Seat, stroll through the Meadows and along the shore at Leith.
Since 2003, I have followed Jamie Primrose's own artistic journey as he has developed a bold style and precise colour palette to create his own distinctive, dramatic, moody impressionistic landscapes. In the summer, he showcased a masterly exhibition of shimmering seascapes along the French and Italian Rivieras.
This new collection of paintings reflects the natural beauty and architectural heritage of Edinburgh as seen through the seasons. The Meadows are captured from flowering pink blossom in Spring, to the bare skeletal avenue of trees in winter, but whatever the time of year, the scenes are enriched with realistic shimmering light and shadow.
It is quite extraordinary how he can return again and again to the same or similar city views, observing the scene with a distinctively fresh perspective. This reveals a personal passion for his home, the city of Edinburgh.
"The view of Edinburgh from the road before you enter Leith is quite enchanting: it is, as Albert said, fairy-like and what you would only imagine as a thing to dream of, or to see in a picture"
Queen Victoria
Queen Victoria made her first visit to Scotland in 1842, just five years after becoming Queen. She noted this description in her journal at the time, marvelling at the beautiful views of the Castle, Calton Hill and Arthur's Seat.
175 years later Jamie Primrose is equally inspired by its timeless, enchanting and truly majestic sense of place. In the introduction, he says he is "fascinated by the ephemeral nature of light" and these cityscapes evoke the shifting times of day from dawn to dusk.
Taking prominence on one wall is " Spring Sunset from Arthur's Seat," a marvellous panorama of the grassy hill and craggy rock beneath a sultry, serene sky. Very much his forte are fiery sunsets – wild streaks of coral pink-tinted cloudy skies with a rosy glow bursting on the horizon.
Arthur's Seat is a favourite stomping ground with tranquil scenes of Duddingston Loch, as well as " Late Afternoon glow over Dunsapie Loch," with a distant view looking towards East Lothian and "Winter sunset reflections on St. Margaret's Loch," a calm composition where the water dapples under fading light and feathery clouds.
Back in the city centre, enjoy a walk up and down Victoria Street: colourful, curving and cobbled, this is a tourist attraction seeking antiques, books, cheese, whisky, tailored tweed clothing, bars and restaurants. Primrose shows Victoria Street at night, to illustrate the quirky row of shops under a sweeping mauve sky. Around the Old Town, there are detailed architectural studies, the iconic skyline of elegant church spires and the Castle on the Rock.
A Fairy-like city indeed - Queen Victoria would have been impressed!.
Private Commissions are also welcome - perhaps a favourite landscape or your own street. Limited Edition Prints (destinations from Scotland to Venice), and Black Indian Ink Drawings are available too - the ideal Christmas present for family, friends or your home.
Serene Expressions – Friday 3rd to Saturday 11th November, 2017.
The Dundas Street Gallery, 6a Dundas Street, Edinburgh EH3 6HZ
Monday to Friday - 11am – 6pm.
Saturday & Sunday 11am – 5pm