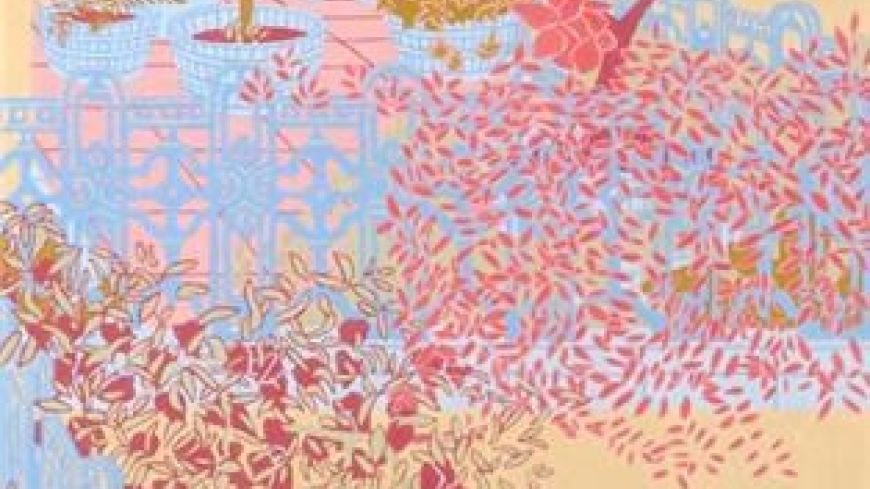 "I try to make each colour and shape enhance every other colour and shape so it's entirely satisfactory, so it's at peace." Norman Gilbert
This is an inspiring Retrospective exhibition of paintings by Norman Gilbert from 1954 to 2016. The overall mood is one of quiet and calm tranquility. With a soft colour palate of pinks, ochre, duck egg blues, here are blossoming trees, plants and wild scattering of leaves composed with decorative craftsmanship.
Compositions are often bold, busy and highly patterned creating a representative of a garden landscape but yet devoid of sunlight and the open air. "The Apple Tree" for instance has a backdrop of windows and doors, perhaps to reflect the contrasting unseen interior of a home against the natural world.
Gilbert attended Glasgow School of Art where he developed his own decorative work, which unfortunately went against the teaching of the Scottish tradition. He was described as "unteachable" which only encouraged him to pursue his individual style. By the early 1950s, he visited London with a bundle of paintings under his arm to offer to galleries on a sale or return basis and so his career slowly took off.
Here you can see two magnificent early works, "Girl Getting Into Bed" and "Child on a Swing", featuring his wife Pat and his two young sons. These appear to be quite simple sketches on the surface, but with an endearing, emotional subtext beneath these intimate family studies. The rich, dark hues of the oils are painted flat on the canvas which creates a dramatic almost filmic quality.
Through the decades, Gilbert slowly developed his own unique figurative and botanical scenes, all beautifully composed with a touch of Post-Impressionism, equally comparable to Henri Matisse. The artistic aim of both artists follow the same approach.
"What I dream of is an art of balance, of purity and serenity, devoid of troubling or depressing subject-matter, a soothing, calming influence on the mind, something like a good armchair which provides relaxation from physical fatigue." Henri Matisse
Pat and his four sons - and now grandchildren - are often the subject of his paintings, setting the figures within different domestic and outdoor environments. As he describes these himself, people are placed within the background space, home or garden, like a mosaic where everything fits together and nothing is extraneous.
People, plants, flowers and fabrics all combine in complex harmonious designs. As paintings on the wall they are distinctive and decorative with such vivacious patterns, they would transfer perfectly for wallpapers, cushions and home furnishings.
Now in his 90th year, Norman Gilbert maintains an indefatigable passion, precise vision and spirit of individuality. This retrospective offers a valuable overview to show how his work has gradually evolved in a subtle manner over the past sixty years.
Norman Gilbert Retrospective Exhibition
The Sutton Gallery
2nd - 23rd July, 2016