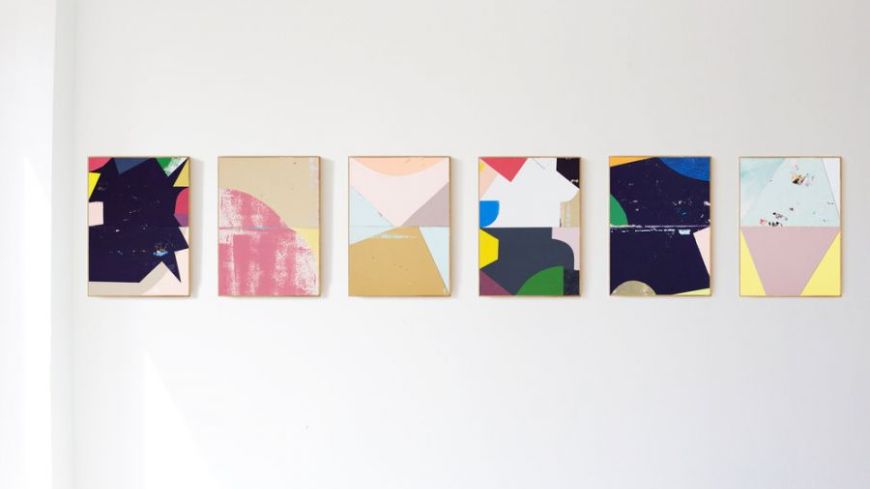 In August 2019, The & Gallery moved from their previous address at 17 Dundas Street, up the road to number 3 Dundas Street,  which has been freshly decorated in shades of sage green and soft grey across the two light filled, spacious salons. 
This exhibition of abstract paintings and collage artwork by Jo Hummel is a striking juxtaposition of modern design within this Georgian Townhouse.  Vases of tall flowers enhance this elegant and intimate setting. 
Transformer 1 is the first of an ambitious two part show, with Transformer 11 taking place next month at the Nordic Art Agency, in Malmo, Sweden.  
While at first glance the geometric shapes may appear uncomplicated, further study shows a fine balance of shape, line and colour to create a pleasing harmony.  
The title work, 'Transformer' in a bold blend of black, yellow, pink, blue, has an extraordinary depth of layering, with small scraps and scrapes of paint, as the eye follows the zigzagging lines around the contour and colour combinations. 
"Jo Hummel's work is characterised by a painted and paper collaged surface on which she employs spontaneous variations of space, colour and form ..,, experiments where the process often determines the outcome … the unpredictable nature of intuition and spontaneity"
In the strict sense, abstract art bears no trace of anything recognizable in the natural world. Hummel is inspired by expressing notions and nuances of the human psyche, emotions and social communication.
The meticulous creation of collage paintings involves an element of playful inventiveness, constantly shifting structure and shape, changing tone and texture.  The process is methodical and time consuming with a media of acrylic and emulsion on thick watercolour paper and plywood, as well as the use of varnish, matt and aeorsol paints.
Wander around the gallery to see a distinctive, diverse array of diagonal lines, splintered triangles, ovals and wedges; patchwork patterns with pared down, distressed use of acrylic and flat matt paints.  Hummel also uses a marvellous, muted palette of soft shades – mushroom, Tiffany blue, taupe, ochre, pink - conveying a sense of calmness and serenity.
This is confident, innovative, inspirational work based on her own personal beliefs, ideology and interest in symbolism. A unique freedom of expression here, reminiscent of Wilhelmina Barn-Graham who describes her work:
" I want to express the joy and importance of colour, texture, energy and vibrancy, with an awareness of space and construction. A celebration of life — taking risks so creating the unexpected."  
It is most impressive to know that Jo Hummel was featured in an article in "The Observer" (May 2011), entitled ''Next Generation turns its back on Emin and Hirst's Conceptual Artworks'  and 'Picking up a Picasso is one click away' in 'The Times' (August 2013).  It is therefore no wonder that her works are included in public and private collections with a growing international base of collectors. 
Visit The & Gallery soon to see this exhibition of cool-coloured, creatively crafted, painterly compositions which excite the eye and engage intellectual thought with an underlying mood of quiet contemplation.  
Jo Hummel – Transformer 1
The & Gallery, 3 Dundas Street, Edinburgh EH3 6QG
7 - 28 September, 2019
www.andgallery.co.uk
Jo Hummel - Transformer 11
Nordic Art Agency, Malmo, Sweden
18 October - 23 November, 2019
www.nordicartagency.com