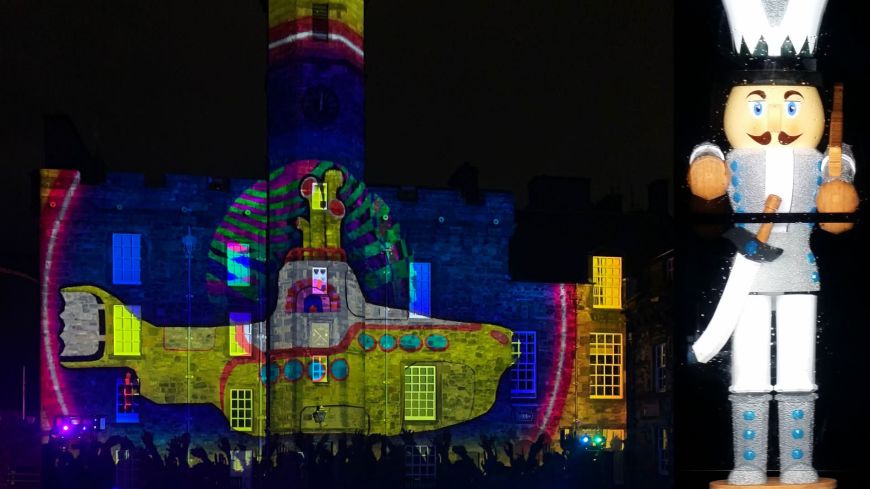 Production
War Productions Limited, Double Take Productions, NL Productions, and Andy McGregor
Castle of Light is back for its third year, telling mesmerising stories of Scotland, and the Capital's most iconic building, through a kaleidoscope of colours. Ironically, a yellow weather warning washed out Thursday night's preview of A Kingdom of Colours, when the only shade available was dreich.
Flood waters receded, the walking trail through fortress Edinburgh works best where the animations and soundscapes illuminate the history of the immediate surroundings. "The Beasts of the Nor'Loch" takes an imaginative dive into the malodorous waters that once formed a defensive barrier to Edinburgh Castle's north. Swamp-green Nessies dance a pas-de-basque, while round the corner shimmering sea horses and blushing squid swirl.
Up in the Crown Square, animations by Belle Mellor's/Doubletake Projections introduce us to some colourful characters from the Edinburgh Castle's past – pirates and soldiers, captives and Queens; red nooses, pink tights and silver spoons. It's enlightening, yes, but the "Horrible Histories" touch also makes it fun for all.
"REdinburgh Castle", Elspeth Murray's atmospheric poem read by spoken word artist Bee Asha Singh, follows a stream of Bordeaux and blood, brutal stories that shaped the stones beneath us. Our history runs incarnadine. It's no accident that it is a RED lion rampant who welcomes us to the journey tonight … Rex can be met "in the fur" (not the flesh) by younger visitors venturing into the Great Hall.
Other stops on the trail bring a festive feel. In Hospital Square the guardsmen turn nutcracker and ballerinas twirl in white snowflakes. Walk uphill and you can warm up cold toes to disco bangers: Yellow Submarine, Purple Haze, Blue Monday, White Christmas.
Much of the attraction of Castle of Light is that "nights at the museum" feel. Although some signage was hard to find, the festive food an illusion, and a couple of installations seem designed primarily to snare the selfie-takers, to stand on this volcanic crag, looking out over the city lights is as truly wonderful as the "marvellously magical mythical unicorn" that dances though the illuminations.
Lastly a shout out to the neighbours, the children of Royal Mile Primary, whose artwork inspired by the Castle turns the Gatehouse walls into a tartan jewel box. If the ticket price proves too steep, you could do worse than stand on the Esplanade for ten minutes and enjoy their dash through the bright colours of Scotland.
Castle of Light runs at Edinburgh Castle every Friday, Saturday and Sunday, starting on Friday 18 November until Friday 30 December, excluding certain dates (24, 25 and 26 December).
The event also runs Monday 19 to Thursday 22 December, Tuesday 27 to Friday 30 December, and an access night takes place on Thursday 8 December.
Tickets:
Adult (16-64 yrs) £20.00
Concession (65yrs+) £16.00
Child (5-15yrs) £12.00 *
Family (1 adult and 2 children) £40.00
Family (2 adults and 2 children) £58.00
Family (2 adults and 3 children) £68.00
* Children must be accompanied by an adult.