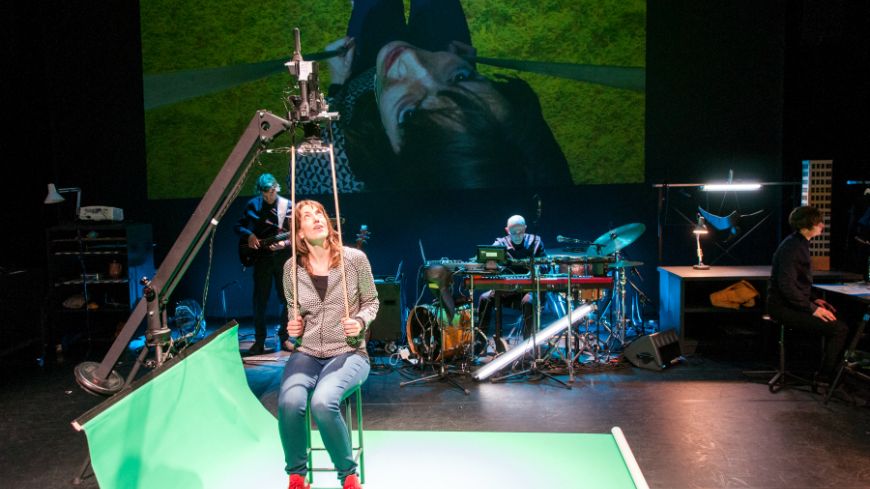 Company
Het Filiaal theatermakers
Production
Monique Corvers (Writer & Director), Annetje van Dijk (Stage Manager), Laurens Schoonheim and Jurriaan Giele (Technician/Lighting)
Performers
Karin Jessica Jansen & Peter Sambros (Performers), Gábor Tarján (Music & Performer), Ramses Graus (Video & Performer), Charlotte Agema (Operator).
Het Filiaal theatermakers from Utrecht present Falling Dreams, a performance that mixes narrative with music and exciting visual effects to open up a whole new world of creative, multi-faceted theatre to a young audience.
There's a cluttered, although precisely organised, set teaming with a guddle of cameras, instruments, and desks topped with miniature urban landscapes, of high rise flats and trees. It could be the wacky office of an unconventional town-planner or architect. It waits in silence, ready to erupt in a frenetic yet finely-tuned maelstrom of storytelling that explores the inner turmoil of a young girl's mind.
Precariously balanced on the cusp of adolescence, a twelve year old girl is aware of the tumultuous changes to come. She is preoccupied with what is 'normal', musing on her repetitive daily routine, her observed 'mood swings', picturing a receding childhood as the bluest of blue while a niggling fear wonders whether her parents just might have preferred her when she was cute and small. Caught in the first twinges of a painful self-awareness, she is awakening to all she may be losing, with no idea yet of what might be gained.
Falling in a dream signals a life hurtling in a direction over which you have no control, towards a destination you have no desire to reach. As we follow this pre-teen's falling dream through a series of surreal encounters, we share in her reassuringly familiar anxieties, while inevitably imbuing it with our own Freudian interpretations and meanings. Her body flies past a couple chatting in their high rise apartment; her face calls out from the screen of a power-point presentation delivered by a man unaware he is without his trousers; she has a near-romantic encounter with a man-sized black raven. And all the time she is falling, falling.
Grown-up Karin Jessica Jansen enacts our heroine's coming-of-age dream, aided by a small team of performers, musicians and technical operators, through a heady, often vertiginous, combination of screen projections and live performance. Switching between watching the visuals being produced on the ground and the startling effects they produce on the screen is a cause of wonder and a pause to think. This is a performance that allows for complete immersion and detached contemplation in a single sitting.
There are bitter truths delivered with humour – the insults that hurt and linger and the compliments that are batted away and forgotten – but the conclusion reached, that the fact we are all alone inside our own heads, each with our own internal storms to manage, understand and control, is something that ultimately connects us, is curiously reassuring. It's also enormously positive to introduce 10-15year olds to the multifarious possible ways theatre can be produced and, in a climate where divisive rhetoric appears to be winning across the globe, allow them to also recognise we have more in common than that which divides us. We are not, after all, alone.
Runs 29th & 30th May,