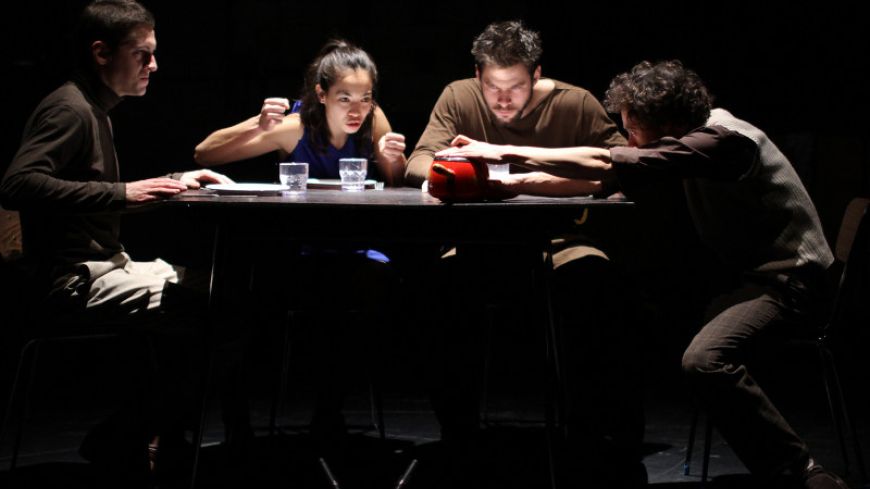 Company
Compaignie Arcosm
Production
Thomas Guerry & Camille Rocailleux (co-directors)
The Imaginate Festival is now in its 23rd year. Running for a full week at venues across Edinburgh, the 2012 line up includes performances from 14 different companies from Europe and beyond.
Aimed primarily at children and young people, Imaginate is committed to the idea that unlocking creativity through engagement with the performing arts will enhance the lives of young people in Scotland.
With a reputation for supporting new and innovative work, it is fitting that the first performance of the festival took place at the Traverse Theatre. On this Bank Holiday Monday, the Traverse bar was buzzing and one couldn't help but get caught up in the excitement of anticipation.
The show is aimed at those aged 7-plus, but perhaps because this was an evening performance there were a lot more adults than children present. In fact, adults outnumbered children by a factor of at least ten to one.
Tonight's entertainment was to be an exhilarating dance performance, aptly called 'Traverse' and performed by 'Compagnie Arcosm' from France.
Established in 2001, the company is co-directed by dancer and choreographer Thomas Guerry and percussionist, pianist and composer Camille Rocailleux, who encourage musicians and dancers to develop the skills of their own discipline but also to explore less familiar types of artistic expression.
This fun, surprising and rather clever piece of theatre expertly combined the elements of percussion and dance.
Set in a dull-looking kitchen, we were treated to the spectacle of one man's daily, precise-to-the-second routine, being disrupted in fits and starts until the whole routine erupts in a percussive repetition of rhythms and beats that bears little resemblance to his original starting point.
It could be said that this hour-long performance was a game of two halves, the second half marked by the opening out of the tight kitchen scene into an open space that revealed two large xylophones. The percussive elements were then brought to the fore, with the main protagonist conducting others while they banged and kicked cupboard doors and expertly played the percussive instruments in time to the background music.
From a quick scan of the auditorium, it appeared that the younger members of the audience began to lose interest at about this point.
The first half was witty and humorous, the second half more intense and challenging. While this performance was undoubtedly accomplished and beautifully put together, it did leave me wondering in what sense it belonged in a festival that aimed to engage children. For, while it didn't exactly exclude the younger age bracket, it did perhaps move beyond the point at which children were able to engage.
Show times

9 May 9.30am