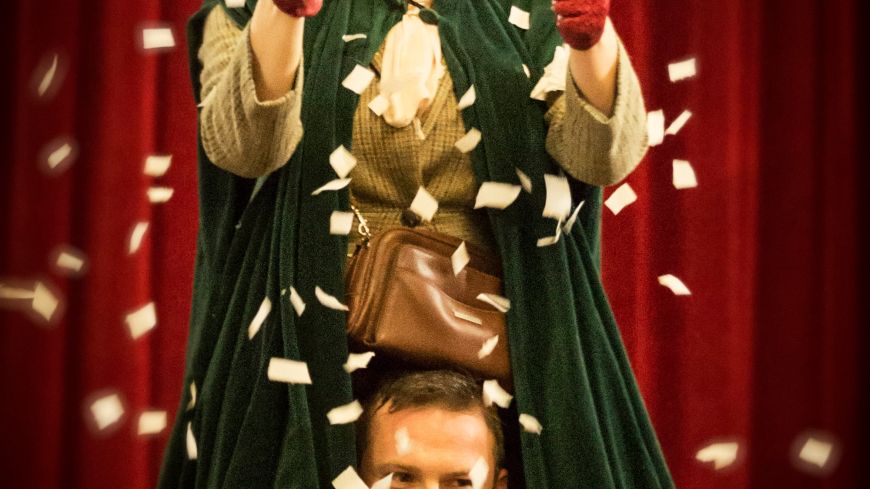 Company
The National Theatre of Scotland
Production
David Greig (writer), Wils Wilson (director), Georgia McGuinness (designer), Alasdair Macrae (composer), Janice Parker (movement), Johan Perrson (photo)


Performers
Annie Grace, Melody Grove, Alasdair Macrae, David McKay and Paul McCole
An up close and personal dance with the devil.
It is 3 years since David Greig's site-specific show premiered in the Victorian Bar of Glasgow's Tron Theatre and following a highly successful international tour, has come home. With what seems like a slightly updated script to accommodate technology and with two new cast members, it has lost none of its swaggering vibrancy. By the nature of the piece that has been staged in tavern breweries, village halls and studios with custom made bars, there are challenging undertakings for direction and choreography that have to be flexible to accommodate the varied environments.
Top marks to Wils Wilson and Janice Parker for meeting these demands, but sensibly NTS staff now issue clear instructions to audience members on arrival about bag placing and moving around during the performance as well as a cautious reminder that this is a lock-in. A dram of Benromach Single Malt Whisky, the sponsors of the show, is on offer to audience members over 18 as well as wee triangular sandwiches in true pub style!
There is an old Borders adage that 'a day out of (add appropriate toun) is a day wasted'. In Prudencia Hart's case, she is having a day in Kelso for an academic conference, not held in Kelsey Grammar (!), but in a small nearby Borders university. Her academic rival Colin Syme (Paul McCole) who is 'yobbish' to her 'snobbish' is up for a night out but an invitation to 'dae wee turn' at the Kelso Folk club, where Dylan takes precedence over Hogg, leaves Prudencia (Melody Grove) cold. She goes out to try to find a place to stay in a silent snow covered town at midnight on winter solstice but it is Hobson's Choice in the form of local B & B landlord, Nick (David McKay). Like a Doctor Who box, his wee suburban house turns out to hold 'every book ever written and never written' along with a rare collection of vinyl – a veritable paradise for an earnest academic like Prudencia. The shape-changing Nick (aye, it's him!), a former angel after all, becomes fond of Prudencia as she gradually lets her hair down and starts to slowly unbutton over millennia, her red tights an early hint at her sexy potential.
Caught between the devil and the deep green Borders she finds herself in a sensuous ménage a trois with Nick and Colin Syme where Satan harbours Voltairian dreams, with the depressing forecast of creating an 'evil allotment'. The rhyme that had stopped in this particular Hell re-starts, opening him to the vulnerability of poetry and love.
Eventually she escapes through a gap in time, much like how she entered, returning to the Asda car park in Kelso. At the 'Devil's Kylie', where the camp debauched karaoke continues at the Kelso Folk Club, she serenades her former captor with a tender version of 'Can't Get you Out of my Head.
Did she dream it? Did she not? Who cares? With several nods to parts of the Scottish literary canon, this glorious intimate and interactive orgy of a show is full of haunting harmonies, shared narration, vital rhyme and stomping music from the versatile cast of top class musicians/actors/players. It is a radical, self- referential raucous lock-in that is full of chaos, surprises and unadulterated mentalness, compounding the very Scottish relationship with the dark side in a style that chimes with the 21st century.
Maryhill Burgh Halls, Glasgow
Friday, 7 March at 7.30pm; Saturday 8 March at 2pm; Sunday, 9 March, 3pm
Tuesday, 25, Wednesday 26, Friday 28 March at 7.30pm
Saturday, 29 March at 2.30pm & 7.30pm & Sunday, 30 March at 3pm
Box office: Tron Theatre 0141 552 4267 tron.co.uk
Tickets £15/£12 *
Perth Theatre's Redrooms
Thursday, 13 & Friday 14 March at 7.30pm, Saturday, 15 March at 2.30pm & 7.30pm
Box Office: Horsecross 01738 621031 horsecross.co.uk
Tickets £15/£12 *
Assembly Roxy, Edinburgh
Tuesday, 18, Wednesday 19 Thursday 20 & Friday 21 March at 7.30pm
Wednesday, 19 March, 7.30pm &Saturday, 22 March, 2.30pm & 7.30pm
Box Office: Traverse Theatre 0131 228 1404 Traverse.co.uk
Tickets: £15/£12 *
*Booking fee where applicable