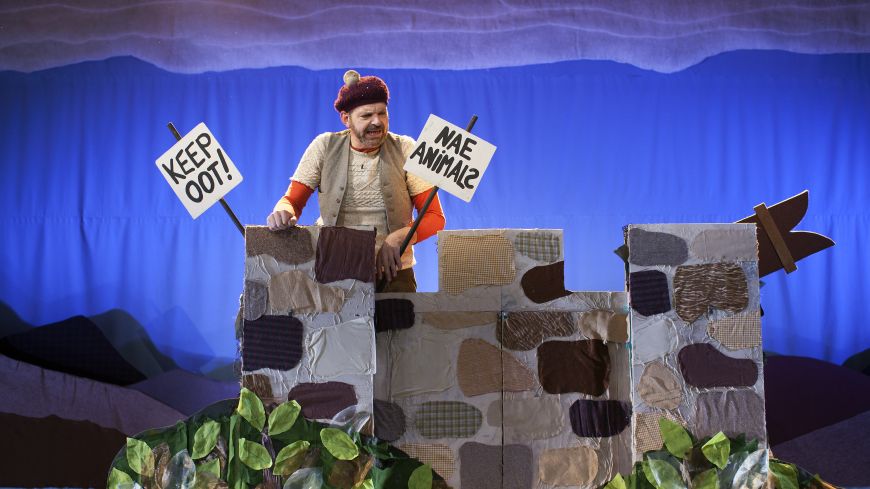 Production
Oscar Wilde (writer), Iain Johnstone and Andy Cannon (adaptors), Iain Johnstone (director), Verity Leigh (producer), Jane Howie (choreographer), Iain Johnstone (music),Ali Maclaurin (design), Colin Grenfell (lighting), Carys Hobbs (costume), Peter Dibdin (photographer)
Performers
Iain Johnstone, Tara Hodgson, Courtney Collins(performers), Norman Chalmers, Mairi Campbell, Ron Shaw, Iain Johnstone , Jack Evans (musicians)
A towering show from Wee Stories!
Wee Stories has once again scattered their magic over a classic tale and made it their own. This time it is Oscar Wilde's salutary tale of The Selfish Giant.
Returning to his beloved castle after a seven year absence visiting his Cornish cousin, the giant decides to build a wall round the lovely garden so he alone can enjoy its fruits. Spring comes round as Spring is wont to do, but can't quite get in to the garden because of the giant's big wall so Winter coories doun and makes herself a long term tenant there along with her pals the North Wind, Hail, Frost and Snow.
After a long hibernation, and finding the need to mend his draughty roof, the giant realizes that the presence of his chilly chums have meant there are nae mair flooers. It then dawns on him that without flowers the bees can't make honey, without honey the bears have no sweet nourishment and so it goes on. This adaptation sends out an environmental message rather than a Christian one, using the banishment of animals instead of children but still signals the vital importance of connectedness.
Becky Minto's beautiful original backdrop is a soft collage of blue sky and white cotton clouds; green and brown forests, lochs, glens and bens with the fictitious Ben Neb taking on a profile like Ayrshire's Sleeping Warrior!
In front of this comforting cloth, the brilliant Iain Johnstone is a very Scottish giant who from the get go engages directly with the young audience and has them instantly on board.
The largely poetic dialogue is delivered in Scots and Scots English and it is affirming for Scottish children to hear their ain tongue spoken so assuredly on stage. He evokes a time before the time we know when an ancient Scotland was inhabited by bogles and trolls as well as giants, bears and boars as he narrates the tale with immaculately effective sounds co-ordination and inventive animal impressions.
Johnstone has the children eagerly interacting at the signal words of 'rabbit' 'frog' and 'squirrel' throughout. Some comic bear bum scratching and Winter's squelchy pants brought shrieks of delight from the children in the audience in this cheery telling of a serious story with seasonal redemption.
The seasons and elements are beautifully realised in dance by Tara Hodgson and Courtney Collins who do some quick changes into the gorgeous costumes created by Carys Hobbs. Their creation of the mighty eagle is a masterpiece of mimicry. The music is played on concertina, bodhran, whistles, guitar, fiddle, cello, piano, keyboard and accordion that comes together at the end to accompany some cool Scottish country dance moves from the cast.
The false fire alarm drama that preceded this performance did nothing to douse the brilliance of the show. It is a tremendous first Christmas production in the Festival Theatre's spanking new studio space situated at Potterrow that augurs well for the future.
Show times
Tuesday 3 – Tuesday 24 December 2013
A BSL interpreted performance on Saturday 14 December with Paul Belmonte and relaxed performances for young people with additional learning needs on Wednesday 11 December.