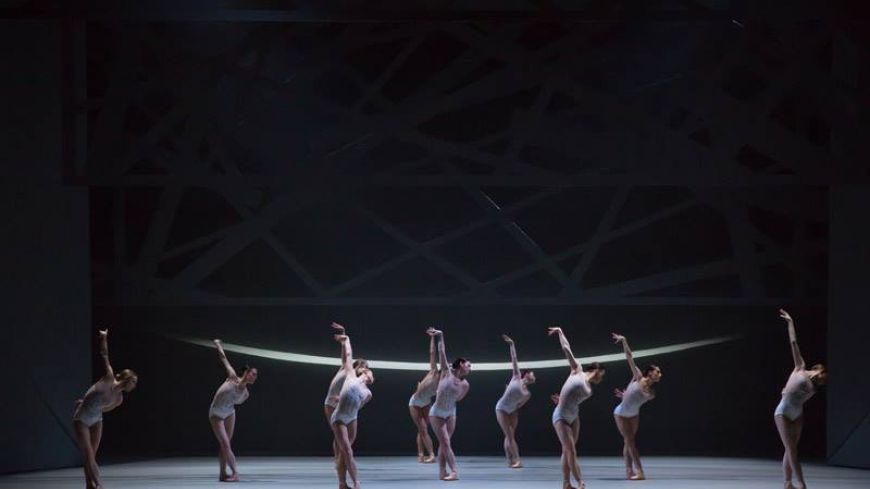 Production
David Dawson (choreography), Yumiko Takeshima (costume design), John Otto (set design), Bert Dalhuysen (lighting)
Performers
Sophie Martin Odette/Odile, Christopher Harrison (Siegfried), Andrew Peasgood (Benno). Madeline Squire, Constance Devernay, Araminta Wraith, Bethany Kingsley-Garner, Victor Zarallo, Jamiel Laurence, Rimbaud Patron, Nicholas Shoesmith, Grace Horler, Laura Joffre, Marge Hendrick. Scottish Ballet Orchestra - Richard Honner, conductor.
This year, dance lovers can flock to see a diverse Bevy of Swans, or to use a more apt expression, a Lamentation of Swans appearing around the UK.
St Petersburg Classical Ballet – described as "A Russian jewel, very chocolate-box, static and almost artificial .. but magical at times." English National Ballet's spectacle featuring 60 swans at the Albert Hall. The Bolshoi with their enchanting production created by Yuri Grigorovich, and Australian Ballet brings Graeme Murphy's updated version to London in July.
For Scottish Ballet's new production, Artistic Director, Christopher Hampson, was keen to present something radical and new to " push the dancers and push the audience – something very fresh." British choreographer David Dawson is renowned for his signature language of movement which extends classical technique as a modern art form.
We enter a barren landscape through the grey, moody minimalist staging of geometric criss-crossing grids and curving waves of lines: a bridge or sculptured trees but also perhaps reflecting the dejected, depressed state of mind of our hero, Siegfried.
In the first scene, he stands at the side watching his friend Benno enjoying a party with friends, strutting his stuff to entice the girls. Well-thought out dance sequences create an irregular but balanced flow of couples across the floor - a pleasing change from Petipa-Busby Berkeley routines. The choreography slips seamlessly into Tchaikovsky's (revised and adapted) shimmering score which imbues the romanticism and dramatic backbone of the narrative.
On his nocturnal walk to the lake, Siegfried encounters Odette, the Swan Queen, a mesmerising, goddess figure, half human, half swan. Like a wild, untamed creature at first resisting his presence, she is then drawn to him, rushing into his arms. Their pas de deux is intense in its energy and sense of passionate desire.
Sophie Martin is exquisite, her petite slender frame expressing such fragility yet also a fiery spirit. Using her wing-like elbows, she pushes away, circling around, then twirling, turning, to fly back, where he lifts her in a close embrace. She yearns to escape but he holds her with masculine strength and control.
While partnering Sophie with athletic physicality (wonderful lifts), and elegant poise, Christopher Harrison shows surprisingly little emotion, maintaining a bland, almost severe, demeanour. More eye contact with Odette would create a realistic frisson of sexual attraction.
The entourage of Swans appear, dressed like Odette in white embroidered satin and transparent gossamer - more slinky lingerie than leotard - a flock of fluttering arms, hooked wrists and hands, until they vanish into the night.
With a simplified narrative, dismissing all notion of supernatural powers, spells and curses, is Odette a fantasy, a figment of Siegfried's imagination, finding the love of his life in this "dream woman"?
Instead of a flourish of tutus, expect a fashion show parading across the stage. Former ballerina Yumiko Takeshima has designed costumes to complement the diagrammatic, clean cut lines of the staging with her effortlessly cool couture. The men are fashionably current in neat, boxy jackets, shirts and tight jeggings while the ladies wear softly draped, shin-skimming frocks in shades of gold, green, blue and crimson, which gently billow in high kicking arabesques.
Siegfried is more casual in a long sleeved T shirt, which may seem practical but reveals underarm sweat and down his spine. Either a fabric problem or ineffectual anti-perspirant but not an attractive look.
In the Act 2 party, enter Odile, her pale skin quite stunning in a ballgown of black taffeta, accompanied by the masked consorts. Sophie Martin transforms brilliantly into a taunting temptress, a black widow spider, luring Siegfried with seductive guile.
The choreography throughout is inventive and often beautiful, showing that the classical vocabulary is never limited in the right hands - some delightful duets and Siegfried's solos are quietly, deftly expressive of mood. The Swans glide in harmonious, free- flowing formation with their neatly synchronised raised right arms, twisting necks and curving backs.
Dawson has taken the central theme of the ancient tale – love, heartbreak and betrayal – to create an intimate chamber piece. Far removed from the sumptuously regal "chocolate box" ballet, this daring, distilled, deconstructed vision of Swan Lake is no less poignantly romantic as imaginatively stylised, neo-classical, choreographic drama.
Show times
Theatre Royal, Glasgow - 19 - 23 April, 2016
His Majesty's Aberdeen - 27 - 29 April, 2016
Eden Court, Inverness - 4 - 7 May, 2016
Theatre Royal, Newcastle – 11 – 14 May, 2016
Festival Theatre, Edinburgh – 25 – 28 May, 2016
Empire Theatre, Liverpool – 1 – 4 June, 2016