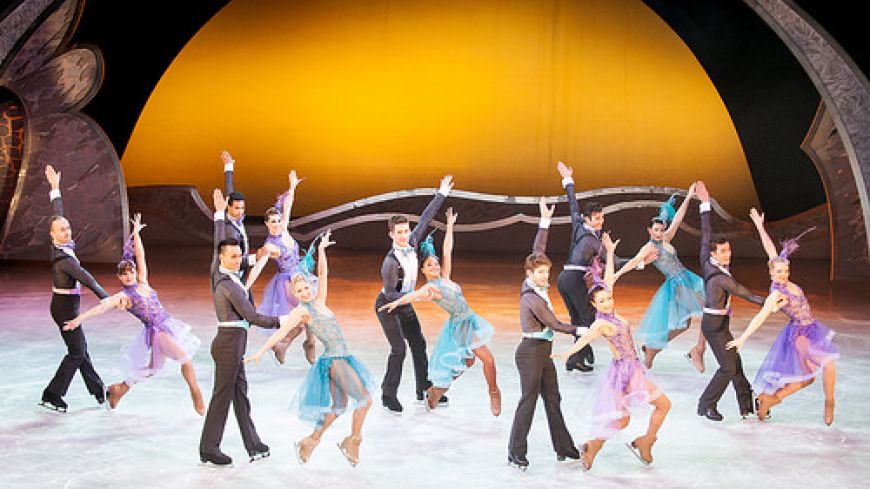 Company
Jamie Wilson, Mathew Mitchell, Paul Elliot & Duncan C. Weldon
Production
Robin Cousin (Director/Choreographer), Maurice Luttikhuis (Music), David Shields (Set/Costumes), Tim Mitchell (lighting), Gareth Owen (Sound Designer)
Performers
Annie Aggeler, Lisa Brewin, Vaughn Chipeur, Natalie Cunningham, Kate Endriulaitis, Adam Jukes, Eriq Lyons, Brandee Malto, Lisa Mocchizuki, Oscar Peter, Philippe Poirier, Neill Shelton, Michael Solonoski and Jenna Smith
One of the joys of visiting the Festival Theatre is to have a look round the old posters and photographs that adorn the walls. One photograph shows the stage being prepared for an ice show over 65 years ago. The success and popularity of dancing on ice is nothing new but I doubt whether the post-war show would have been as dazzling or as colourful as Robin Cousin's Ice Show.
At the Edinburgh launch, the former Olympic champion conceded that the skaters of today have greater skill and he enjoys the setting of routines and seeing his talented cast producing the goods.
This show produces to a quality soundtrack, a heady mixture of dance, circus and skating skills.
The speed and precision of the moves enhanced what is basically a ballet show with a variety of themes including the opening Winterscape through to the finale.
For the uninitiated, the programme illustrates ten impressive moves with a guide to difficulty and element of danger. These include the top rated 'Bounce Spin' or 'Heidbanger' as Scots would call it.
Others included the overhead 'Detroiter' and the 'Death Spiral' which interestingly scores lower than the 'Bounce Spin'.
The first half ended with a spectacular routine with flares that caused the fire alarms to sound and a short-lived evacuation of the audience from the auditorium. It's reassuring that in a theatre with a history of the fire in which the great Lafayette and 9 others perished back in 1911 that they have a sensitive but working system!
The cast include performers from all corners of the globe with two of the cast from England, one Scot from Glasgow, with others including a Swiss national, Canadians and Americans and very talented young woman from Japan.
With a high energy show, it's maybe unsurprising that it's a relatively short show coming out about 9.30pm - ideal on a "school night".
On leaving the theatre comments from the predominantly female audience was "brilliant!" and other such superlatives.
Show times
Runs til Sunday 30th March, 7.30pm (Thursday, Saturday & Sunday, 2.30pm)
Ticket prices
£15 - £40