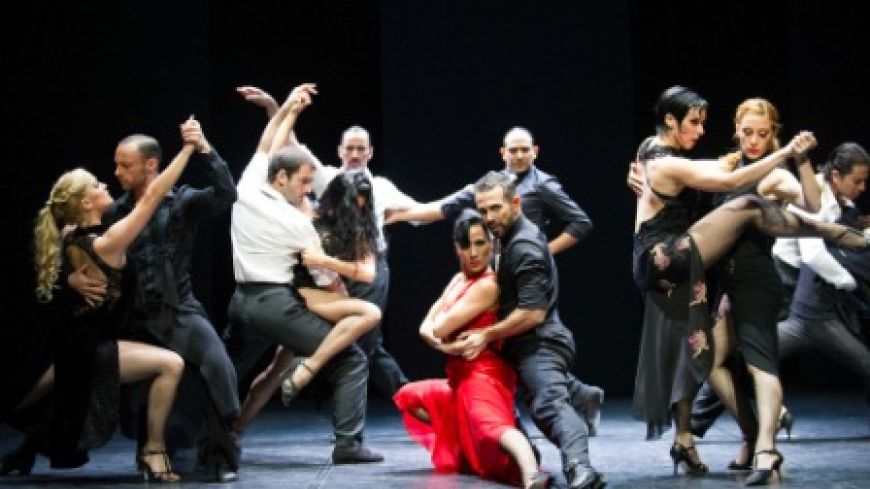 Company
Dance Consortium & Sadler's Wells
Production
Sidi Larbi Cherkaoui (director & choreographer), Eugenio Szwarcer (set & video designer), Fernando Marzan & Szymon Brzoska (composer), Tim Van Steenbergen (costume designer), Adam Carree (lighting designer), Gaston Briski (sound designer).
Performers
Gabriel Bordon, German Cornejo 'Nikito', Viviana D'Attoma, Martin Epherra, Gisela Galeassi, Esther Garabali, Maricel Giacomini, Bruno Gibertoni, Claudio Gonzalez, Julia Urruty, Silvina Coertez, Damien Fournier (dancers), Fernando Marzan (musical director & pianist), Guillermo Rubino (violin), Alejandro Sancho (guitar), Federico Santisteban (bandoneon), Roberto Santocono (bass).
The Argentine Tango evolved out of the working class neighbourhoods and suburbs of Buenos Aires. And from the start, Milonga puts this social dance firmly in its place: on the streets, in the cafés and bars, back in the arms of the ordinary people. As projected images of couples, of all ages, shapes, sizes and competence, fill the stage, the message is plain: that this dance is for anyone, at any time, any place, anywhere.
With this understood, the projections fade, a five-piece live band is revealed lurking in a corner and two dancers merge into a blue spotlight, centre stage, to perform a back-to-back dance of repressed and controlled emotion that sizzles in its intensity. From here, the six male and six female dancers come together in continually changing, fluid partnerships of same-sex and mixed-sex groupings, in pairs and in trios, flirting, fighting or loving, but always rippling with sensuality.
Perhaps to bring the dance back to its roots, perhaps to break from the steaming sexual tension, intermittently performers walk, run and dance comically in the foreground, seemingly along the streets of Buenos Aires that are then projected in the background. For brief seconds this effect really works, but often it only serves to confuse and distract.
Another device used to fill the empty space and create atmosphere, is the addition of cardboard cut-outs whose silhouettes mingle with those of the dancers, the shifting light shifting our sense of which of these shapes is real. Often these scenes are accompanied by the muffled sound of a buzzing crowd. The intentions are good; their impact is a bit hit and miss. The cut-outs are bare, the crowd noise is subdued, they highlight the emptiness rather than fill it with life.
There are some truly knock-out moments – an all-male trio who wrestle with aggression, grace and seething eroticism, and a male-female fire-spitting duet with footwork faster than the eye can track. The guitars, violins and the distinctive bandoneon express a wistful nostalgia, lending a tender dimension to the passion and yearning, but the moments of palmas (hand clapping) that hint of the flamenco influence, long to be brighter and louder in contrast.
There is so much to admire, from the conception through to the execution, but it delights, astonishes and maddeningly frustrates in equal measure.
Runs 13th & 14th June