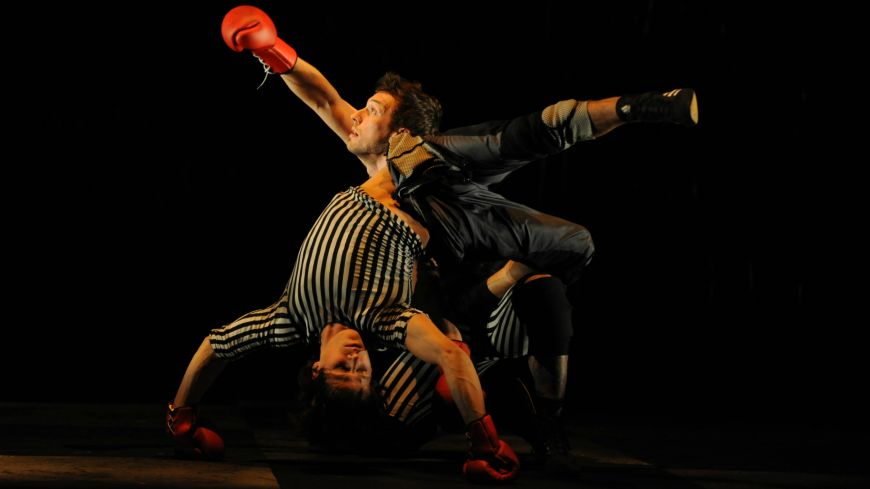 Company
Compagnie Käfig - Centre Chorégraphique National de Créteil et du Val-de-Marne by Dance Consortium
Production
Mourad Merzouki (director and choreographer), The Debussy String Quartet (music design), Yoann Tivoli, assisted by Nicolas Faucheux and Julie-Lola Lanteri-Cravet(lighting design), Benjamin Lebreton in collaboration with Mourad Merzouki (set design), Emile Carpentier, assisted by Pierre-Yves Loup Forest and Mathilde Boulay (costume design), Patrick Lerat (set construction), Camille Courier de Mere and Benjamin Lebreton (painting)
Performers
Rémi Autechaud aka RMS, Guillaume Chan Ton, Aurélion Desorby, Magali Duclos, Frédéric Lataste, David Rodrigues, Steven Valade and Teddy Verardo (dancers)
Christophe Collette, Marc Viellefon, Vincent Deprecq, Fabrice Bihan (The Debussy String Quartet)

Boxing may not be the sport of kings, but it is the sport of artists, writers and great leaders. In a recent edition of The Culture Show, hosted by writer Tony Parsons, it was revealed that boxing boasts both fans and fighters in the world of the arts and that more films have been made about boxing than any other sport and it is the sport most open to arts interpretation.
It is precisely the same sentiments that are echoed by the man behind Boxe Boxe, award winning choreographer, Mourad Merzouki. He rightly likens what may seem on the face of it the unlikely link between dance and boxing, and indeed between the small stage that is the boxing ring and a theatrical stage. In fact the similarity is strong. Think fancy footwork, performance, bravery, discipline, exposure, vulnerability, limit testing. Think Muhammad Ali's famous phrase, "Float like a butterfly, sting like a bee."
Drawing on these strong parallels, along with his experience in hip hop and martial arts, Merzouki has created a muscular and visual extravaganza using 8 dancers who bring a strong sense of the street to the stage and embody the tension between the grace and danger involved in boxing. Music from Schubert, Verdi, Ravel, Gorecki, Glass, AS'N and Glenn Miller is played live on stage throughout by The Debussy String Quartet - described as "…a fully -fledged actor in the piece…" Their presence and beautiful sounds provide a fascinating counterpoint to the sweaty sparring that is at the centre of the work.
The set of a fine high wrought iron style like extravagant bedheads is echoed on the wheeled seats that the Quartet occupies, allowing them to move around the stage across the draughtboard flooring. The boxing ring appears in various forms throughout starting with the puppetry of red gloved hands that writhe like squawking chicks and grow to victory air punches in a box, to just two sides shown abstractly as stretchy red ropes. Every boxing aid comes in to play from a variety of punch balls mitts and bags, that swing like heavyweight metronomes, to head and groin protectors, all using the same motif that crimsons the shadowy background that gives the seedy sense of a basement gym.
The Tweedledee referee with his spongy tummy lightens the atmosphere with some comic clowning in an otherwise pretty serious show of balletic street style combat and sparring. The company makes full use of acrobatic skills in the troupe with gum shield sounds realistically punching the air throughout. Three dancers appear in silken robes towards the end like ghostly combatants and at one point fighters face the audience as if taunting and challenging an opponent.
Tony Parsons says, that while people play sport "…nobody 'plays' boxing". Merzouki's radical piece, though at times playful, challenges perceptions of the sport and elevates it way beyond mere ropes, leather, satin and canvas. This is a rare chance to catch the UK tour this exciting company.
Tour continues
1-2 April, 7.30pm Edinburgh Festival Theatre 0131 529 6000
4-5 April, 7.30pm Plymouth Theatre Royal 01752 267222
8 April, 7.30pm Salford Lowry 0843 208 6000
10 April, 7.30pm Leicester Curve 0116 242 3595
14-15 April, 8pm Southampton Mayflower Theatre 02380 711811
17-18 April, 7.30pm Brighton Dome 01273 709709
13-14 June, 7.30pm (& 2.30pm People's Palace London; 0844 412 4300
On 14 June)