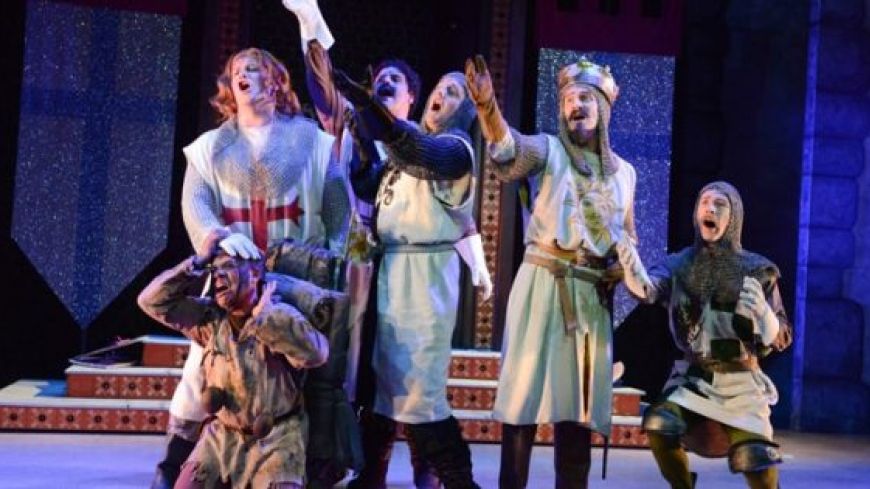 Company
Spamalot UK Tour 2017/18
Production
Eric Idle (Creator) John du Prez and Eric Idle (Music) Daniel Buckroyd (Director) Ashley Nottingham (Choreographer) Sara Perks (Designer) Frances Rafferty (Assistant Director)
Performers
Bob Harms, Sarah Harlington, Rhys Owen, Johnathan Tweedie, Norton James, Stephen Arden, Marc Akinfolarin, Matthew Pennington, Shane McDaid, Grace Eccle, Gleanne Purcell Brown, Joel Benedict, Ryan Limb
In 1975 Monty Python released their second feature film, Monty Python and the Holy Grail, based on Arthurian legend. Filmed with a tiny budget in the Scottish highlands and with all new material, it soon became a bit of a cult classic, and in the last 12 years has seen a loving revival onstage.
The Spamalot that hit Broadway in 2005 was the product of 40 times the budget of the 1975 film, and the spectacle reflects that in its brightness and boldness, while maintaining the shoestring humour that characterised the film (coconut horseshoes spring to mind) and allows for such an apt journey from screen to stage.
The musical was Eric Idle's initiative; he conceived, wrote and plugged the musical 'rip-off' of the group's film until it became a reality, and what a reality it has become.
The story is based (albeit loosly) on the romantic King Arthur Legend, that of the Knights of the Round Table and the sacred quest for the Holy Grail. However, unlike the centuries old chivalric tale, Spamalot marries legend with the Python team's unique comedy. Dry humour, sarcasm and irony are the order of the day for the 11-strong cast, and there is not a weak link to be found.
Although the humour has not aged or become outdated since the original Python film, there are a couple of modern additions for the 2017/18 UK tour – what modern satire is complete without a dig at Trump? For the most part, it remains clean, pantomime-esque laughs with far more wit and finesse, with the occasional nod to other famous Python sketches.
It seems the appeal of King Arthur is not likely to grow less any time soon, but Spamalot provides a much needed comedic take on an often told story. To be honest, it is less a story about Camelot as a Camelot to provide a backdrop to the Python's creative talent, but a fantastic backdrop it certainly provides. The show derives as much pleasure as it always has for audiences; light-hearted, shallow, and bold, it ticks all the boxes it intends to, and a superb British cast perform with panache and a great loyalty to the original artists.
Somewhat lacking though it is for female roles, Sarah Harlington shines as the Lady of the Lake with a very impressive vocal performance as well as embodying the perfect diva and making a stand for the somewhat questionable women in Monty Python sketches. Mark Akinfolarin's Sir Bedevere and Norton James' Sir Galahad are particularly funny and the cast have great camaraderie that encapsulates the company spirit that is essential to this kind of show.
Spamalot is so full of fun it's hard to keep a smile off your face. A great night for all the family.
26th-30th September, £21 - £46