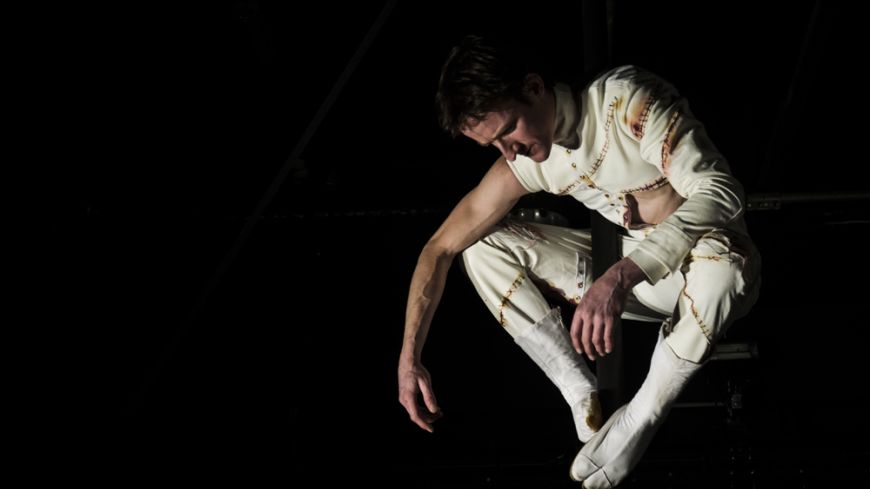 Company
Spotted Stripes, Truffle Pig and The Kitten Has Claws
Production
Phil Hardie (creator), Kate Bonney (lighting designer) Stuart MacPherson (sound designer), Jesse Brettle (costume designer)
The dim, pillared space that is Roxy Central, where shadows play across the old stones creating a slightly creepy atmosphere even before the lights go down for a show, lends itself perfectly to a Gothic tale.
As we approach Hallowe'en, such tales are the stuff of darkening evenings so the temptation of seeing a re-telling Mary Shelley's Frankenstein is a great one. Multi-disciplined performance artist Phil Hardie brings his jaw dropping skills to a unique interpretation of the classic text using an array of circus skills and theatrical inventiveness in his solo show Welcome My Son.
A dull thrum permeates the space before darkness envelopes. From out of shadows, Hardie makes an appearance from nowhere - one of the many visual miracles in this gem of a show. He is dressed in an exquisite costume from Jesse Brettle, that is a cross between a straightjacket and a half finished fencing suit, where the blood of his wounds seeps through the stitched gashes. As he journeys down the Chinese Pole as though sliding from the womb, his body spasms through a series of electric jolts, taking on embryonic shapes as he does so. Silhouetted shapes from behind a scaffolded screen create a curious magic.
Hardie narrates the painful story between stunning displays of strength and vulnerability, a perfect metaphor for Frankenstein's monster, creating fantastically balanced poses on the Chinese Pole as easily as the rest of us lean at a bus stop and performing some impressive hand balancing on the makeshift arms of a ghostly white mannequin.
He is the voice of the creator, and in turn that of his created monster who walks the world at once hating and loving the people who share it with him because this orphan and outsider can never join them. He uses repetition of the text to emphasise the terrible and tragic loneliness of the ultimate enfant unique with lines like "no father watched my childhood days; no mother blessed me with caresses"
Sounds from Stuart MacPherson, that include a fiercely palpable heartbeat, add to the atmosphere of this small and perfectly formed piece of physical theatre that is wondrous to behold and awesome in the true sense of the word.
7th October 2017 at 7.30pm Tour continues across Scotland till 18th October