Image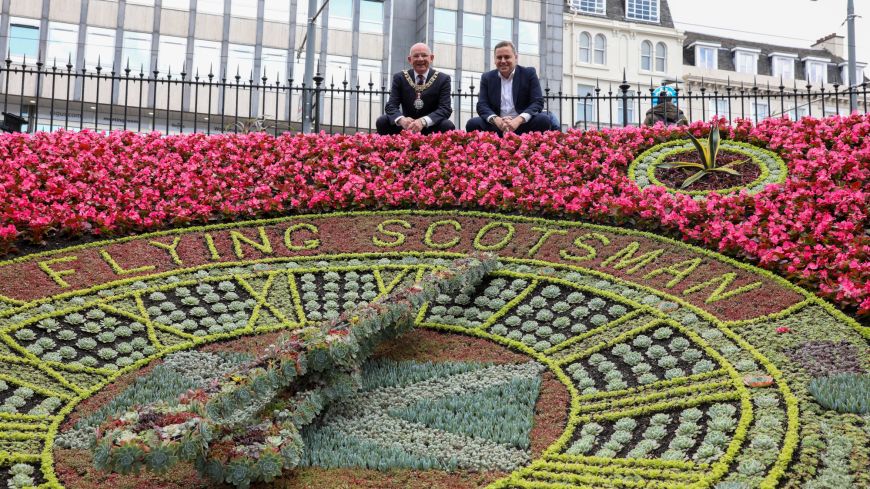 The world's oldest Floral Clock was formally opened today in Edinburgh's West Princes Street Gardens.
Edinburgh's famous timepiece, the Floral Clock, marks another mechanical marvel this year when it celebrates the centenary of the Flying Scotsman, the world's "most famous" steam locomotive.
The famous green (in colour, rather than emissions) locomotive is in Edinburgh as part of a centenary special Scottish tour today which started at London's Kings Cross on Friday. The coal-burning steam train returns to London from Edinburgh tomorrow morning (4th July).
A bed of 50,000 flowers 
Three gardeners from Edinburgh city council took just four weeks to plant over 50,000 flowers and plants to create this year's Floral Clock. 
There are 20 different plants included in this year's design such as antennaria, crassula, echevaria, sedum, saxifrage and annuals such as pyrethrum, begonias and geraniums. 
The Floral Clock has many more plants in it today than when it was first introduced in 1903: 50,000, versus 13,000 plants in the 1930s, or the 25,000-plant arrangements of the 1950s. 
The clock face is almost 12 feet across and has a circumference of 36 feet. When filled with plants, its large hand weighs 80lb (36kg) and its small hand weighs 50lb (23kg).
The clock is set to bloom in October.
"I am delighted to once again see the city's beautiful Floral Clock completed, and blooming in time for the special visit from Flying Scotsman," said Edinburgh's Lord Provost Robert Aldridge.
"Each year the iconic clock marks special occasions and events in the heart of the Capital and this year it is a unique tribute, coinciding with celebrations taking place around the country to celebrate 100 years of Flying Scotsman."
Record-breaking Flying Scotsman
The 97-tonne Flying Scotsman was built in Doncaster in February 1923, originally as an A1 class locomotive for the newly formed LNER  (London and North Eastern Railway). It cost £7,944, and carried up to 8 tons of coal and 5,000 gallons of water. 
On 1st May 1928, the locomotive chugged its way from London to Edinburgh, setting the record for the longest non-stop train journey ever completed. 
It was the first steam locomotive to officially reach 100mph (161km/h), when travelling between Leeds and London on 30th November 1934.
Today the 70ft locomotive, bearing its final British Rail number 60103, is owned by The National Railway Museum in York and still operates, although as the museum points out few of its original parts remain:
"Working locomotives are often compared to Grandad's hammer – which has had three new heads and two new handles – but it's still Grandad's hammer."
The locomotive was in service until 1963 and in its heritage years has toured the world, including USA, Canada and Australia. 
In 2006, after 40 years of private ownership, the train was bought by the Railway Museum and underwent a £4.2 million restoration over the next decade. On 26 February 2016, it made its inaugural, comeback run from London King's Cross to Railway Museum in York.
A twist in the floral tale
Andrew McLean, Assistant Director and Head Curator at the Railway Museum, joined the Lord Provost for the official Floral Clock opening. 
In a strange twist of fate, McLean is the grandson of a former Floral Clock gardener:
"I first saw the clock when I was a boy and my grandfather was involved in helping maintain it as part of his job as the Clerk of Works for the City of Edinburgh Council from the late 1940s until the early 1980s. It is an important part of Edinburgh's history and was always a source of great pride so bringing the clock and Flying Scotsman together is a great joy for me," said McLean.