Image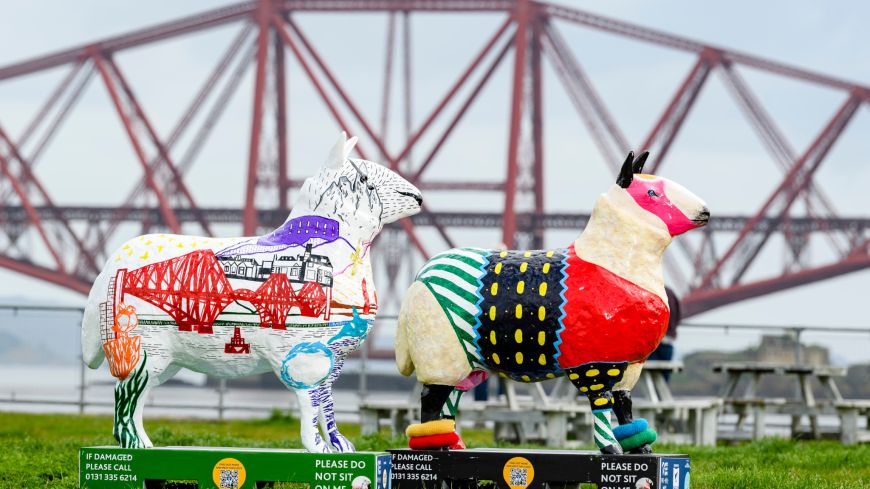 Keep a look out for sheep sculptures currently scattered across Edinburgh and the Lothians.
Flock to the Show, running until 4 June, is a public art trail reminiscent of the Giraffe About Town. The sheep trail celebrates the return of the Golden Shears World Sheep Shearing & Woolhandling Championships to the Royal Highland Show (22nd-25th June 2023) with 38 colourful sheep sculptures, decorated by artists from across the UK.
The sheep highlight different causes related to farming, including regenerative agriculture, rural isolation and climate change. The only time they can be seen together will be when they are assembled at the Royal Highland Centre for the Golden Shears competition in June.
See ewes
Portuguese artist Adriana De Matos moved to Edinburgh in 2014, where she immediately fell in love with the beauty of Scotland's flora and fauna. Adriana was inspired by the concept of the 'Black Sheep', when creating her sheep 'Sheep Will Rock Ewe'. Painted as a fabulous rock star, the sheep echoes the Glam Rock and Metal bands Adriana idolised as a rebel teenager, during her very own 'Black Sheep' phase.
Edinburgh-based artist Alasdair Couzens was born in Cumbria and grew up in a farming community. Inspired by old-school livestock breed posters of British farm animals that he had on his wall as a child, 'The Breeds' celebrates the diversity of sheep breeds found across the UK.  
Multi-disciplinary artist and designer Gerry Gapinski created 'BaaAT – BEE' as an homage to his time cycling through the Scottish farmlands on forgotten and hidden cycle paths. Beyond sheep painting, Gapinski is a renowned musician in the Edinburgh scene.
'Marigold', designed by Edinburgh-based artist Sarah Richmond, explores the natural colour saturated designs found in the hedgerows lining our fields and roads. As seen on her sheep, Sarah's designs are characterised by their cheerful and lively colours.
Sheep prize
Win a VIP Royal Highland Show family experience which children and adults of all ages can enter. Budding artists can download a sheep outline from the Flock to the Show page and create their own design to be in with a chance of winning.
The flock will be auctioned in September this year to raise funds that will support the Royal Highland & Agricultural Society of Scotland Bicentennial Fund, which supports projects in the rural sector dedicated to mental health, sustainability, succession and women in agriculture.
The Edinburgh and Lothian leg of the tour runs til 4th June. Round up the sheep at the locations below:
St James Quarter
Mimi's Bakehouse
St Giles Cathedral
St Andrew Square
Lothian Travel Hub
Edinburgh City Chambers
Edinburgh Waverley Station
SRUC Campus, Kings Buildings
Bonnington Farm, Peebles
The Veg Shed, Athelstaneford Mains Farm
Craigies Farm, South Queensferry
Drift, North Berwick
Jedburgh iCentre
Port Edgar Marina, South Queensferry  
Fenton Tower, North Berwick
Beecraigs Country Park
The Centre Livingston
Gelnkinchie Distillery, Pencaitland
Mayfield Garden Centre, Kelso
Abbostford House
Soutra Coffee Shop, Pathhead
Carrs Billington Agriculture, Penicuik