Image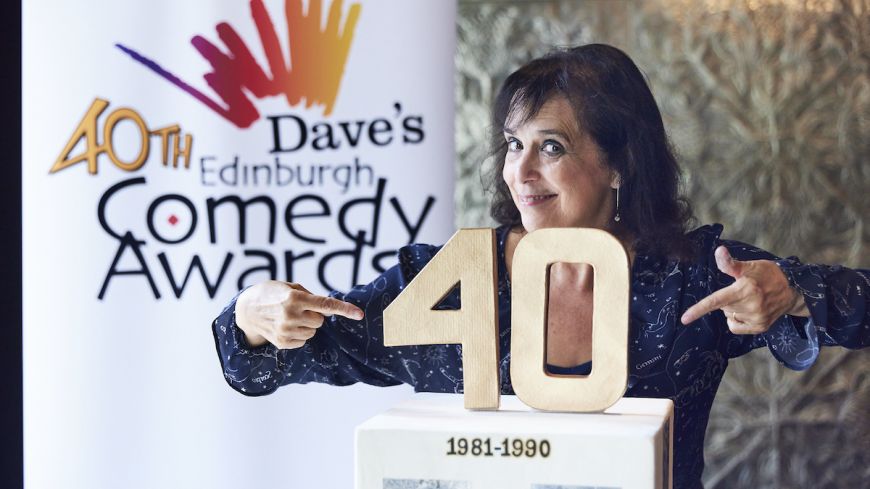 After the pandemic lockdown worldwide, the current challenging, changing political climate and cost of living crisis, we all need time for a good laugh. 
The Edinburgh Festival Fringe has long been associated with launching stage and TV careers for up and coming comedians especially through the sparkling Perrier Edinburgh Comedy Awards which began in 1981 for 'original cabaret, comedy, revue in sketch form or stand-up' in a show of at least 40 minutes. 
The inaugural Perrier award was presented to the Cambridge Footlights - with the fresh-faced Stephen Fry, Hugh Laurie and Emma Thompson - and ten years later it was won by Frank Skinner. Other famous names include Sean Hughes, Jenny Éclair, Lee Evans, Dylan Moran, Harry Hill, Al Murray, Bridget Christie and Russell Kane.
After a change of sponsors, in 2009 Nica Burns invested in producing and directing the new look Edinburgh Comedy Awards now in partnership with the Dave TV Channel.
The 2022 Awards are celebrating 40 years of discovering the rising stars of comedy. The judging panel consists of seven leading industry professionals and three passionate comedy punters representing the public.
"2022 has indeed been a bumper year with a high standard of comedy across the Fringe and the nominees represent comedians whose material is drawn from their rich range of backgrounds and experiences. The Fringe has bounced back with a bang, with audiences clearly enjoying laughing together, live."  Nica Burns, director, Dave's Edinburgh Comedy Awards
To kick of the awards each year is Dave's Funniest Joke of the Fringe, voted by the public from a list drawn up by a panel of judges who attend hundreds of shows across the fringe without revealing the names of the comedians.
This year it was won by Masai Graham for his clever quip: 'I tried to steal spaghetti from the shop, but the female guard saw me and I couldn't get pasta.'
Graham also received the award in 2016 with this witty line "My dad has suggested that I register for a donor card. He's a man after my own heart."
Having devised the Funniest Joke for a second time, he commented 'This is getting pasta joke'.  Clearly he has a talented gift of the gab. (a few more award winning jokes given below).
The shortlists for this year's Dave's Edinburgh Comedy Awards have just been announced prior to the presentation on Saturday 27th August.   From six hundred eligible shows, the selected shows are from England, Scotland, Northern Ireland, Australia and North America featuring every genre from stand-up to storytelling, to musical comedy and a double act.  
Nominations for Best Comedy Show:
Alfie Brown: Sensitive Man @ Monkey Barrel Comedy 
Colin Hoult: The Death of Anna Mann @ Pleasance Courtyard, Beneath 
Jordan Gray: Is It a Bird? @ Assembly, George Square 
Josh Pugh: Sausage, Egg, Josh Pugh, Chips and Beans @ Monkey Barrel Comedy 
Larry Dean: Fudnut @Monkey Barrel Comedy 
Lauren Pattison: It Is What It Is @ Monkey Barrel Comedy 
Liz Kingsman: One-Woman Show @ Traverse Theatre 
Sam Campbell: Comedy Show @ Monkey Barrel Comedy 
Seann Walsh: Is Dead. Happy Now? @ The Stand Comedy Club 
The Delightful Sausage: Nowt but Sea - Amy Gledhill and Chris Cantrill with Paul Dunphy @ Monkey Barrel 4
Nominations for Best Newcomer:
Amy Gledhill: The Girl Before The Girl You Marry @ Monkey Barrel Comedy - Carnivore
Emily Wilson: Fixed @ Pleasance Courtyard – Beneath
Emmanuel Sonubi: Emancipated @ Underbelly, Bristol Square
Josh Jones: Waste of Space @ Pleasance Courtyard - Bunker Three
Lara Ricote: GRL/LATNX/DEF @ Monkey Barrel Comedy – The Hive
Leo Reich: Literally Who Cares?! @ Pleasance Courtyard – Baby Grand
Vittorio Angelone: Translations @ Monkey Barrel Comedy – Carnivore
 "We are so passionate about comedy and nowhere does it better than the Edinburgh Comedy Awards.  Immersed in a whirlwind of fantastic comedy at the Fringe has been a magical experience. It is inspiring to find so much great talent that is our comedy future." Cherie Cunningham, Channel Director, Dave,
More of the funniest jokes on the Fringe in recent years:
2019 - Olaf Falafel
"I keep randomly shouting out 'Broccoli' and 'Cauliflower' - I think I might have Florets."
2018 - Adam Rowe
"Working at the job centre has to be a tense job: knowing that if you get fired, you still have to come in the next day."
2017 - Ken Cheng
"I'm not a fan of the new pound coin, but then again, I hate all change."
The winners of the best Comedy show, Best Newcomer and the Panel awards will be announced at a ceremony on 27th August, 2022 at the Edinburgh Festival Fringe.